Air travel demand keeps going down due to the coronavirus pandemic. Airlines are slashing their routes and drastically scale back on the services offered. If you want to fly though, you need to first think about the risks associated with this. Also, you might want to know if the airlines can keep their passengers safe.
If you do not want to fly and you want to cancel the trip, flight delay compensation might be available. However, most airlines will try to convince you to reschedule. It is important to work with specialists like Flightright when there is a flight delay or a flight cancellation that is not handled properly by the airline. This guarantees your rights are protected.
Flightright is a leading compensation claim company that has helped gain compensation worth over 300 million EURO. Remember that 7 out of 10 people that had to deal with delays or cancellations reported that the airline did not want to offer compensation. Flightright makes it right and helps you get compensation for all situations in which the airlines did not respect your rights. This ranges from serious situations like cancellations due to the coronavirus pandemic to simple problems like misplaced baggage.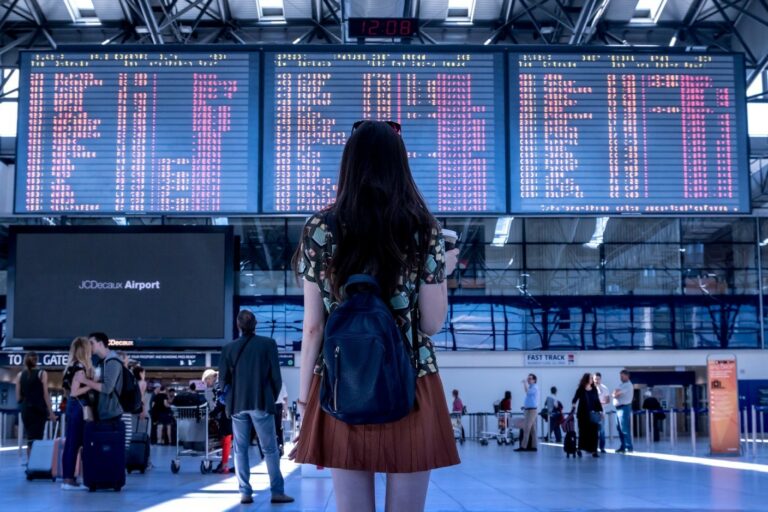 What Should Be Known?
According to the CDC (US Centers for Disease Control and Prevention), travel warnings were updated and passengers need to check the official health notices before they want to leave. Many airlines already altered service or suspended flights to some countries, regions or airports. You can contact the travel provider in order to be sure that service changes did not happen. When travel was not changed or altered or you want to cancel or postpone, US airlines extended travel waivers and do not add additional fees.
Flight Infection Risks
The CDC officially categorizes airplane travel as having a low infection risk if the flight happens between areas without sustained community transmission. However, travelers still need to maintain all the best practices in regards to hygiene and safety while flying.
In an airplane, the air is filtered and circulates differently than on regular public transportation options like busses and trains. Infection risk is very low but you still have to avoid direct contact with the other travelers. This is especially the case if they are sick. You should also wash your hands as often as possible with water and soap. The use of sanitizer with an alcohol content of over 60% is a very good idea.
The CDC also adds that the guidelines they have for risk assessment currently do not cover the possible exposure scenarios. This means passengers have to conduct an individual risk assessment before they start a journey.
Do Airlines Disinfect Planes?
The coronavirus outbreak is spreading. This is why the major airlines already detailed the efforts they put in to make sure that the plane cabins remain as clean as possible.
As an example, Delta just released video footage that shows off the fogging procedure the company uses. This disinfects all surface areas that people touch in an aircraft. American Airlines also confirmed a 30-point cleaning package that is followed for all the international flights and those that spend more time on the ground. Every single plane undergoes numerous regular deep-cleanings.
Cleaning Your Personal Area
Most respiratory illnesses spread when a person comes into direct contact with a person that is infected, through its mucus or saliva. The droplets that come from a cough or a sneeze land on various surfaces, like armrests and tray tables. This can potentially infect a passenger that shares the space.
If you want to minimize flying risks, you should pack antibacterial wipes that include alcohol. They are needed to wipe down all that you could come into direct contact with. This should include armrests, air vents, call buttons, seatbelt handles, and tray tables.
Be extremely careful with the high touch areas. This helps you to fight off the most possible germs. You can apply similar cleaning practices with bus or train seats.
Conclusions
So, should you cancel your flight? This is all up to you and whether or not you can stay safe when traveling. The decision will be subjective and you should never take it without being aware of all things involved.