If you are building your own home, there are bound to be a lot of decisions ahead. What sort of flooring do you want? Where should that wall go? Is there room for a double bed in guest room? How about custom cabinets?
It can all get to be a bit overwhelming and, in the chaos, making a decision about home siding is something that often falls by the wayside. For many homeowners, looking into home siding materials can be a daunting task. There are a lot of options to choose from, and each of them has a particular set of pros and cons to consider. We reached out to our siding contractor friends at Siding in Vancouver to help us through the basics. Sharing their siding expertise, they break down the three most popular kinds of home siding for new building projects.
Vinyl Siding
The most popular siding material in both the United States and Canada, vinyl siding has much to recommend it. Its key features include remarkable durability, a versatile and pleasing appearance, easy upkeep, and low-cost installation. With such a list to recommend it, it is no surprise that vinyl is dominating the home exterior market.
Vinyl is a particularly advantageous option if you are hoping to have your house stand out from the crowd. This synthetic material can be manufactured in just about any color, and whatever hue you choose will last a very long time. Vinyls production process allows the pigment to spread throughout the entire product, making the color fully present even at the core of the board. When vinyl is scratched, there is no noticeable difference in appearance.
Insulated vinyl siding is another option the material offers to homeowners and home builders. With a regular vinyl plank on one side and a foam plank on the other, insulated siding provides remarkable gains in energy efficiency and the elimination of noise pollution. Many customers report improvements over 30%. While this product is more expensive up front, the gains that it provides in energy efficiency more than make up for this cost over time.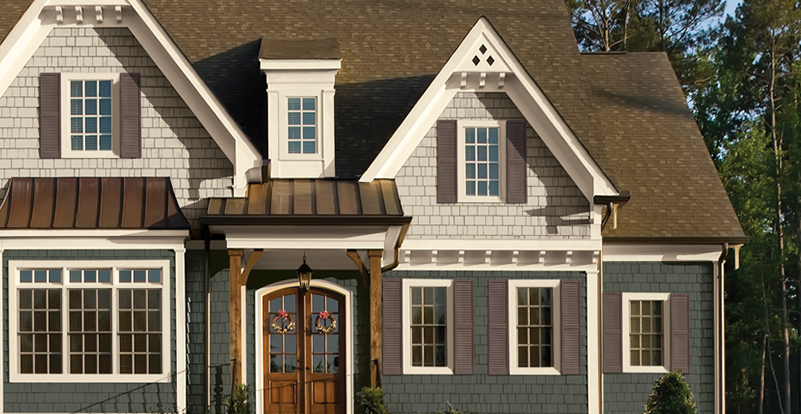 Fiber Cement Siding
Also known by the name James Hardie Siding, after the most well-recognized brand that manufactures the product, fiber cement siding is regularly lauded as the best material in the business. Invented by James Hardie himself, this synthetic product is manufactured from a combination of natural wood fibers and cement. Mixed with sand, water, and adhesive, fiber cement is then pressed and cut to form long, flat strips and baked in a high heat oven to remove moisture. Both beautiful and durable, this material can stand up to just about any kind of weather, impact, and damage. Most fiber cement siding manufacturers offer a guarantee on the product that last upwards of twenty years.
Fiber cement can be manufactured into almost any shape, stands up well to outside damage, is resistant to rot and pests, offers impressive structural stability, and comes in both primed and pre-painted versions that save the consumer many hours of aesthetic labor. Thanks to its cement nature, the product is also non-flammable. This provides homeowners with peace of mind, and cen even result in discounts on home and fire insurance policies.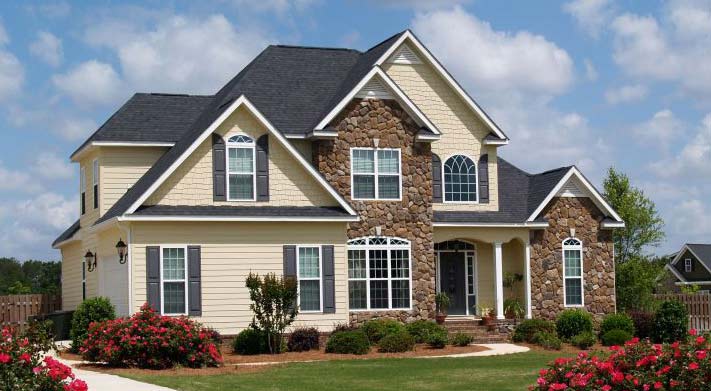 Cedar Siding
Cedar is a wood that is widely regarded as one of Earth's most remarkable natural resources. It is naturally resistant to insects, including termites, as well as rot. It also offers a high level of natural, organic strength that few types of wood can provide. Renowned for both its beauty and aroma, the wood's straight grain and beautiful golden hue are a wonderful aesthetic addition to any exterior, or even interior, space. As a non-synthetic wood with few manufacturing requirements, it is also an energy efficient and environmentally friendly. Combined with its natural preservatives and high durability, this exceptional wood is a fantastic choice for homeowners and home builders around the nation.
Cedar is a fairly simple material to keep up with and maintain, though it does tend to require a bit more elbow grease than its synthetic siding counterparts. Cedar wood panels typically require treatment every five to ten years, with the exact length of time between treatment largely depending on local weather patterns and conditions. If low-maintenance is one of the top characteristics that you are looking for in your new siding, you may want to consider vinyl orfiber cement as a less-involved option.
No matter what siding material you choose for your new home, you will want to make sure that you hire a fully licenced contractor with a strong track record to do the job.