When it comes to versatile and stylish wardrobe pieces, a knitted pencil skirt is a must-have item. Not only does it provide warmth and comfort, but it also offers endless opportunities for creativity in putting together trendy outfits. Whether you're dressing up for a special occasion or aiming for a casual yet sophisticated look, your knitted pencil skirt can be your ultimate fashion companion.
The Classic Office Ensemble
For a polished and professional look that doesn't sacrifice comfort, pair your knitted pencil skirt with a crisp white button-down shirt. Tuck it in neatly to emphasize your waist, and add a thin belt to cinch it for a more defined silhouette. Complete the ensemble with a pair of nude or black pumps and subtle accessories like stud earrings and a delicate bracelet. This classic outfit is perfect for the office or any formal setting.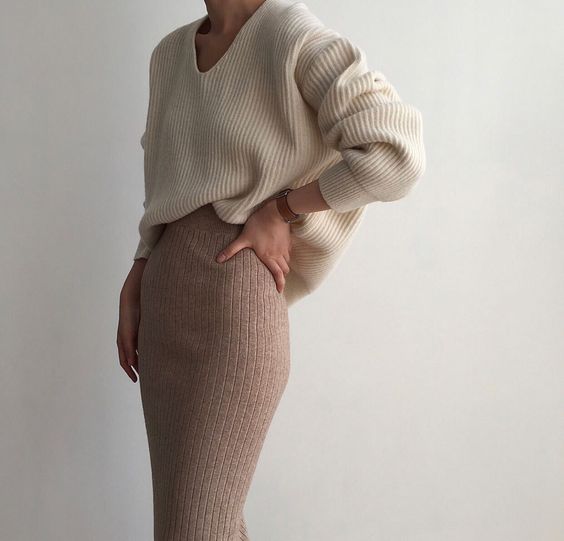 Effortless Weekend Vibes
Give your knitted pencil skirt a laid-back, weekend-ready twist by pairing it with a cozy oversized sweater. Opt for a contrasting color to add a pop to your outfit. You can either tuck in the sweater partially for a relaxed look or let it drape casually over the skirt. Complement this comfy ensemble with ankle boots or stylish sneakers for a cool and effortless vibe.
Date Night Glamour
When it's time for a romantic evening out, your knitted pencil skirt can be your secret weapon for an elegant yet seductive look. Combine it with a fitted, off-the-shoulder blouse in a luxurious fabric like silk or satin. Choose a statement necklace and a pair of high heels to add a touch of glamour. Don't forget to accentuate your waist with a stylish belt. This ensemble is sure to make heads turn.
Cozy Layers for Fall
As the seasons change, your knitted pencil skirt can still shine. For a chic fall outfit, layer a tailored blazer over a lightweight turtleneck sweater. Tuck both pieces into your skirt for a cozy and polished appearance. Finish the look with knee-high boots and a coordinating handbag. This outfit is perfect for a day at the office or a casual weekend outing.