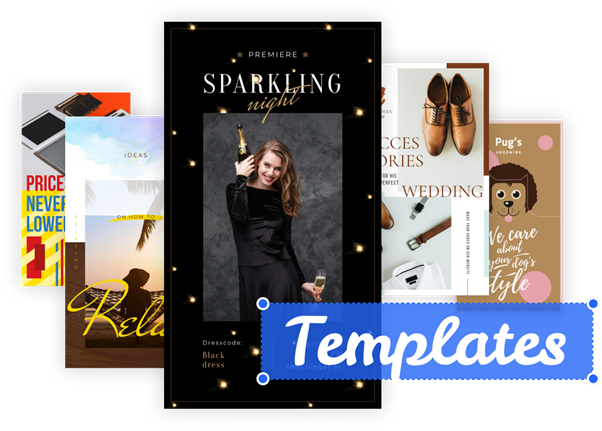 Today having a business and promoting your product or service with external advertising is not enough. To reach larger audiences, make people hear about you, and recognize your brand, you need to pay much attention to your social media pages. One of them is Facebook (or Meta). If you are only starting your path and wonder how it is better to design your page, this article can come in handy. We explain what matters in creating your posts and why to pay particular attention to the VistaCreate editor's libraries of Facebook post templates.
Why design FB posts?
The first and the most obvious question – is: "Why do you need to bother with formatting?" The answer is that people like beautiful things, which refers to stylish post formatting too. Well-designed posts attract attention, stand out from the other posts in people's feeds, and lead to better page performance.
The other trouble to solve is defining the criteria of a good post. It depends on the purpose you lead your page with, but the most general recommendations touch upon:
correlation with your sphere – post should be related to the most relevant topics referring to your product, service, or general activity;
being aligned with your logo formatting – using accent colors, fonts, and images of the same style helps you unify the style of the whole page and, thus, look better;
the balance between the aesthetic part and content richness – various types of messages determine the formatting to emphasize the main idea correctly, and understanding these finesses helps organize the page better;
organization – some specific formatting peculiarities to underline the information of various kinds.
Following these principles helps you be more productive at helping your audience and raise the page performance.
How to create the best designs with VistaCreate step by step?
To find your inspiration and determine the leading ideas, go to the VistaCreate web page. There, you'll find a wide variety of templates for any FB post type. To start with, scroll several pages of templates to look through – it allows you to form some vision of what is trendy, what formatting corresponds more to some topics, etc. Then, the process is simple:
Log in to start editing.
Choose a template as a base for your future post or press "Blank FB Post" to create one from scratch.
Modify, add, remove, and do whatever you find necessary to create a good post. You can use the object and filter libraries offered by VistaCreate (no charge required) or add your custom elements.
Save the final result to your PC or post it directly to your page.
With all these comforts, you don't also need to set up the size of your picture, as the system offers you appropriate formats for any social media you may need.
Generally, creating well-organized and designed posts require careful consideration of some particular details. But working in VistaCreate helps you eliminate their number, focus on the main idea you aim to reveal and enjoy the creative process.