The Hermès Birkin is a handbag that stands in a league of its own when it comes to luxury. Meticulously crafted by skilled artisans, each Birkin bag showcases the finest materials and unparalleled attention to detail. From the carefully selected hides to the precise stitching, every aspect of the Birkin exudes luxury and refinement. What sets it apart is not only its craftsmanship but also its limited availability and exclusivity, elevating it to an iconic status among fashion enthusiasts.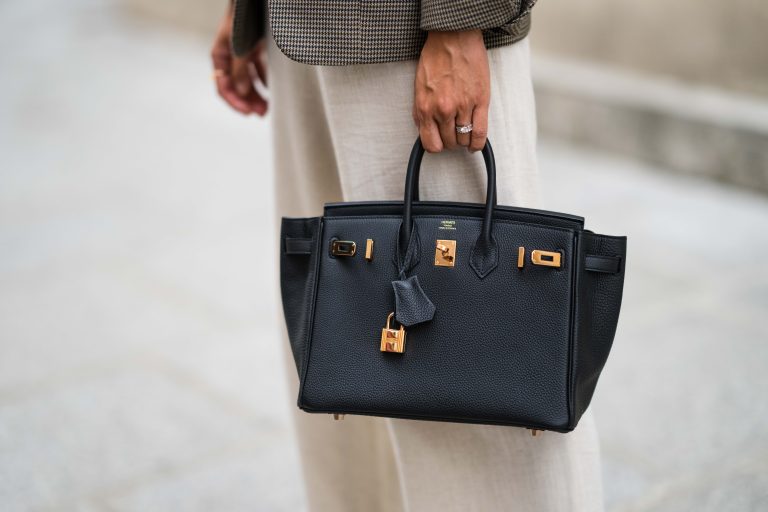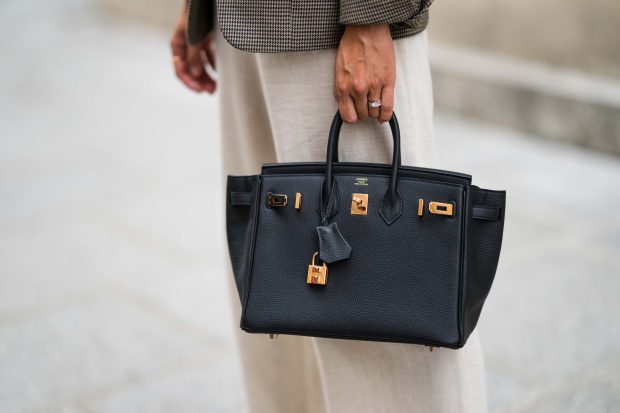 The Hermès Birkin: A Timeless Symbol of Luxury
As the embodiment of timeless elegance, the Birkin transcends mere materiality to symbolize a world of emotions and aspirations. In addition to the meticulous craftsmanship, Hermès products are crafted using the highest quality materials available. The brand sources the finest leathers, silk, cashmere, and other luxurious materials from around the world. These premium materials not only enhance the durability and longevity of the products but also contribute to their luxurious feel and aesthetic appeal.
Furthermore, Hermès maintains a strong commitment to preserving traditional craftsmanship techniques that have been passed down through generations. The artisans at Hermès undergo extensive training to master their craft, spending years perfecting their skills. This level of expertise and dedication ensures that each Hermès product is crafted with unparalleled precision and attention to detail.
Birkin Bags in Pop Culture: Unforgettable Moments
The Birkin bag has made its mark on pop culture in various ways. In the hit TV series "Sex and the City," Samantha Jones found herself in a predicament when she was denied a Birkin bag due to a misunderstanding. This storyline highlighted the Birkin's reputation as an elusive and coveted accessory, adding to its allure.
The film "Crazy Rich Asians" also showcased the Birkin as a symbol of wealth and status. In a scene where Astrid, played by Gemma Chan, discovers her husband's secret apartment filled with Birkin bags, the film emphasized the Birkin's significance in the world of luxury and excess.
On red carpets around the world, Birkin bags often steal the show. Celebrities and fashion icons grace prestigious events with their Birkins, further cementing the bag's status as a symbol of high fashion and prestige. Additionally, social media influencers have played a significant role in popularizing the Birkin, sharing their love for these handbags with their followers and fueling the desire to own one.
The Allure of Birkin Bags: Delving into the Enigmatic World of Label Luxe
What sets Label Luxe apart is their commitment to providing a personalized and tailored experience. They are not just an online store selling luxury goods, but a comprehensive guide in the world of luxury. Label Luxe acts as a consultant and a top-level concierge, offering a range of services to ensure their clients' satisfaction.
Label Luxe takes pride in their experienced professionals who are always ready to satisfy even the most sophisticated requests. If a desired item is not available in their stock, their team of concierges and personal shopping assistants will go above and beyond to find it for their clients. They understand the importance of having access to the most coveted luxury items.
Moreover, Label Luxe ensures that the information and photos of goods on their website always correspond to the real items for sale. They value transparency and authenticity in their transactions. If clients need more information or have specific inquiries about a particular item, Label Luxe's customer service is available 24/7 to provide assistance. Their dedicated team is prepared to answer questions, offer additional photos, and even provide videos to ensure that clients make informed decisions.
Label Luxe https://labelluxe.co takes their role as a Luxury Collections Consultant seriously.This extensive experience has given them a deep knowledge of the luxury market, allowing them to identify authentic items and detect counterfeits. Through their extensive network of reliable and trusted dealers and collectors worldwide, Label Luxe can source any item, even the rarest ones, for their clients.
Whether clients are looking to build a Hermès handbag collection from scratch or expand their existing collection, Label Luxe's Luxury Collections Consultant is available to assist. With their expertise, gained from helping create Hermès collections for many famous personalities, the consultant can analyze clients' existing collections and provide valuable insights on what iconic Hermès bags are needed to make the collection a true gem.
With Label Luxe's exceptional services, including their personalized concierge support, extensive network, and expert consultations, they elevate the journey of acquiring luxury items. They understand that it's not just about the product itself; it's about the entire experience of owning and collecting luxury goods. Label Luxe is dedicated to providing their discerning clients with an unparalleled level of service, making each interaction and acquisition with them truly special.
Conclusion
The Hermès Birkin bag is more than just a handbag; it represents a range of emotions and status for its owners. The joy and excitement of acquiring a Birkin are unparalleled, and Label Luxe enhances this journey by delivering exceptional services and exclusive experiences. With its limited availability, meticulous craftsmanship, and iconic status, the Birkin remains a timeless symbol of luxury that captivates fashion enthusiasts around the world.