What do wool dresses have that makes them unique?
Practical, comfortable, and versatile. The three keys that make the wool dress one of our favorite garments to expand your winter wardrobe since it allows you, even in the days with the lowest temperatures, to wear a stylish, comfortable, and ideal look for any occasion.
Tell me what you are like and I'll tell you what wool dress you need
For lovers of comfort, an oversize dress
Nothing is more comfortable and stylish than an oversized wool dress. It is one of our clear bets for this winter 2021-2021 and yes, if you want it to enhance your figure, we also have a solution: choose a less thick knit dress such as cashmere and it will be a total success.
To define the figure, the fitted wool dress
Nothing defines your figure more than a ribbed dress and we love that you dare with it, because this look is so empowering that it will enhance your mood. This season, midi cut styles predominate, combined with both biker and sneakers as well as a blazer and flat shoe.
For the most daring, a mini wool dress
Paired with knee-high boots and a trench coat, you'll achieve more of a perfect match (not just with your short wool dress). Our little tip: choose one in neutral tones, like beige or camel, and let it Your mini wool dress will become the favorite garment in your wardrobe this winter.
Looks for a wool dress to make a difference
Okay, the dress option is already clear to us, but now what do I combine it with? It will be for options… The wool dress suits all styles! Aim:
Aesthetic look with a ribbed wool dress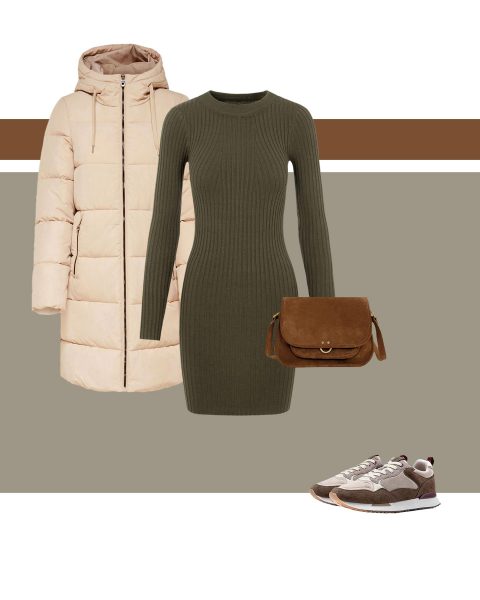 Stick with this idea: ribbed fitted dress, to empower yourself even more. Add to the look some sneakers and a down jacket to play with the volumes and, voilà! Feminine and warm, ideal for any plan.
Classic and distinguished look with puffed sleeves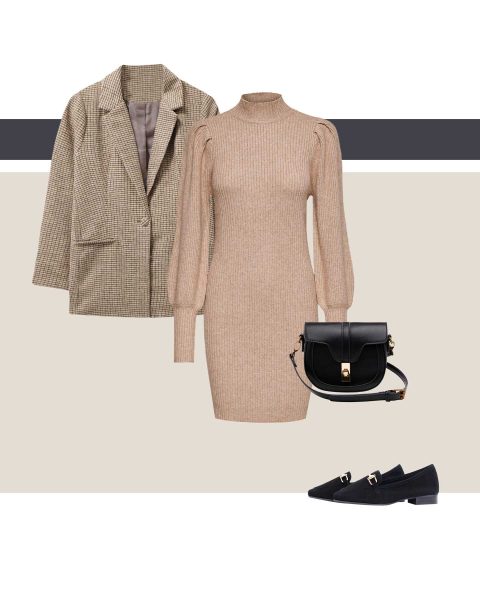 The look you were looking for to wear a wool dress to the office and go perfect to any meeting: choose one with a Perkins collar and puff sleeves and combine it with loafers. If you want to add a check blazer to the look, it will be great for when you go out if you join an after-work.
Enhance the minimal look with a turtleneck dress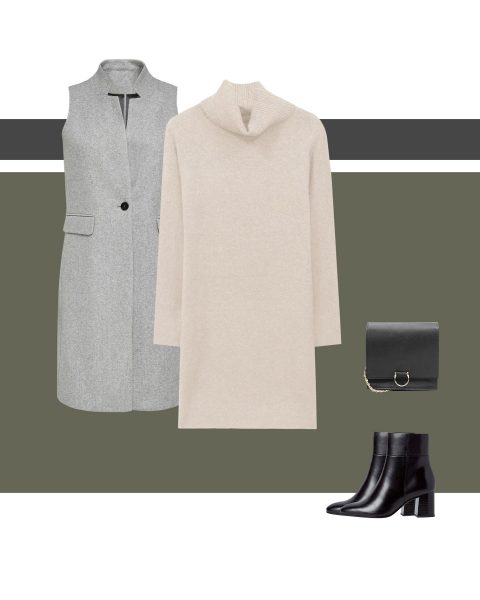 Straight, clean cuts and neutral colors. The minimal style is one of the favorites this season that, in addition, combines perfectly with wool dresses. So our suggestion is: beige turtleneck midi dress with a classic cut gray vest, crossbody bag, and leather-effect ankle boots, both in black, and get ready to keep your minimal style simple, with personality and style.
Elevate your boho style with a maxi cut dress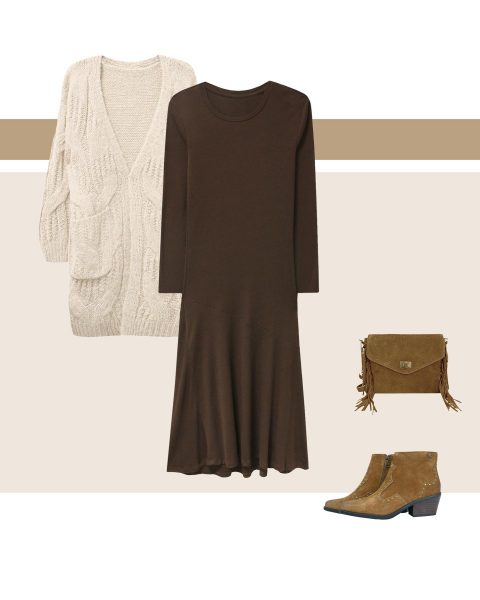 You have several options to choose from, but the wool dress with a maxi cut and light fall is, without a doubt, one of our favorites for this winter 2021-2022. Being so flattering, it will elevate the boho look to another level and even more so if you combine it with a long cardigan, split cowboy ankle boots and, to close this romantic outfit, add a fedora-type hat. You will be ideal!