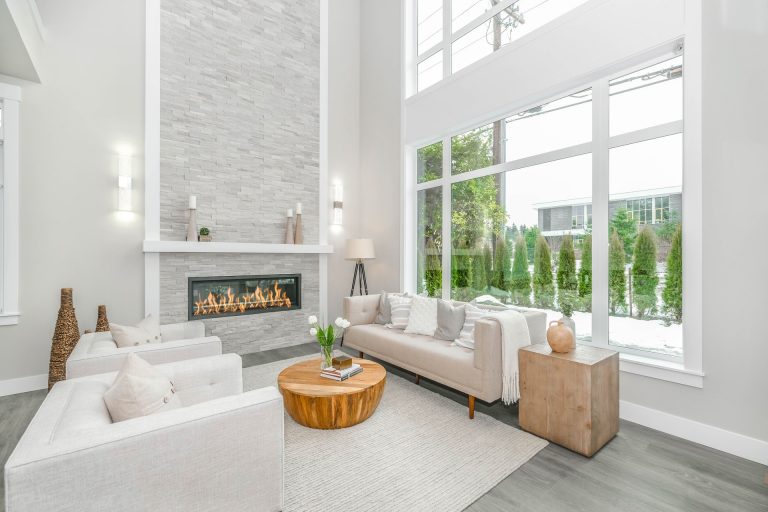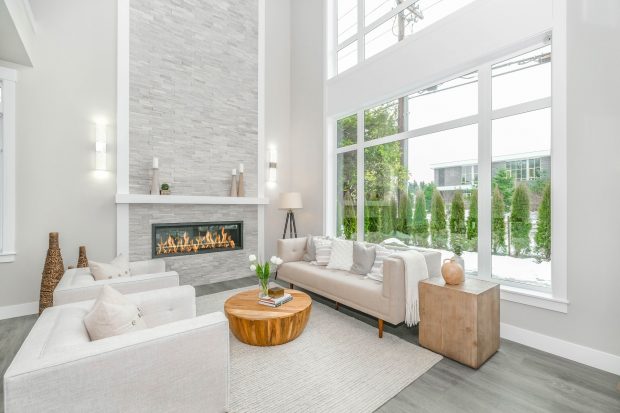 An electric fireplace can be a highly efficient and inexpensive way to have a fire, and it comes with a number of advantages and disadvantages. Many people who have electric fireplaces love the way they add heat and soft light to a room and appreciate the way they work. Find out from Angi, formerly Angie's List, the pros and cons of using one of these units in your own home.
The Cost of an Electric Fireplace
The electric fireplace cost you can expect to pay averages about $700. This makes them more affordable than getting a woodstove or traditional fireplace. Depending on the model that you buy, the cost can be as low as $200. Getting a wood stove or traditional fireplace installed can cost from $850 to about $3,500. If you don't have a chimney and need one installed, these fireplaces can cost a lot in both money and hassle. For those who need a low-cost option, getting an electric fireplace is a good choice. It can even raise the value of your home.
They also tend to be very low-cost to operate. You can expect to pay about $0.01 to $0.02 per hour that you are running just the flame for ambiance without the heat. When you use the flame and the heater, you can expect to pay up to $0.18 per hour for its use. When you compare that to the price of firewood, it's easy to see why so many people prefer to run an electric model.
The Convenience of Electric Fireplaces
These fireplaces give a nice, warm glow, but they don't need all of the maintenance that a typical fireplace needs. They tend to be much easier to install than a traditional fireplace or other option. A fireplace that uses natural gas or burns wood can have a lot of logistics issues with installing them, and they will need maintenance done to them to keep them working well and prevent costly fireplace repairs down the road. They also don't require you to gather or store wood for burning. For many people, it's simply more practical to add an electric fireplace to their home.
Easy Maintenance
An electric fireplace doesn't put out either carbon monoxide or carbon dioxide, both of which can be harmful. Without these byproducts of a fireplace, you won't need to have any venting for it, you won't need a chimney and you won't need to set up a detector to alert you to carbon monoxide. These fireplaces also don't produce ash or soot, so there's no need to clean them often. These fireplaces don't use any or burn any combustible fuel, so they don't wear out quickly, and they won't corrode. They often last a lot longer than traditional fireplaces.
The Disadvantages of an Electric Fireplace
While there are many advantages, there are also a few disadvantages that make this option perfect for some people and not ideal for others. Many people want their fireplace to add some additional heating to their homes, and an electric fireplace will not heat as much as a traditional fireplace or a wood-burning stove. They can be used to add some heat to a room that tends to get chilly, but not as much as a wood-burning fireplace.
Many people simply don't like the way the fire looks in an electric fireplace. If you're expecting a real fire that crackles and releases the smell of wood burning, you may be disappointed by an electric fireplace. They will do none of those things. If you want a roaring fire to feel cozy on cold evenings, you might also be disappointed. The "fire" in an electric fireplace often doesn't look like a real fire, though in the last few years the aesthetics have been improving.
Before you get a fireplace of any type in your home, make sure that you come to Angi to understand the options and what each will be like. While some won't want to sit in front of an electric fire, others love the simplicity and ease of using these fireplaces.