If you're transforming your outdoor area from a basic to a fancy one, landscape lighting is the way to go. Matching simple lighting strategies with your landscape is a simple but great way to highlight some architectural features as it'll add more aesthetic.
The good part about landscape lighting is that you only need a little touch, and it'll go a long way; in fact, less means more. You don't need to light up every corner of your outdoor to get the best results. You just need to place low voltage lights in strategic places so you'll be able to get the best out of them. If you need professional installation, it's best to hire the experts, such as Oregon Outdoor Landscape Lighting.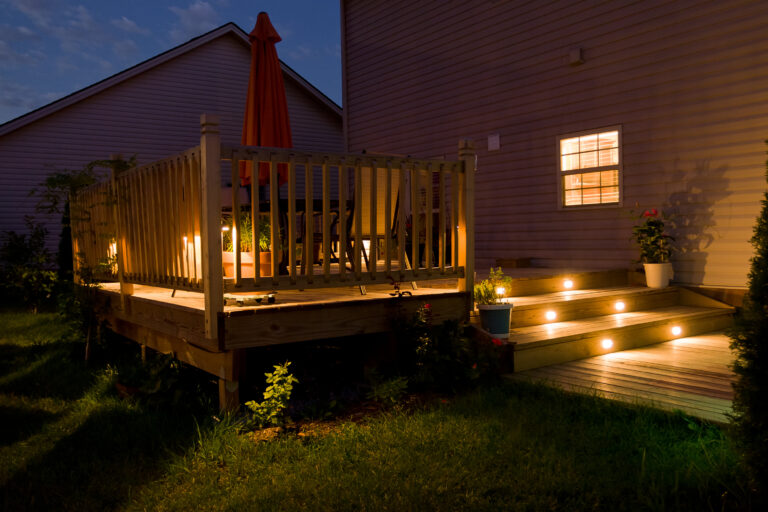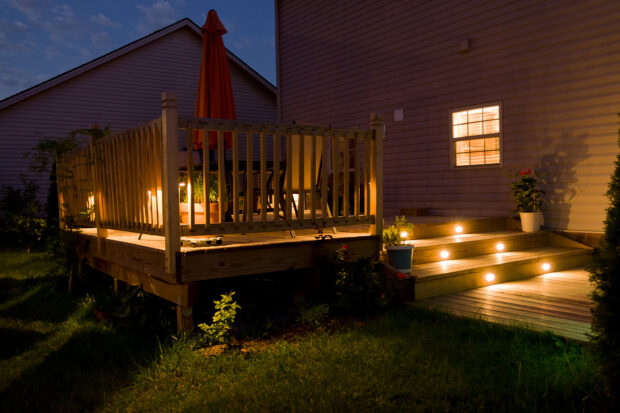 Landscape Techniques
To help you get started, here are some lighting techniques that you should be familiar with:
1. Uplighting
Uplighting or silhouetting, as the name suggests, is to mount the lights on the ground with the beam facing up. They can either be placed at the front or in the back of the object you're lighting. To prevent shadows from casting, there has to be a space in between the lights.
Here are the different types of uplighting:
Highlighting: In highlighting, lights are placed at the base of an object at a certain angle to illuminate them. They're best for illuminating trees, plants, and sculptures.
Shadowing: This technique is all about creating dramatic shadows. Shadowing is commonly used to cast shadows of trees in walls, but, with a little creativity, you can experiment with this type of technique to make your outdoor look more aesthetically pleasing.
Wall washing: In-wall washing, lights are placed near the base of a wall, which faces almost directly upwards, giving the whole wall the light's color. In-wall washing, you have an option to go colorful by mixing and matching different colors.
2. Downlighting
Downlighting is placing lights in strategic locations while facing the ground. Downlights work best when hidden from the eye, and can work in various locations such as trees, walls, sculptures, fountains, and ponds.
Here are some good examples of downlighting:
Moonlighting: Moonlighting is common for lighting trees. The lights are positioned higher in the trees, so they cast a shadow of the tree. To get a better view, the lights should be placed directly facing the ground.
Accent Lighting: Accent lights are about attracting attention. They can be used almost everywhere to illuminate and highlight the space you want.
3. Mirror Lighting
Mirror lighting is a technique used to reflect light on the water's surface. If you have bodies of water, like a pool, pond, or a spa in your yard, light up the trees and any plantations surrounding the body of water on one side to create a reflection of them when viewing from the other side.
The views created by this technique are spectacular. The good part about mirror lighting is that they add more aesthetic to your outdoor without taking any space at all. If you have any still water bodies, you should definitely try this lighting technique.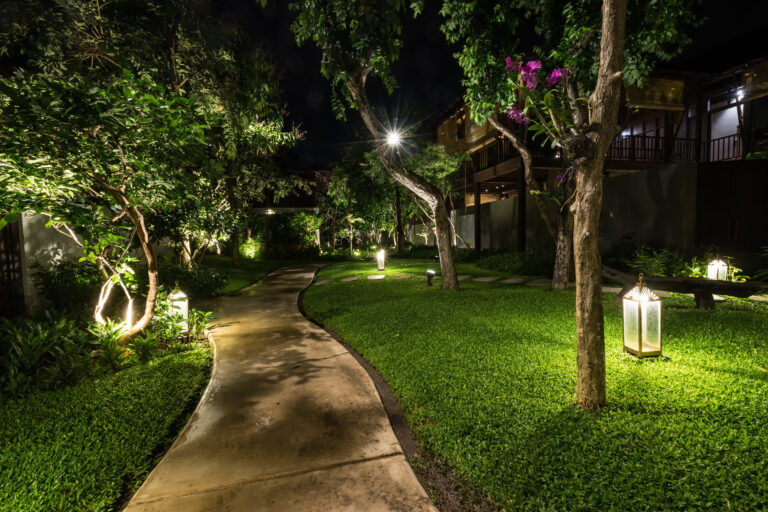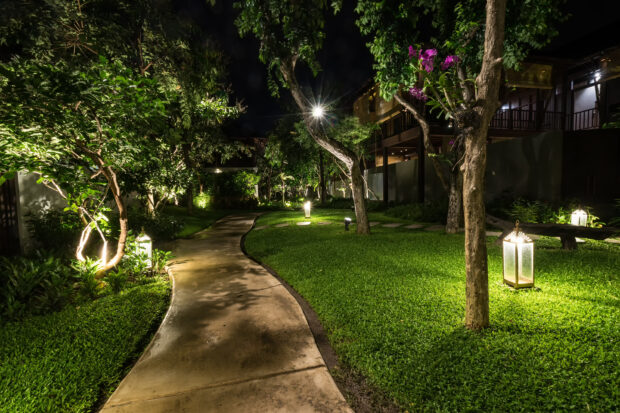 How To Use Landscape Lighting
When doing your landscape lighting, here are some tips to consider:
1. Make A Map Of Your Outdoor
When doing landscape lighting, the first thing you should do is to have a clear picture of your yard. Mapping your outdoor will help you figure out the areas you need to highlight.
To ensure you get the best out of your lighting, the proper placement of your lights is important. Key areas to take note of include pathways, driveways, stairs, patios, plantations, and any other architectural feature that might work well with lights.
While you're sketching your outdoor, it's also important to know what type of lighting that'll suit your preferences because not all lighting will be effective to serve every purpose.
Lighting is divided into three categories that are based on their function:
Overall lighting – Lighting to provide illumination to a whole space.
Task lighting – Lighting a space for a specific purpose.
Accent lighting – Lighting to draw attention to the space or object.
The best light bulbs to suit your needs will depend on what you'll use the light for. For example, if you use your patio space for entertainment, you'll need less light in the space. If the main purpose of your lights is for security, you'll have to use brighter bulbs.
Lastly, here's a video from Oregon Outdoor Lighting's Youtube Channel that'll walk you through outdoor lighting design.
2. Focus On The Front Entry Points
After mapping your outdoor, the front entry points are the first places you should consider. This is because proper lighting on the entrances creates a warm and welcoming environment for your home.
As a start, post lights can be placed on both sides of the gate. On your entry doors, you can place the lights overhead or sideways. If you have staircases, you can install post cap lights or step lights to make the way more visible.
3. Light Up Your Pathway
You can emphasize the pathway with path lights such as bollards, up lights, downlighting, outdoor lamp fixtures, and floodlights that are placed on the pathway's edge. Wall lights can also be used if there's a wall in the pathway
To create more appeal to your outdoor, get creative and design a pattern using the lights. You can also consider using any trees or plantations, if you have any, along the pathway to light up your way. To prevent glare, don't use overly-illuminated bulbs.
4. Light Up The Decks Or Patio Spaces
For patio spaces, string lights are the most popular choice as they're highly flexible–string lights can be easily moved to any location that seems fit to you. To create a more appealing look, you can mix and match any colors that you prefer.
Aside from string lights, lanterns and other portable lights may work just as well. An added advantage of lanterns and string lights is that they're cheap and they come in many styles that can match with your surroundings.
5. Light Up Your Boundaries
Aside from providing security to your home, fences can also be helpful when doing landscape lighting as it can create an aesthetically pleasing outdoor. In fence lighting, the light you choose may depend on the type of fence you have.
For instance, basic string lights can be strategically placed along your fence to illuminate your outdoor while providing extra security. If you have wooden fences, rope lighting is an inexpensive alternative you can use.
You can also use sconce lighting and wall mount lighting. Lastly, for some breathtaking views, you can also try silhouette lighting.
6. Light Up Other Landscape Features
These are still many spots where lighting will do well. Good examples are fountains, ponds, waterfalls, and flower beds. If you've seen them at night, you know how magnificent they can make an outdoor space.
Lighting up these areas will require some creativity of your own. As a tip, when lighting fountains, you can place colorful lights at the base so that the water can take the color of the lights. In ponds and waterfalls, you can place lights where the flowing water hits the water's horizontal surface.
7. Lighten Up Dark Areas
Lighting up dark places is a simple but great way to make your outdoor feel more aesthetically pleasing at night. Downlights are great for highlighting the dark areas of your home. In addition, they also help boost your yard's security.
One thing you need to keep in mind is the spacing of the lights. Ideally, you don't want to put the lights too close to each other. As a rule of thumb, for larger bulbs, they should be around five meters, while small bulbs can be around 3 meters apart.
The Light Bulbs
Some types of bulbs for landscape lighting include:
LED lights: Available in many colors, LED lights are the most common bulbs, which can be a little expensive, but they're long-lasting and consume less energy.
Incandescent lights: They're brighter but consume a lot of energy and have lesser lifespans. They're good for security lighting.
Halogen bulbs: Since they consume lesser energy and have longer lives, halogen bulbs are the better version of incandescent bulbs.
Fluorescent bulbs: They're available in many colors, more long-lasting, and they're energy-savers.
Stay Safe With Low Voltage Lighting
When having landscape lighting, it's important to ensure safety by using low-voltage lighting, which is usually around 12 volts. If you wish to do a DIY installation, the must-haves include a transformer, cables, and landscape lights.
A DIY installation is easy, but it's better to seek professional help to ensure the installation goes correctly, preventing future accidents.
Avoid Light pollution
To prevent wastage, you can have timers to control the lights. Position the bulbs well and use bulb shields to concentrate the light in a particular space
You can use low-wattage bulbs or opt for solar-powered ones, especially if you live in sunny areas.
Conclusion
These simple guidelines can transform your outdoor aesthetic from just a normal one to a spectacular outdoor. In your next landscaping renovation, you should definitely consider landscape lighting.