Red sauce pasta is a super delicious dish. Mostly, it is kids favourite. It can be made for lunch or dinner as it is very fulfilling along with being delicious. Red sauce pasta is one pot dish made with just basic ingredients like the pasta, tomatoes and herbs. Tomatoes are used to get that bright colour in sauce. Also you can enjoy this dish at your home by simply order this dish online using Swiggy Paytm Offer to get great discounts.
One of the main attractions of this pasta is the red sauce, which makes it such a delicious dish not just for the taste buds, but for the eyes too. The key to making a great red sauce past is to create great sauce. The recipe is simple enough and you can make the dish is just a few easy steps.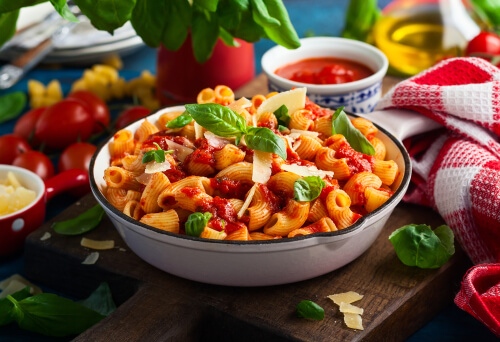 Here is a quick and easy way to make it:
Ingredients you Need
Here are the essential ingredients you will need to create the red sauce pasta.
3 to 4 tomatoes, red and ripped
4 tablespoon of olive oil.
One bay leaf.
2 cloves of garlic.
One and a half cup of sugar-300g
½ sized onion.
One teaspoon of basil leaves.
¼ teaspoon of chilli flakes.
½ teaspoon of mixed herbs.
Salt to taste.
¼ teaspoon of pepper,
Grated parmesan cheese.
1 cup of penne pasta.
Water to boil pasta
Salt for taste.
How re the steps you need to follow to create the restaurants style red sauce pasta:
For making the delicious red sauce past you need to start with making the cause. For this, the first thing you need to do is to make X shapes on the tomatoes and then blench them.
The next step is to boil the tomatoes till its skin starts to separate and then peel off the skin of blanched tomatoes when they are completely cooled down.
Now make a smooth puree with help of a blender by putting the blenched tomatoes in it. This is an important step for making the sauce. You need make sure the puree is smooth, thick and or great texture.
Now take another pan and add enough water required to boil. Then add 1 tsp of salt and 2 tsp of oil to the boiling water. Now add penne pasta in boiling water, and then cook them till they became soft. Cook them for approximately 15 minutes. Finally, drain the pasta and keep it aside.
Take a pan and heat it. Then add 2 tsp of oil into the pan followed by bay leaf and garlic for sauté. Then add onion to it and cook till onion turns to dark colour.
Once the above mixtures are cooked well, add puree tomato to the pan and cook it for 5-7 minutes.
Now add basil leaves, chilli flakes, mixed herbs, pepper, and salt and mix it well. These ingredients will increase the taste as well as add a flavour to it. Cover and simmer the mixture for 15 minutes till the sauce becomes thick.
Now take the cooked pasta and add it the mixture. Mix the pasta and sauce completely and cook them well.
Now serve red sauce pasta hot. For the toppings, you can use the cheese.
Here are some tips:
To balance the tangy taste of ripped tomatoes, onion or bell pepper is added.
Use more tomatoes for making the sauce thicker. If you need more quantity, add some more tomatoes.
Add vegetable to make it a healthy dish.
Always serve the red sauce pasta hot. It takes great when it's hot.
If using prawn or chicken, first sauté the prawn or chicken separately with onion and garlic and set it aside until they are cooked then add it to the cooked paste.
The Bottom-Line
You can easily make restaurant style red sauce past at home with this method. It is easy enough and you can quickly cook them. Moreover, you can order this delicious recipe online using Zomato Offers at discounted price. It is delicious, and very healthy because of all the healthy ingredients in it. Make them for kids, on special occasion or whenever you like and enjoy this great dish with family and friends.