In recent years outdoor kitchens have become incredibly popular home improvement projects, and for a good reason. An outdoor kitchen can create an entertaining space, help reduce energy bills, extend indoor living space, make food taste better, and increase property values. No matter what type of home you have, it's possible to build an outdoor cooking area and customize it to suit your tastes.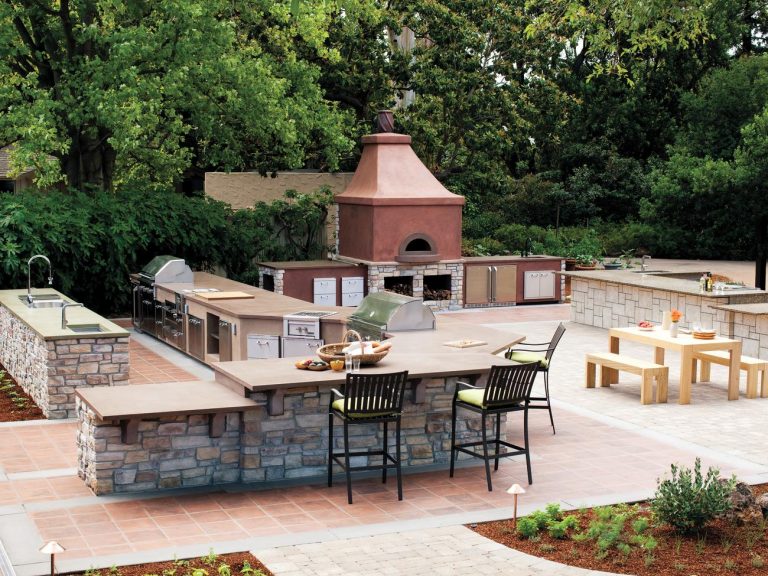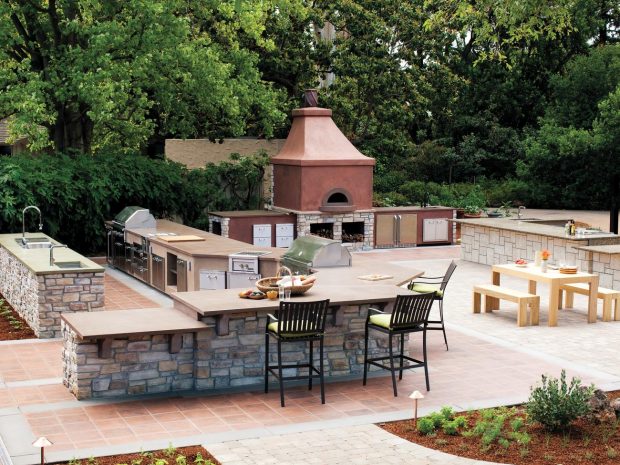 Create a Dining Area Close to Your Indoor Kitchen 
The rising popularity of outdoor kitchens has spawned dozens of design ideas and layouts. If you are beginning to think about creating your space and need some outdoor kitchen ideas, consider building yours close to the existing indoor kitchen.  
It's a location that simplifies large gatherings and saves time during prep and cleanup, per Better Homes & Gardens experts. Building near an existing kitchen also makes it easier to run water and gas lines outdoors.
Mix Natural Materials for Stunning Style
What could be more fitting than using a nature-inspired theme when planning your outdoor kitchen? You can give your kitchen a warm, earthy aesthetic by mixing materials like wood and stone in various colors and textures. Choose bold materials for countertops, cabinetry, a pizza oven, and an island.
For example, consider a granite countertop balanced by stone and brick accents with stainless steel appliances. It's a charming look that is especially appealing under a pergola.   
Build a Recreation Area with a View
When planning your new kitchen, think about building it in an area with a view. If you are lucky enough to live near a dazzling wooded area or mountain range, you already have an ideal spot. But, you can also create a kitchen overlooking a gorgeous garden. Incorporate plants and trees in the design to carry the theme throughout.
Designing a poolside or lakeside outdoor kitchen creates a lovely, relaxing oasis. It is easy to find a wide variety of sturdy, beautiful outdoor furnishings that stand up to the weather and are ideal for relaxing and enjoying a drink after a swim. Whether the area is covered or uncovered, you can include a wet bar and bar seating for a casual vibe or add a complete dining area that may be used year-round.
Add a Compact Kitchen to a Tiny Space 
If your only outdoor space is a tiny nook, you can still create an eye-catching, functional outdoor kitchen. According to House Beautiful staff, the key is minimalism, so don't overdo it with gadgets and accessories.  
It takes careful planning to build a smaller kitchen, so it's crucial to prioritize and include only the items and appliances you often use. Suppliers offer smaller grills and ranges, and you can even downsize decorative elements like wall tiles to maintain the scale. 
Design the Ultimate Outdoor Kitchen 
If you have a big budget and space to match, you may choose to build a luxury outdoor kitchen that includes everything needed for the ultimate outdoor dining and recreation area.  You can add enough comfortable seating for gatherings, have a fireplace and pizza oven, and install a TV and sound system.  
You may opt to cover your outdoor kitchen area and include a luxurious dining and cooking area. It can become the ideal spot to bring the indoors outdoors any time of year.  
There's an outdoor kitchen concept for every taste and home. With a bit of creativity, you can design and build a convenient outdoor kitchen with a lovely view that's ideal for dining all year. Kitchen designs range from compact, efficient cooking areas perfect for small spaces to gorgeous, sprawling outdoor entertainment and dining areas.