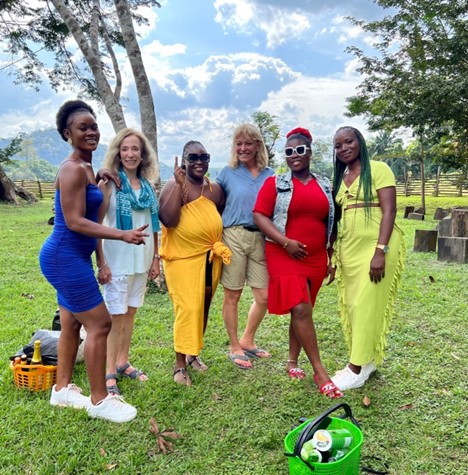 World traveler Franci Neely has long been an adventurer when it comes to traipsing the planet. Not only does she feel it's the best education, but it's become a way of life for the gregarious globe-trotter. She's experienced more than 180 countries and is in the process of fulfilling her dream of stepping foot into every nation in the world. It's an ambitious goal for many, but for Franci Neely, it's just another part of her rich life tapestry.
"I ​​love to explore other cultures, other areas of the world, ways of living, history," Neely says. "I'm very curious about that and I care about it very much."
Neely's passport has never rested in one place for too long. Her excursions have taken her to the breathtaking beaches of Yemen, the majestic waterfalls of Cameroon, the fashion-forward streets of Paris, and the riotous rhythms of Cuba. While Franci Neely has been to places others only dream of, she says no matter where she lands, she always makes it a point to partake in the local food, music, art, and culture. And she has the photos to prove it. She's snapped thousands of images of local life in the villages and metropolises she's happened upon.
And as the stamps on her passport accumulate, she observes just how much more people have in common than they realize. "People everywhere are the same," Neely says. "They are propelled by many of the same feelings."
Franci Neely Shares Cultural Lessons From Liberia
During a recent visit to West Africa's Liberia, Franci Neely says she was deeply inspired by meeting the Rev. Charles Diggs, the administrative pastor of the historic Providence Baptist Church.
"It's called the cornerstone of the nation because it was in the sanctuary of this beautiful church that the Liberian Declaration of Independence was signed in 1847," Neely explains. "I was moved to see the plaque inside the church that commemorated this monumentally significant event."
Neely says she also learned how Diggs epitomizes the close connection between Liberians and Americans. "He received a divinity degree in Grand Rapids, Michigan, and he has traveled to a number of American states and has relatives there," Neely adds.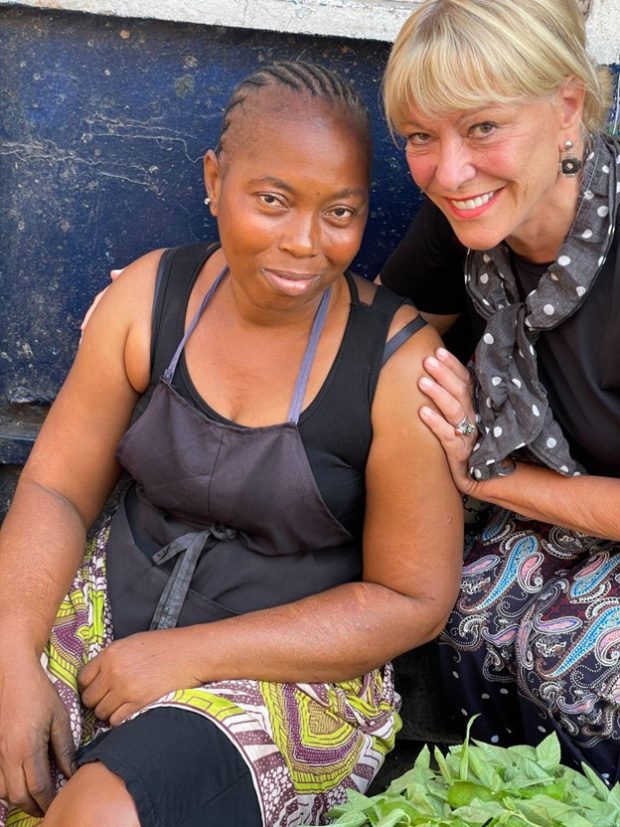 Sadly, Liberia is currently under a Level 2: Exercise Increased Caution advisory from the U.S. Department of State due to crime and civil unrest. But as Franci Neely looks back on her time there, she wishes she'd been able to visit Providence Baptist Church on a Sunday to hear the voices raised in prayer and in song. "As it was, my visit to the venerable church and eloquent Pastor Diggs with the megawatt smile made my heart sing," Neely describes.
"The day could not get better, I thought. I stepped outside the church to once again admire its facade. It was then that I met the brightly dressed man who new Liberian friends told me was locally known as 'Mr. Best Dressed.' I love Liberia and its freedom and America-loving people."
Appreciating Iran's Rich Culture
Touring the Middle East can appear to be a daunting jaunt for some Americans. Not so for Franci Neely. She's effusive about her sojourn in Iran, where she particularly enjoyed connecting with the people. Only about 1,000 to 1,500 Americans typically visit Iran annually. However, its Persian roots make it a fascinating find for art, architecture, and philosophy.
That's not to say she isn't aware of the ideological differences between the Iranian and American governments, and the reluctance some of her compatriots may feel.
"I get it because they probably think it's dangerous, that they'll be accosted on the street if they're Americans. Friends of mine who are pretty sophisticated about the world say, 'Aren't you afraid? Don't you ever feel in danger?'"
But Neely is nothing if not an intrepid nomad. She shares she felt nothing but love and generosity from Iranians.
"They were exemplars of kind hospitality to this America and repeatedly told me how they loved Americans — not our government, but Americans. I've had the opportunity to see firsthand that no, Iran is not evil, people are not evil. The Iranians [have] a very sophisticated culture."
The Joys of Connecting With Nigerians
Franci Neely has some tales to tell about the alluring continent of Africa, particularly Nigeria, where she had an opportunity to chat with everyone from local schoolchildren in their smart uniforms to motorcycle aficionados in Badagry. She also had a chance to visit the monumental Queen Moremi Statue of Liberty. At 42 feet, it's the tallest statue in Nigeria and the fourth tallest in Africa. It was erected in honor of Queen Moremi Ajasoro, who, legend has it, saved her people from oppression. It's become an iconic piece of history for the Yoruba people.
As an informed world citizen, Neely is aware of sensitive situations in the countries she visits. Currently, Nigeria is under a Level 3: Reconsider Travel advisory from the U.S. government for "crime, terrorism, civil unrest, kidnapping, and maritime crime." While Neely takes necessary precautions, she says she's never felt afraid or threatened during any of her excursions.
The indomitable traveler also posed for a photo on Olumo Rock, a popular attraction in western Nigeria that reaches a height of 137 meters above sea level. It offers a panoramic view of the ancient city of Abeokuta.
She fondly remembers spontaneously encountering a group of inquisitive schoolchildren on a class trip who were immediately captivated by her appearance. "We were at a site together and they were curious about me and they came up and looked at me," Neely says. "And that just shows the curiosity in a good way of people, in this case, children, who [were having] a connection with someone who does not look like them."
And that, right there, is the key to Franci Neely's wanderlust.
"I have a lot to learn and maybe we can teach each other," she says. "We can share with each other."