Now that spring is here, it's time to start engaging in more outdoor activities, including taking care of the outside of your home. The snow is melting away (or the weather is becoming warmer in general) and it's time to get your yard ready for the new season. Taking such care of the outside of your home is referred to as enhancing your curb appeal, or your home's view from the curb. Here are five ways to improve your home's curb appeal.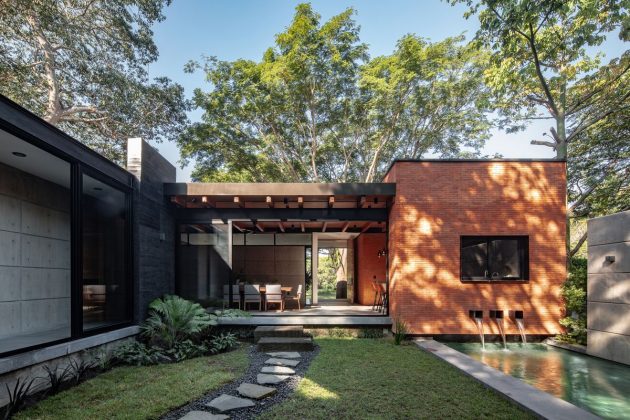 1. Plant Some Trees
Planting trees is a great way to add longevity to your home, and also increase its property value. Even planting a single tree in your front yard can make your home seem more welcoming. You can even get more creative and plant trees to frame the walkway to your front door. Some of the best trees to plant in your front yard include:
American Holly
Crape Myrtle
Flowering Cherry
Minnesota Strain Redbud
Persimmon
Pineapple Guava
Red Buckeye
Redleaf Japanese Maple
Smoke Tree
Sun Valley Maple
Tulip Tree
Of course, the best tree for your yard will depend on where you live. You should look for the best tree to plant in your area so that it'll have the best chances of thriving. You can also look for trees that compliment the look of your home.
2. Start a Garden
The majority of gardens are planted in the backyard, and the backyard has some importance when it comes to curb appeal and the overall property value of your home. Gardens have come a long way from just small patches on the corner of a home— many gardens now cover most of the backyard. Starting a garden isn't too hard, and some of the easiest (and most beautiful) flowers to plant in a garden include:
Coneflowers
Cosmos
Daffodils
Dahlias
Geraniums
Marigolds
Morning glories
Pansies
Snapdragons
Sunflowers
Sweet peas
Zinnias
Again, plant flowers that have the best chance of flourishing in your region— though many of these flowers can thrive almost anywhere. Add pathways and backyard decor to really bring your garden to the next level.
3. Get Creative with Landscaping
Speaking of next-level gardens, why not apply this same creativity to all of your landscaping? Plant flower beds around the trees in your front yard, and even around your mailbox. Another creative idea is to your front porch and to the windows of your home. This will definitely help boost curb appeal and draw eyes towards your home.
Stone pathways add a sort of "whimsical" touch to your home, which perfectly compliments a Cottagecore interior design style. Many other interior design styles, such as Modern Farmhouse and Boho Chic, can also translate well into landscape design. This is likely because these interior design styles use natural elements, such as plants and wood.
4. Basic Yard Work Still Goes a Long Way
Realistically, not everyone has the time or the money to put into planting a garden or designing their landscape. The good news is that if you perform routine maintenance on your yard, such as watering the lawn, cutting the grass, and even raking leaves, then you're already enhancing your home's curb appeal.
Still basic lawn work can be time-consuming and even tricky for some people in certain areas. Fortunately, there are lawn care services that specialize in certain lawn treatments. Call your local lawn care service to help you with your basic lawn care and even specialty lawn care services.
5. Don't Forget the House Itself
Last, but not least, you should make sure that your house looks appealing from the outside. You'll want to start with the basics here too, like you would for your yard: walk around your home to assess its condition. Make sure the siding isn't coming off, the gutters are clean, there's no paint chipping, your driveway and sidewalks are clean, and that there aren't any shingles missing from your roof. You should also pressure wash the outside of your home.
Once the minor details are fixed, you can consider other additions to your home. This can be something like a front porch (if you don't already have one) or a deck. Painting your home a new (or the same) color is also a great way to enhance your curb appeal.
While you're spring cleaning on the inside of your home, don't forget about the outside. Spring is the perfect time to brush up on your curb appeal, whether it's freshening up the old or doing something completely new.