Appetizers, a roast in the oven with garnish, and all the sweets that accompany Christmas. Meals on these dates are synonymous with excesses and trying to balance them with a healthy starter may be an ideal option.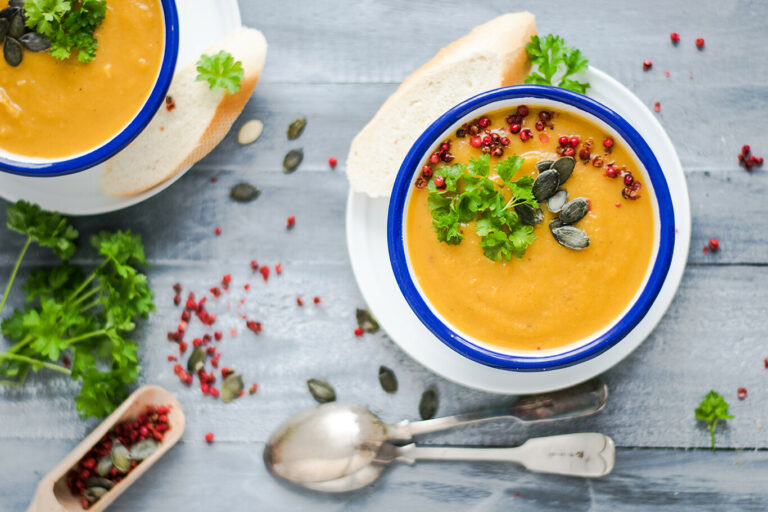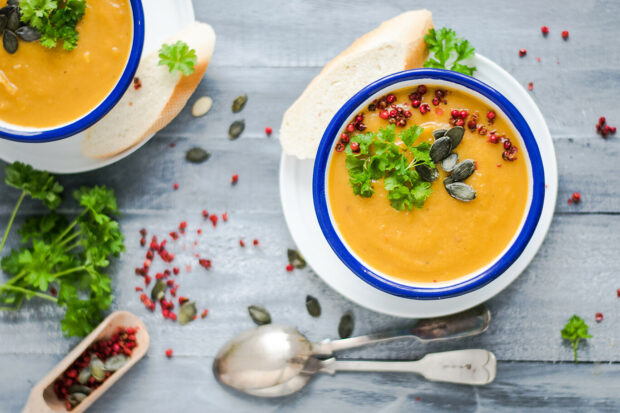 We are not talking about making a classic zucchini cream as you would make for a light dinner, but rather spoon dishes taken to the next level and that are undoubtedly very Christmas dishes.
Prawn Bisque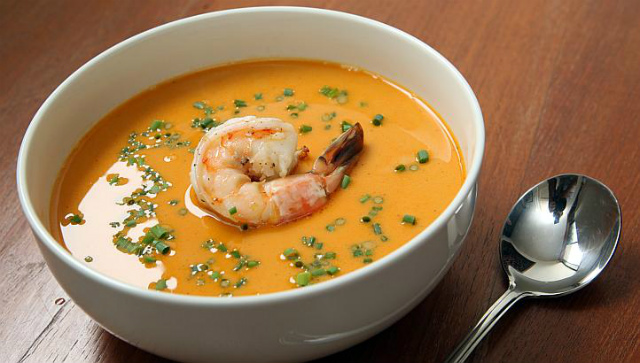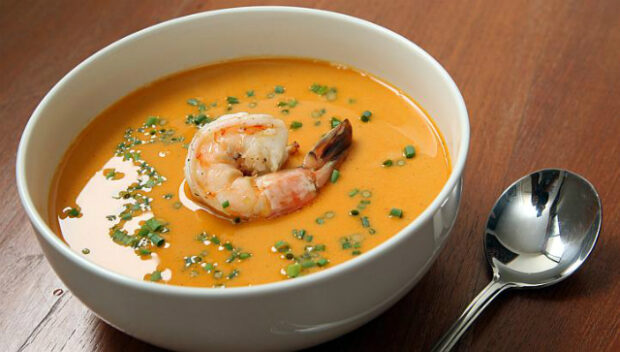 If there is a classic Christmas dish, it is undoubtedly the prawn bisque, a type of soup or cream of French origin that we can also prepare with crabs, for example. In this case, we bet on its most classic version so that this starter is a guaranteed hit.
The creams in this type of celebration have an extra that convinces us even more: we can prepare them in advance and avoid being in the kitchen at the last minute and not being able to enjoy our guests. We give you fifteen options so that this year you can put a cream as a starter at Christmas and leave everyone with their mouths open.
Ingredients
100g butter
4 tbsp extra-virgin olive oil
1kg fresh sustainable prawns, peeled, heads and shells reserved,
150g prawn meat roughly chopped (see tip)
1.5 liters fresh fish stock
2 shallots, finely chopped
1 carrot, finely chopped
1 celery stick, finely chopped
2 garlic cloves, sliced
1 fresh bay leaf
2 fresh flat-leaf parsley sprigs, plus extra to serve
1 tbsp tomato purée
3 tbsp brandy or cognac, plus an extra dash
100g short grain rice
2 pinches cayenne pepper
3 small ripe tomatoes, chopped
Squeeze lemon juice
50ml double cream
You'll also need
A fine sieve, muslin, and a blender
Method
Melt 40g of the butter with 1 tbsp of the oil in a saucepan. When foaming, add the prawn heads and shells and cook over medium-high heat for 3-5 minutes, stirring regularly, until the mixture smells fragrant and the shells are orange. Add the fish stock and bring to the boil, then reduce the heat and simmer gently for 30 minutes.
Meanwhile, in a large saucepan, melt 30g of the remaining butter and 2 tbsp of the remaining oil over low heat, then add the shallots, carrot, celery, and garlic. Cook gently for 8-10 minutes until the veg is very soft but not colored.
Increase the heat to medium, then add the bay leaf, parsley sprigs, and tomato purée. Cook for 1 minute, stirring. Turn up the heat to high, then add the brandy or cognac and bubble until evaporated. Add the rice, prawn broth (including the heads and shells), cayenne pepper, and tomatoes, then cook for about 20 minutes or until the rice is tender. Allow cooling slightly.
Remove the bay leaf from the pan, then ladle the soup into a blender, in batches, and whizz for 2-3 minutes until very smooth – hold a tea towel over the lid (without the stopper in) to let steam escape. Strain the soup, in batches, through a fine sieve into a medium bowl, pushing it through with a ladle (discard the solids left in the sieve).
Clean the sieve, then line it with muslin. Pass the soup through the muslin into a saucepan, add the lemon juice, cream, and a dash more brandy or cognac, then taste and season (it probably won't need much salt). Heat to a gentle simmer.
When the soup is hot and ready to serve, finely chop a little extra parsley. Heat the remaining 30g butter and 1 tbsp oil in a frying pan. When foaming, add the chopped prawns and parsley, then cook, stirring occasionally, over high heat for 1-2 minutes until the prawns are pink. Ladle the soup into bowls, then top with the parsley and prawns.