Coffee will never go out of style, although disorderly cabinets filled with coffee pods, sweeteners, and tumblers certainly will. To get a hot mug of java in your hands quicker in the morning, consider carving out a spot in your kitchen and building a coffee station.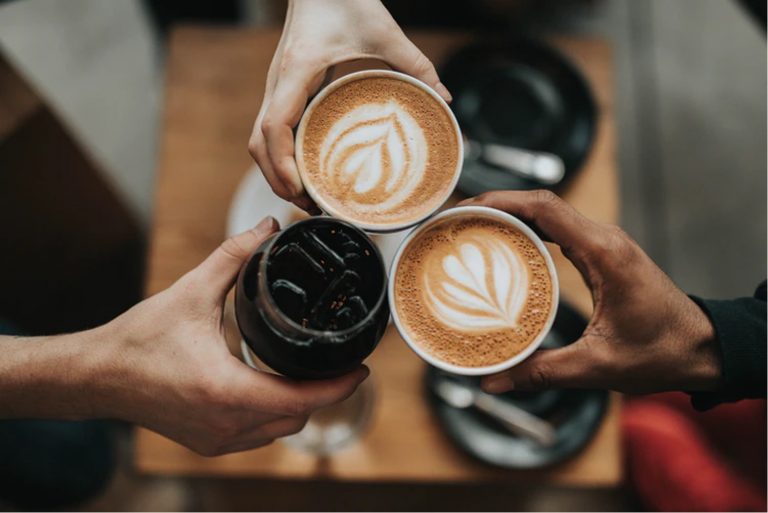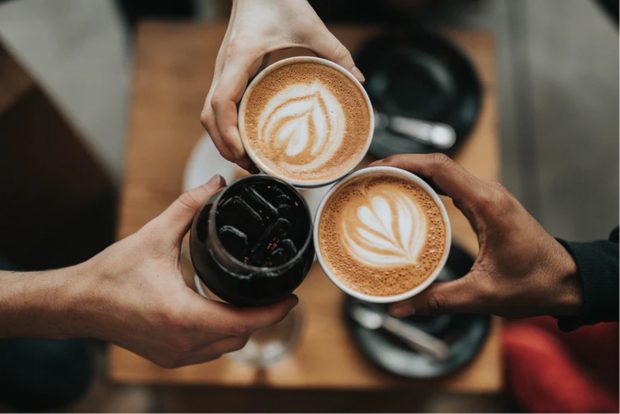 Coffee stations are as functional as they are easy on the eyes. They come in all sorts of styles, from rustic to fully automated. Even if you only have limited kitchen space to work with, there's certainly a DIY coffee station for everyone. Most designs rely on a portable coffee maker (you should check out the Smeg coffee maker if you haven't yet), while others are centered around built-in coffee makers (which are also made by Smeg).
For those that want to build a coffee station at home, we'd love to share a few luxurious designs that you can either copy-paste into your kitchen or use as inspiration to create your own design.
Corner Station with Roll-Up Doors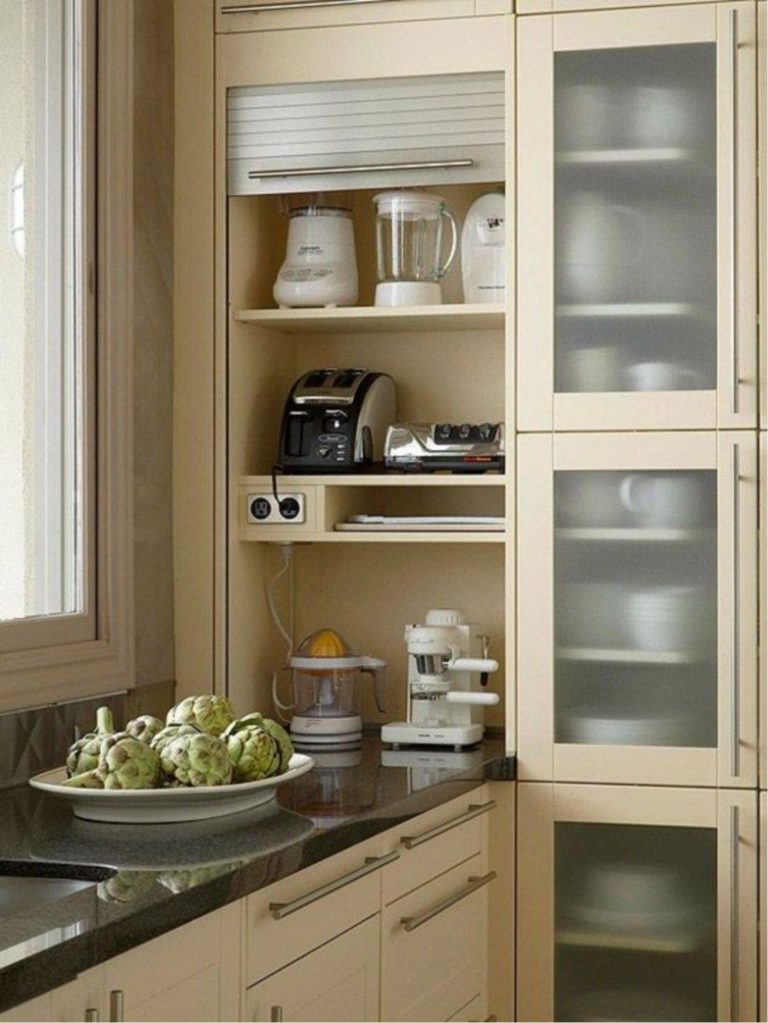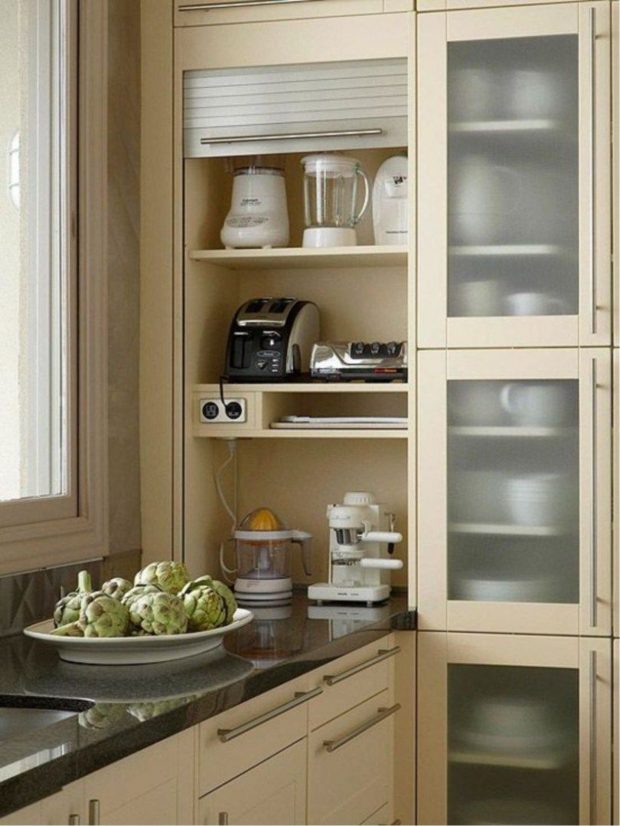 Source: Cindy Daigle (Pinterest)
Roll-up doors don't usually work in a kitchen setting, but it does if you use them to conceal your coffee station from view. This is a fantastic way to utilize awkward kitchen counter corners into the perfect kitchen appliance cabinet. Since the cabinet sits directly on top of the counter, it makes sliding the coffee maker and other appliances much easier than pulling them off of high shelves. A bonus benefit is that cleaning up spilled coffee grounds and liquids is as easy as wiping the kitchen counter with a moist cloth.
Sliding Backsplash
Image Source: Phillip Eageburger (Pinterest)
To pull this one off, there has to be at least three-fourths of a foot of clearance between the sink that the backsplash, which typically doesn't come standard in kitchens. This design creates the perfect storage space for as many appliances as you can fit behind the sliding door. Simply slide the door to the right or left to reveal whatever you have stowed back there. However, you will have to consider how far you need to reach in order to grab hold of your coffee machine and supplies.
Automated Pop-Up Lift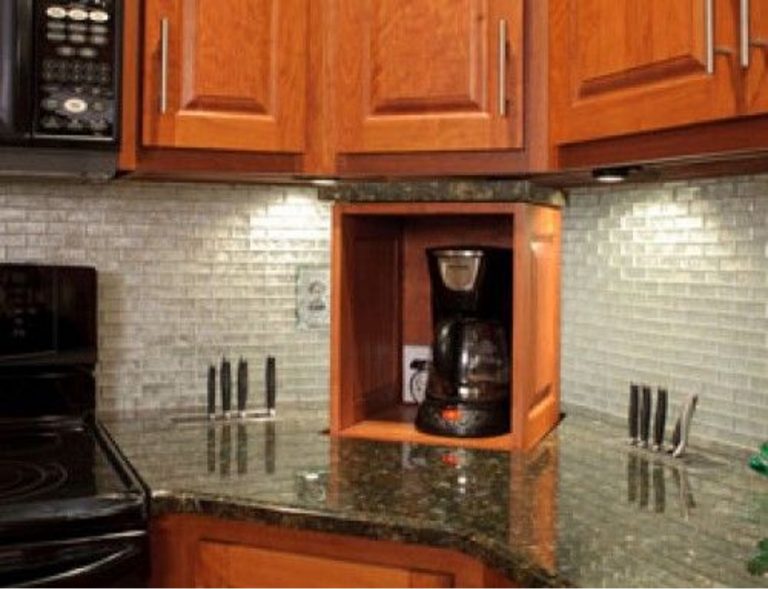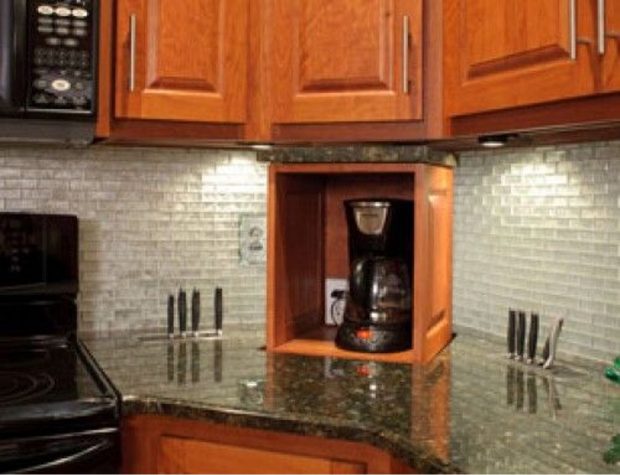 Image Source: Nexus 21 (Pinterest)
There's no denying that this coffee station design will cost a pretty penny, but it's definitely worth it if you want to keep your kitchen as uncluttered as possible. Tech enthusiasts will appreciate how you can use an automated TV lift in the kitchen to keep multiple appliances hidden from view until needed. You'll have to do a ton of planning to execute this concept, but the good news is that it's easy to clean and maintain, and it's super-fun to use.
Wide Cabinets with Bifold Doors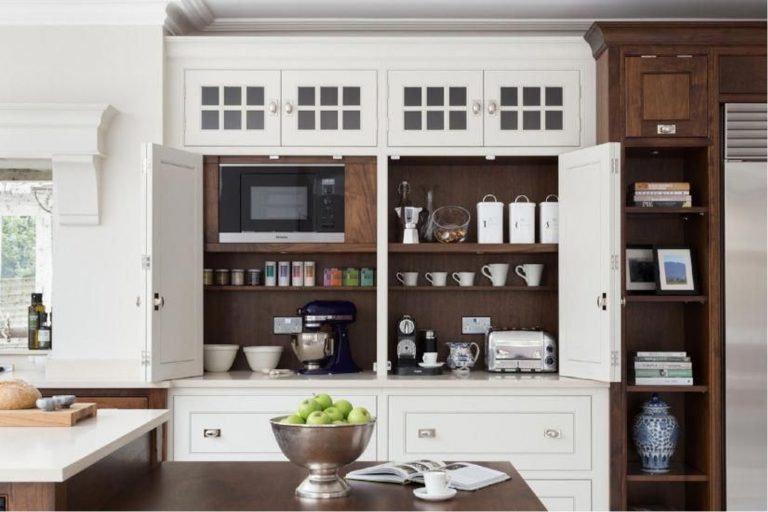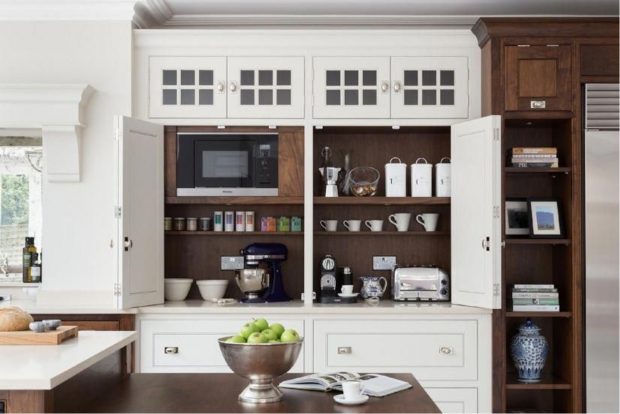 Image Source: Michelle Elwell Interiors (Pinterest)
Assuming you have the kitchen space to install a wide cabinet, why not turn it into the perfect coffee station as well? In fact, since wide cabinets offer a tremendous amount of storage space, it's possible to create your golden cup of coffee directly in the cabinet without pulling your coffee maker and supplies out. Shelves and racks will help you keep your coffee equipment organized, as well offer more space to keep other appliances, like microwaves and stand mixers. If you do get a wide cabinet, make sure you also get bifold doors to limit how much clearance you need to swing the doors open.
Built-in Coffee Stations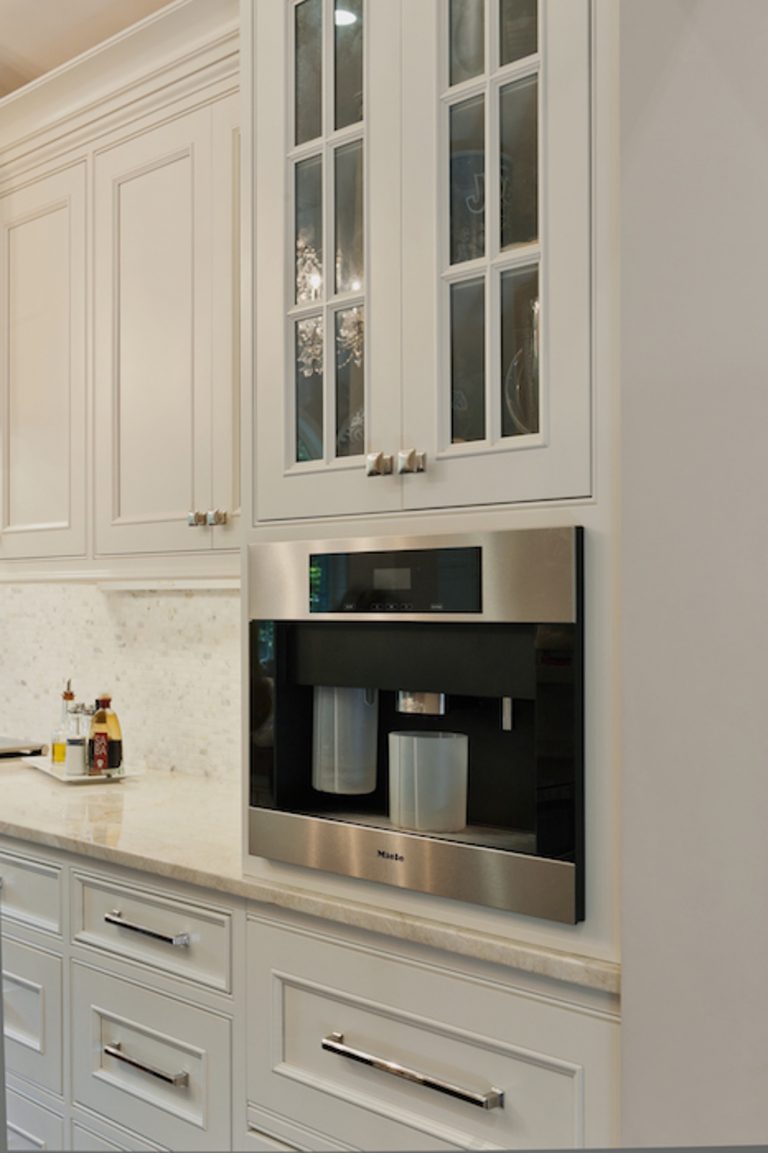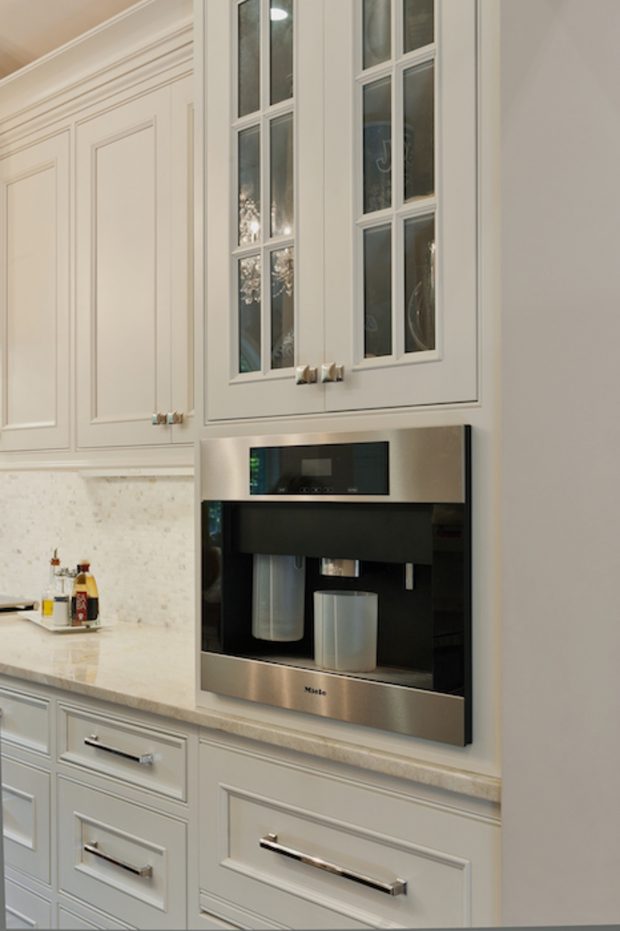 Image Source: divinedesignbuild.com
Creating a coffee station with a built-in coffee maker is one of the costliest endeavors since it requires a brand-new machine, which isn't always for the budget-oriented. The major benefit of having a built-in coffee station is that it doesn't take more than a square foot of countertop space. The water and beans go into a machine that's situated out of view, and all you need to get a cup of coffee is to wait 45 to 60 seconds for the brown liquid to pour out of the spout.
Hidden Pantry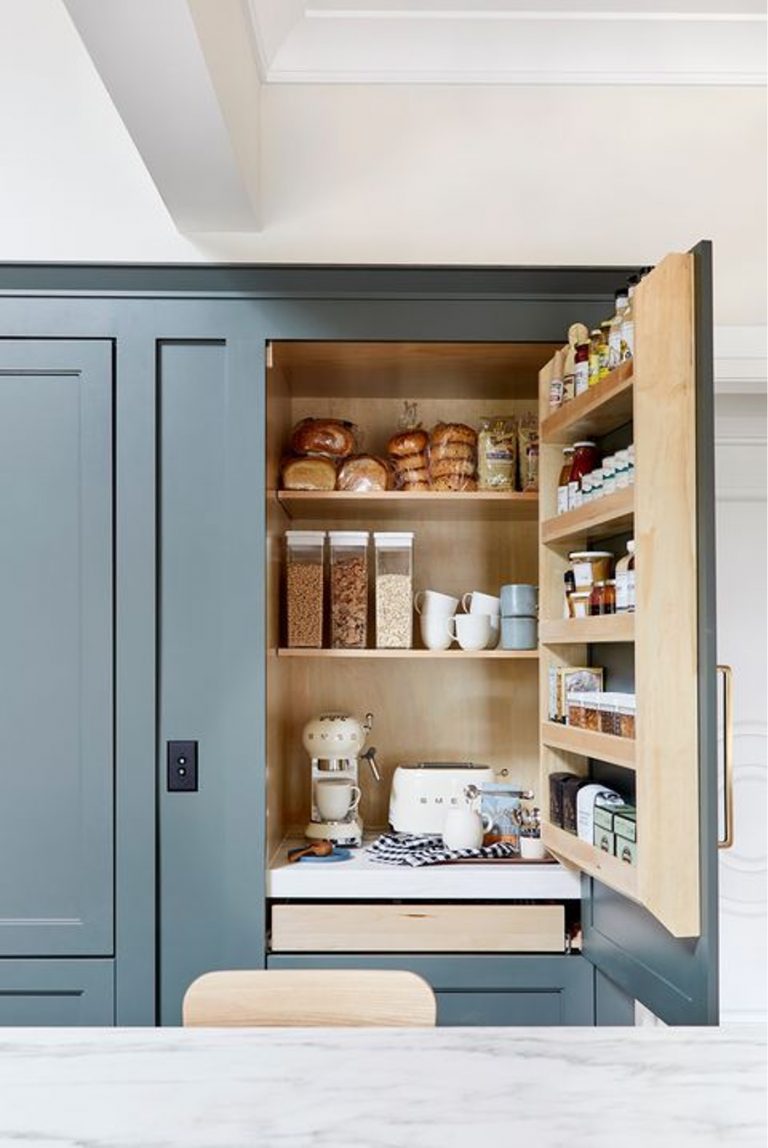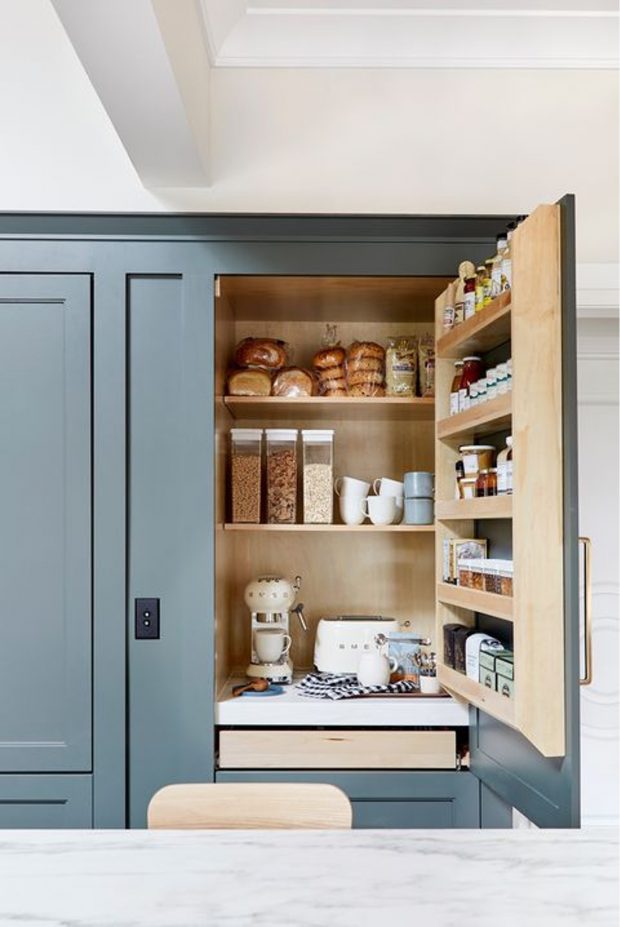 Image Source: XOXO (Pinterest)
Coffee stations don't need a ton of space to look luxurious. Even fitting your coffee maker and supplies inside of a pantry can work just fine. Bonus points if the pantry has a slide-out base and pocket doors.
Multi-Tier Hanging Shelves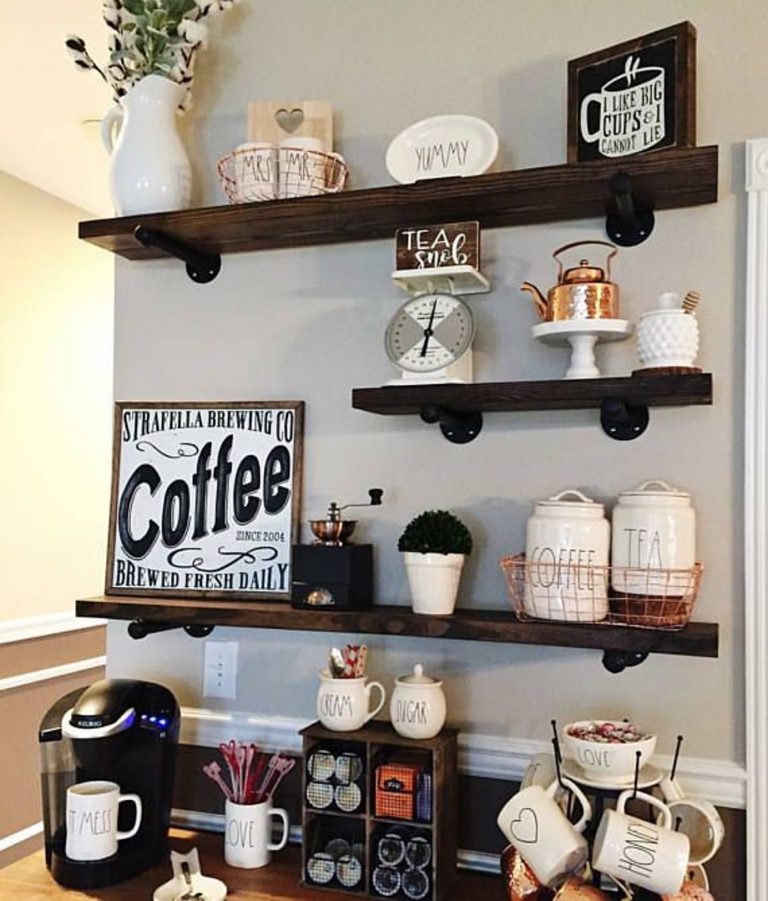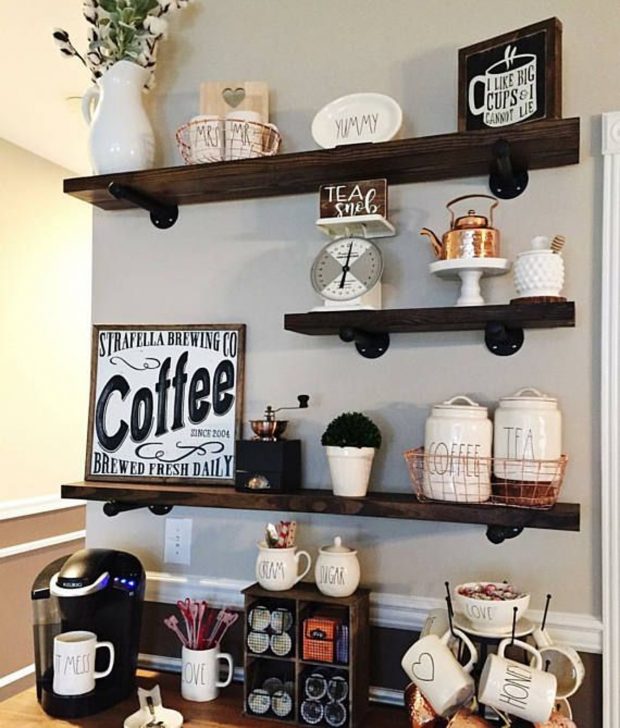 Image Source: Sandra King (Pinterest)
Coffee stations don't have to be extravagant pieces of art. Something as simple as hanging shelves and keeping your supplies on them can serve as the perfect coffee station for those with limited kitchen space. This coffee station design is great since it utilizes vertical space that would otherwise be completely bare.
Mobile Coffee Station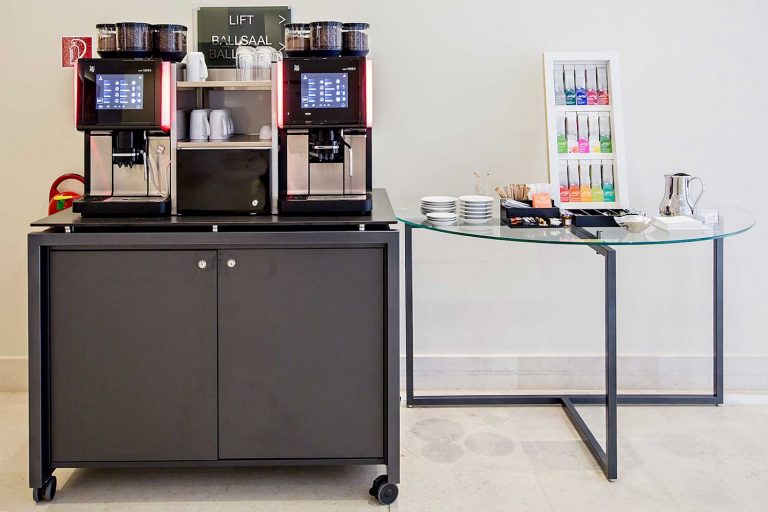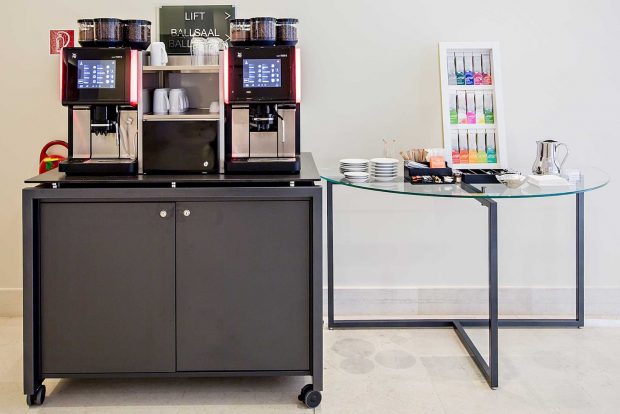 Image Source: ventadesign.com
What if you want to make coffee for guests? Sure, you can prep several mugs in the kitchen as your guests wait in the living room, or you can wheel your mobile coffee station over to them. A mobile coffee station is a fantastic option that allows guests to mix and match different flavors and toppings without burdening the homeowner. Plus, it can really show off your awesome coffee machine without inviting guests into a more private part of your home.
Final Thoughts
There's nothing worse than struggling to find all of your coffee supplies in the morning. With a coffee station, everything is right in front of you, from the mugs to the beans and the coffee maker. Be as creative as your budget will allow!