The terms chambray and denim are sometimes used interchangeably and the two materials even look fairly similar, but in reality, they're far from the same. You might be wondering what makes chambray all that different from denim and how much it really matters when styling it.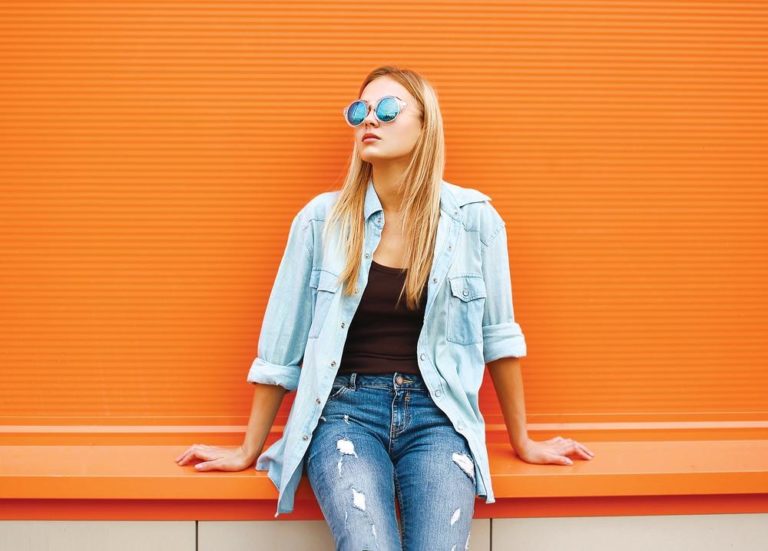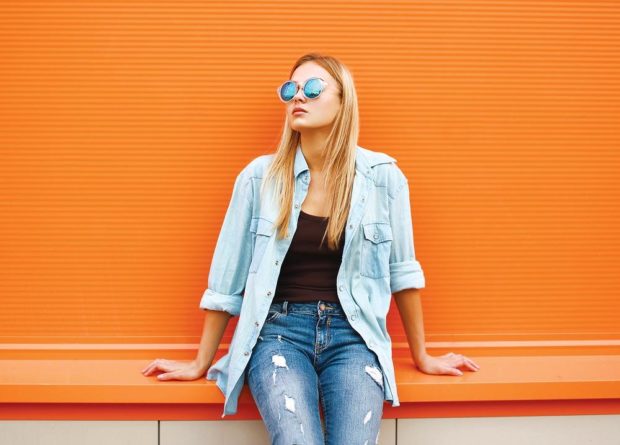 Read on to learn what makes chambray and denim different from one another, and how to style them both.
Chambray vs. Denim
Chambray and denim generally appear so similar to one another due to their distinct coloring–a multidimensional bluish, whitish hue. Both cotton fabrics are made by weaving white yarn and dyed yarn, usually an indigo blue, together–but the difference lies in the weaving process.
What Makes Chambray?
Chambray is made using a plain weave, which means individual strands of yarn are woven together in a crisscross pattern. Chambray is one consistent layer of woven fabric. In addition to appearing smooth and having consistent coloring throughout the fabric, if you were to flip the fabric over on one end, the fabric and weave would look the same on either side.
Chambray is a lighter weight material, making it the ideal year-round styling piece that works especially well during the spring and summer months. Its softness to the touch and hint of sheen allows it to be used for layering pieces and even as an alternative to the traditional dress shirt.
What Makes Denim?
While denim starts with the same staples–white yarn and colored yarn–the weave is different. Instead of chambray's crisscross pattern, denim is formed by weaving the yarn into a diagonal twill pattern, which ends up looking kind of like a zigzag. If you were to flip a piece of denim over, you'd see more white yarn on the back than you do on the front.
The twill weave creates a more rugged and rough material and gives denim its more structured feel. This is why you often see denim as the material of choice for jeans and jackets. To create a comfortable denim shirt, it takes a very high thread count to get the fabric soft enough.
Style Tips
Chambray and denim might seem interchangeable at first, but they can serve rather different styling purposes. Due to chambray's softness and denim's structure, each material has certain looks it's best suited for. You can create so many cute outfits with denim or chambray shirts. It's all about balancing fabric weights and textures.
Styling Chambray
Chambray's slight sheen and softness make it an easy piece to style just like any other wardrobe staple in your closet. Here are some tips for styling chambray.
Wear It to Work: Chambray is absolutely a polished enough choice to wear to the office. In fact, in men's fashion, it's often used in place of a traditional dress shirt. Recreate the look by combining a smooth chambray button-down with black pants and shiny mules. You'll give off artsy vibes, in the best way.
Style a Shirt Dress: For an easy date night look, style a chambray shirt dress with a pair of platform sandals and a crossbody bag. If it's chilly out, throw on black tights and booties and layer on a cozy cardigan. The texture pairing adds visual interest.
Romp Around: Chambray is a great material for a romper because it's lightweight and moves easily. Crisp, white sneakers add a sporty touch to the look.
Be Cozy Cool: Wide leg chambray pants are a smart choice for a breezy summer day. Tuck a white linen shirt into a pair and complete the ensemble with low sandals.
Dressing Denim
Denim is a true classic. You really can't beat a pair of jeans that fit you well and make you smile! Here are some ideas for how to dress your denim.
Jazz Up a Jacket: Flare is a big trend in denim right now. Show your unique personality with a stylish jean jacket that features unexpected detailing, like fringe, patches or buttons.
Create Comfort: Jeans are a great choice for casual days. Pair a dark wash style with a cozy, chunky sweater for a look that feels intentional and effortless all at the same time.
Get Distressed: Ripped jeans and a tie-front top are the epitome of cool girl style. Distressed jeans are in–in a major way–and a flowy top balances them out with a bit of feminine flirtiness.
Walk on the Wild Side: Leopard print is such a versatile option for outfits all year long. Because it goes with just about everything, it's basically a neutral! Mix a leopard print blouse with dark wash skinny jeans for a concert-ready look that'll steal the show.
Styling Them Together
When it comes to creating cute outfits with jeans, chambray and denim serve outfits differently–but styled together, they create a fresh and unexpected look. When donning this version of the Canadian tuxedo, be sure to keep the colors different enough. For example, pair a light chambray shirt with a pair of dark wash jeans on the bottom.
What to Choose?
Even though chambray and denim might seem like they're the same, the little nuances that make them different are also what make them so much fun to style. One option isn't better than the other. It's really all about preference and how you add your own unique personality to your looks.