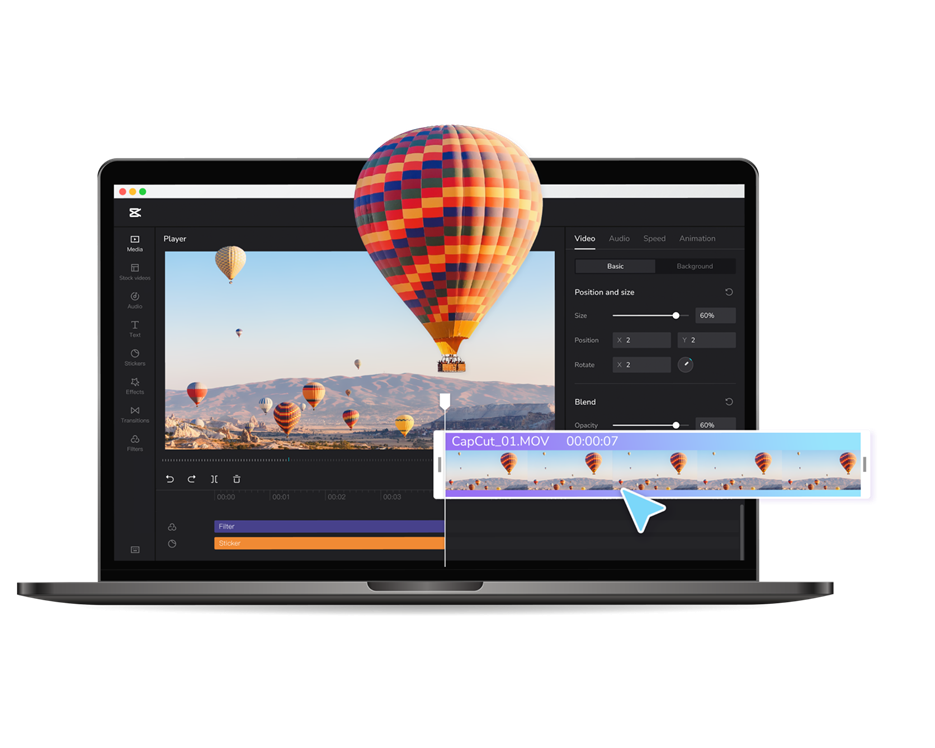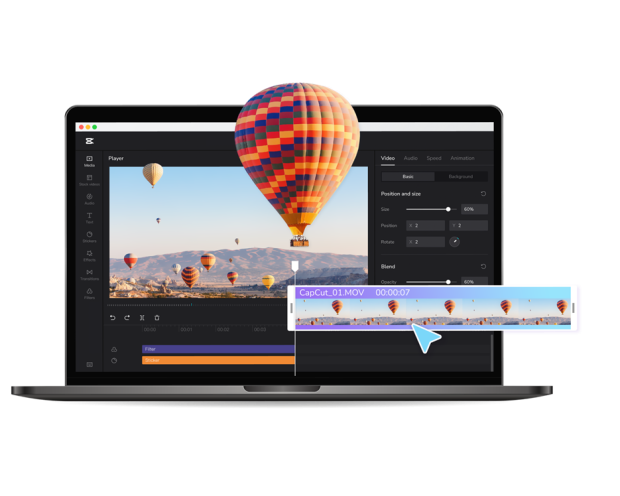 CapCut, free online video editor developed by ByteDance, the company behind the popular social media app TikTok. CapCut web allows users to edit and create videos directly in their web browser without installing any software or any app. The platform offers various video-editing and audio-editing tools, including trimming, splitting, cropping, and merging clips. Users can also add filters, effects, music, and text to their videos to enhance their visual appeal. CapCut web also allows users to adjust the speed and volume of their videos, and it supports various video file formats.
CapCut web's user-friendly UI makes it easy for both beginners and experienced video editors to create quality videos. The platform provides a range of pre-made templates and video effects that users can apply to their videos and the ability to import custom music and sound effects. CapCut web also allows users to export their videos in various formats and resolutions, making sharing their creations on social media or other platforms easy.
Main Features Of CapCut
CapCut is a comprehensive online video editor offering various features to make editing straightforward and accessible. The platform's standout features include speech text, background removal, resize video, and yext speech.
Speech-to-text is a tool that allows users to transcribe spoken words in their video into text captions automatically. This feature can save a lot of time and effort for content uploaders who need to add subtitles to videos. It also makes videos more accessible to viewers who may be hearing impaired or prefer to watch videos with captions.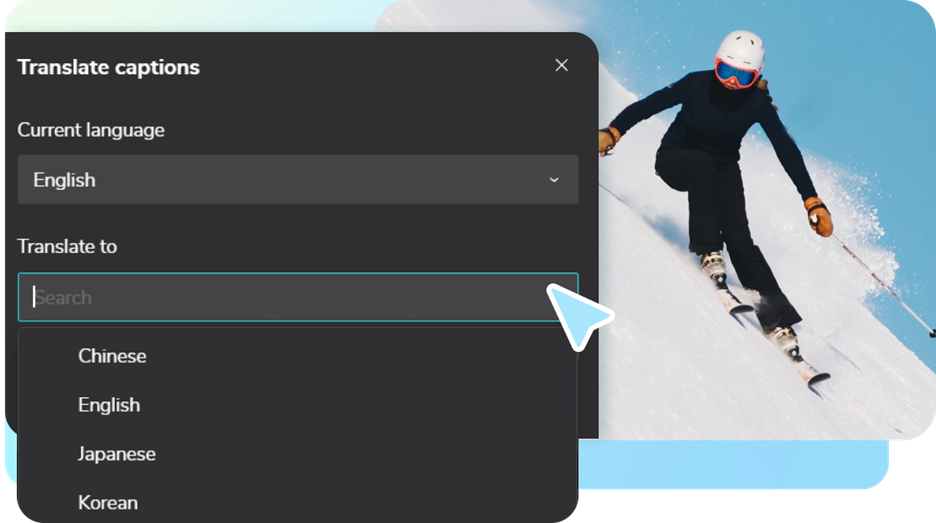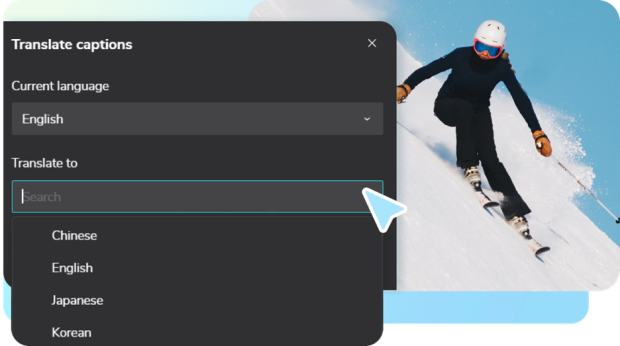 Background removing tool is another powerful feature of CapCut that allows users to remove the background from their video footage. This can be useful for a variety of purposes, such as creating green screen effects or removing unwanted objects or people from the background of a shot. The feature works by analyzing the video footage and removing the background while preserving the subject in the foreground.
Resizing video is an essential aspect of video editing, and CapCut makes it easy to adjust the size of your videos. Users can change the aspect ratio of their videos to fit different platforms, such as Instagram or YouTube. The platform also allows users to crop their videos or add borders for a more polished look.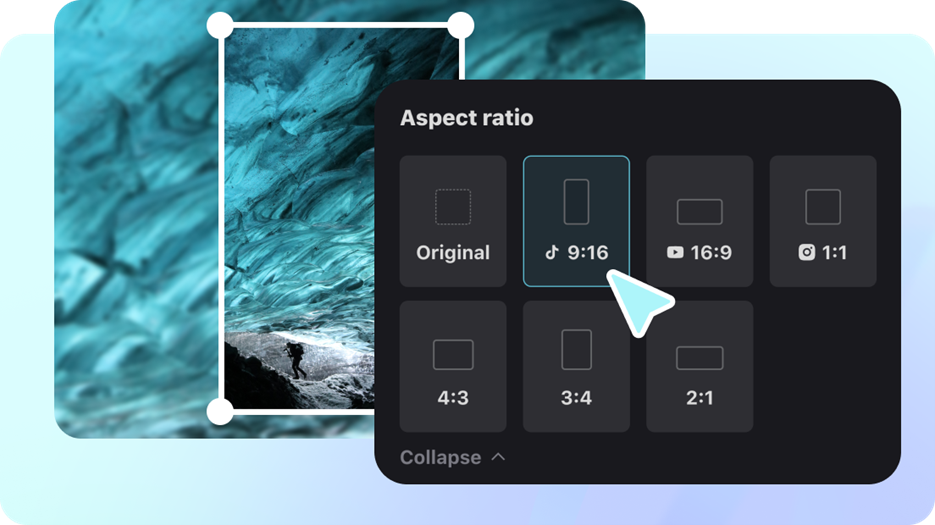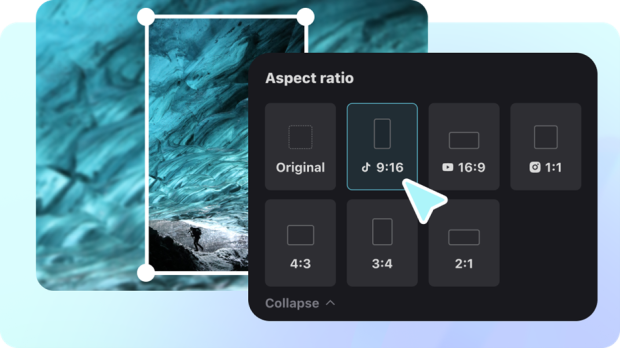 Text-to-speech is another handy feature that CapCut offers. It allows users to convert text into speech, which can be added to their videos as voiceovers or dubbings. This feature can save time and effort for content creators who need to add voiceovers to their videos but need access to professional voiceover talent. The feature also includes different voices and languages to choose from, making it easy to create videos in multiple languages.
The Rich Resources Of CapCut
CapCut online video editor offers a variety of rich resources to help users effortlessly create high-quality videos. These resources include effects and filters, music and sound effects, text overlay, and text templates.
Effects and filters are popular assets of CapCut that allows users to enhance their videos with more possibilities. The platform provides a range of filters, including vintage, black, and white, and color grading effects. Users can also apply animations and transitions to their videos to give them a more professional look.
Background audio and SFX are other essential resource that CapCut provides. Users can add music tracks and sound effects to their videos from the platform's library or import their music. The platform's library offers various music genres, including hip-hop, pop, and electronic. Users can also adjust the volume of their music and sound effects to create the desired effect.
Text templates are another powerful feature of CapCut that allows users to add text to their videos. The platform offers a range of text templates, including lower thirds, titles, and captions. Users can also customize their text's font, size, color, and animation to match their branding or style. This feature can be handy for creating promotional videos or tutorials.
In addition to these resources, CapCut also provides other tools and features, such as voiceovers, stickers, and video templates. The platform's user-friendly interface makes it easy for users of all skill levels to access and utilize these resources. CapCut's rich resources can help users create videos that stand out and capture their audience's attention.
Other Needs Of CapCut
CapCut can be used for personal, business, and educational purposes. Here's how to use CapCut for each of these purposes:
For Personal Use: CapCut can create videos for personal use, such as vlogs, travel videos, and social media posts. Users can edit their videos with filters, effects, and music and add captions or voiceovers. The platform's simple and intuitive interface makes it easy to create high-quality videos without any prior video editing experience.
For Business Use: CapCut can also be used for creating videos for business purposes, such as product demos, promotional videos, and ads. Users can customize their videos to match their branding, add text overlays with call-to-action buttons, and use sound effects and music to enhance their videos. The platform's features, such as background removal and speech-to-text, can help businesses create professional-looking videos without expensive video editing software.
For Educational Use: CapCut can create educational videos, tutorials, and presentations. Teachers and students can use the platform to create interactive videos that can be used for remote learning, flipped classroom models, or presentations. The platform's features, such as text overlays and voiceovers, help to explain complex topics in a simple and easy-to-understand way. The ability to add captions and subtitles also makes videos accessible to students with hearing impairments or non-native speakers.
To Sum It Up
CapCut is an outstanding video editing program that provides various commercial resources for business purposes like music, stickers, and text. Furthermore, the team collaboration function enables users to build a team area, share their brand kits, and submit critiques to the video, making it simpler to collaborate with others. CapCut also allows you to produce several forms of ad videos, such as TikTok, YouTube, Facebook, and Instagram ads. Furthermore, CapCut can make a commercial, instructional, and promotional video with less information, making it an excellent alternative for businesses and people seeking a simple yet effective video editing website. CapCut is a great video editing method with many capabilities and resources to help users create professional-quality videos.