While minimalist fashion proves to be timeless season after season, the leopard coat has lost its luster.
Ultra chic for some, vulgar for others, it remains more than half a century after its democratization by Christian Dior, a perilous piece to tackle.
The leopard coat, persona non grata of fashion?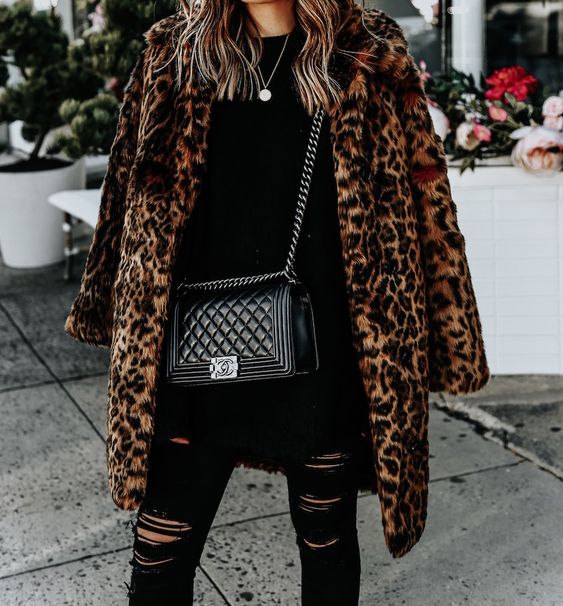 It's hard today to put on a leopard coat without feeling like a lookalike of one of the heroines of Absolutely Fabulous. Formerly bon-chic bon-genre, at the turn of the 80s and 90s it sank into the depths of bad taste to the point of becoming the persona non grata of the winter coat.
The reason? It is, in the collective (in)consciousness, synonymous with bourgeois wardrobes.
Like Cruella D'Enfer's black-spotted white coat, the leopard-print coat gives the wearer the air of a diva with a strong character. Especially since it is impossible to go unnoticed with such a pattern on the back. A plague therefore for those who prefer to blend in with the crowd.
It's a shame to turn your back on this flashy coat because it has cool potential that no other coat has.
The leopard coat has the advantage of being a centerpiece that can be pulled out when creating a stylish but not "dressy" look. For example, we plan to put it on with a black total look consisting of a turtleneck, slim jeans, and a pair of ankle boots.
Like Kim Kardashian who wore a leopard look from a vintage Azzedine Alaïa collection, you can dare the leopard total look if you want. The trick to breaking its very chic side will be to accessorize it with flat shoes, or white sneakers for example.
Over time, the leopard coat has been reinvented by all the ready-to-wear brands, which have given it new colors. In colors in pink, green, red with black spots… It is especially the black leopard coat that makes all fashion aficionados agree. It is more understated and remains just as sophisticated as the original colorway.