Raise your hand if you love a casual look! We all know there's nothing quite like getting all dolled up for a special event, but the reality is that most of us spend our days in casual attire. These days, dressing down is totally the norm, even in places where relaxed attire was once a no-no. In fact, research shows that casual is quickly becoming the prevailing dress code in modern workplaces. But casual doesn't mean sloppy or thrown together. When you coordinate outfits with the right casual pieces, you'll embody that relaxed vibe without looking messy.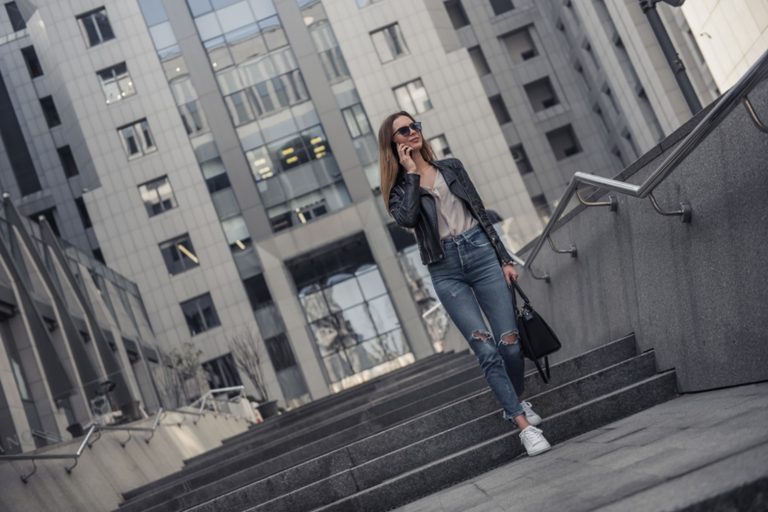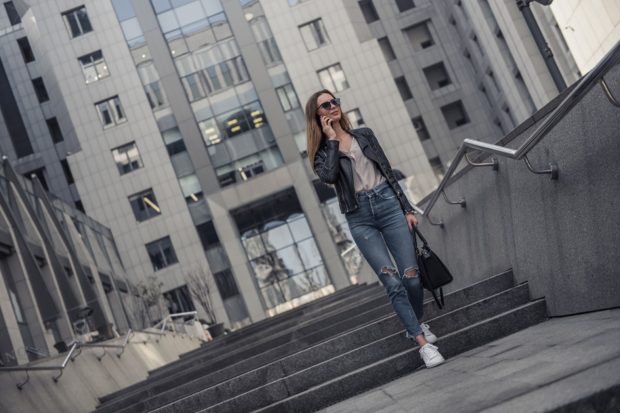 Source: George Rudy/Shutterstock.com
The Components of a Versatile Casual Wardrobe
"Casual" means different things to different people, but we can all agree on a few of the key components of a good casual wardrobe. These are the staples that help you put together many laid-back looks that are as comfortable as they are cute.
Comfortable Tops — Whether you're all about cute women's clothes or prefer an edgier vibe, casual doesn't have to mean boring or plain! Pick out eye-catching tops made in comfortable, unfussy fabrics to incorporate into your casual collection.
A Blue Jean Jacket — A core item in any wardrobe, the denim jacket brings that perfect finishing touch to dresses, blouses and more. Go for blue denim in a classic wash so it's super versatile.
The Right Pair of Jeans — Jeans are the foundation to a relaxed yet trendy wardrobe. Make sure to choose comfortable, stretchy denim so you don't feel confined when dressing casually.
Leggings — An absolute essential in fall and winter, leggings layer beautifully and pair well with all your favorite sweaters and tees. Get a pair in a few versatile colors, including black and navy.
Casual Shoes — Casual shoes include nice sneakers, slide sandals, Chelsea boots, lace-up boots and more. Your casual wardrobe should include a pair of white tennis shoes, some casual sandals and a pair of black and brown casual boots.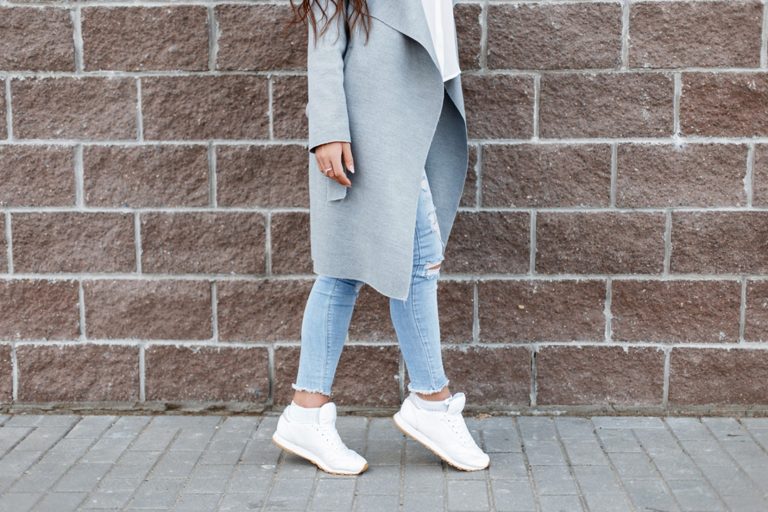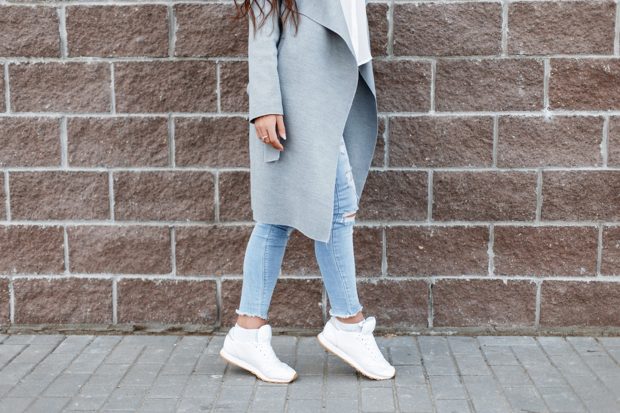 Source: Alones/Shuttersock.com
Casual Outfit Ideas for Laid-Back Days
1. A Casual Dress with White Sneakers — The white sneaker craze started out as a trend, but we knew it was one that would endure. Clean, white tennis shoes are foundational to your casual wardrobe since they pair perfectly with virtually everything. We love styling white sneakers with casual yet chic dresses in fun prints and solid colors to give any ensemble a sporty edge.
2. White Jeans and a Puff Sleeve Top — Puff sleeve tops are huge right now! If you're looking for a great way to toe the line between laid-back and dressed up, you'll absolutely want to add a few of them to your stash of tops. Style them with trendy white skinny jeans to complete the look.
3. Distressed Jeans and a Cute Blouse — Distressed jeans are no longer relegated to rock stars or teenagers. These days, they're a staple in any modern dresser's wardrobe. To dress them up a bit but still maintain that cool and casual vibe they embody, pair them with a cute blouse with feminine features like puff sleeves, ruffles, a tie front or a colorful print.
4. A Pleated Skirt with a Denim Jacket — Who says chic skirts don't belong in your casual collection? Not us! We're seeing a ton of trendy pleated skirts popping up on our feeds, and we adore them when styled with a plain tee and a denim jacket. You can complete the look with some white tennis shoes or a pair of pretty sandals or wedges in the summer.
5. Straight-Leg Jeans and a Cardigan — Straight-leg jeans are the silhouette of the moment (but, if you ask us, skinny jeans still reign supreme). We love pairing them with tucked-in tees and oversized cardigans when the weather is a bit chilly out. Choose an ankle-length pair if you want to showcase cute sneakers, boots or sandals. We love ankle-length straight jeans paired with platform shoes to (quite literally) elevate your look.
6. A Maxi Dress with a Denim Jacket — The maxi dress is the ultimate casual-cute wardrobe piece because it's extremely comfortable and keeps you looking cute during day-to-day activities, from running errands to brunching with friends. What we love about this option is that you can go as simple or as bold as you like. Choose a vibrant color or pattern or keep it classic and simple.
7. Leather Leggings and a Sweater — Leggings and sweaters go together like peanut butter and jelly, making this duo a perfect pair for all your casual looks in the fall and winter. Right now, we're all about the faux leather leggings. They're comfortable, chic and can be dressed up or dressed down for pretty much any event. You're going to need some chic booties to complete this look — preferably in black leather!
8. Black Leggings and an Oversized Turtleneck — Speaking of leggings … your most casual looks call for comfy, classic leggings and breezy oversized tops. If you want to rock leggings in a way that's still comfy and cute yet looks a bit more put together, pair them with an oversized turtleneck or cowl neck sweater in the fall and winter.
9.Wide-Leg Pants and a Basic Tee — Wide-leg pants are an absolute essential for traveling and relaxing with friends, especially in the summertime. These easy-breezy staples can complete a chic resort wear inspired look or create a casual option for the office.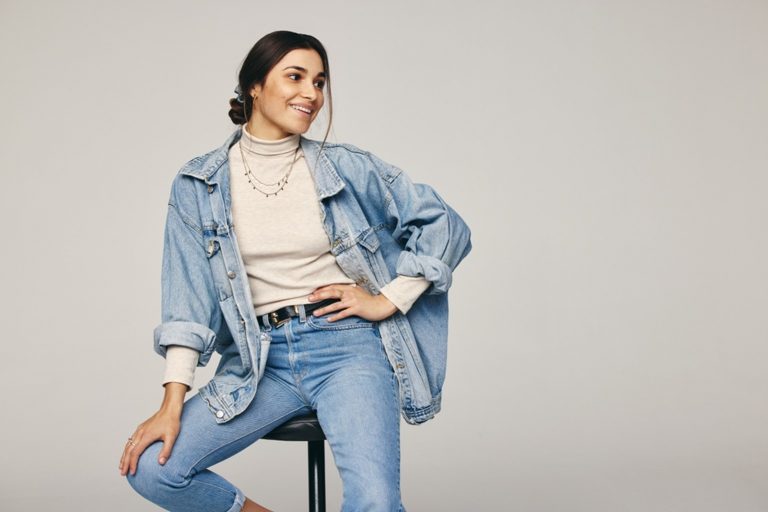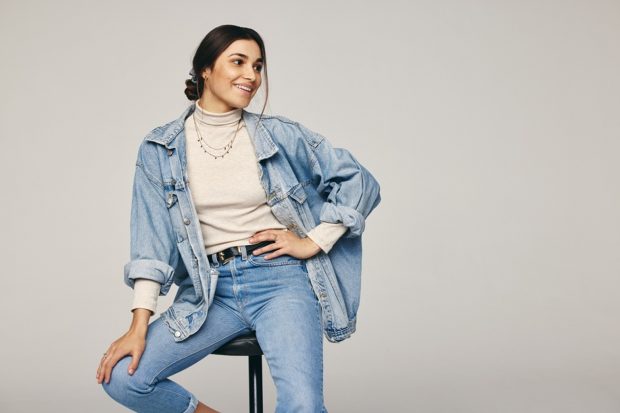 Source: Jacob Lund/Shutterstock.com
In casual scenarios, it can be tempting to just toss on whatever is convenient. Tees, leggings, hoodies, whatever. But the reality is that you'll never run out of opportunities to wear casual clothing, so investing in a good collection and strategizing cute outfits will serve you well! Use the above list for inspo the next time you need a super stylish yet relaxed option.