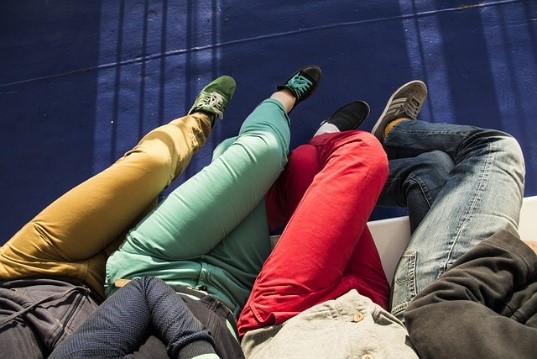 If you're like most of us, this time of year sees you wearing a lot of denim as it's perfect for the in-between seasons and can be dressed up or dressed down. However, to elevate your spring stylings, it helps to know some of the key denim trends currently doing the rounds and set to be impactful over the coming months.
Colorful Denim
Classic blue denim will never go out of style, but it's fun to add some more color to your closet when it comes to pants. In 2022, colorful denim is back in vogue in a big way. However, right now, it's less about simple rainbow hues and more about specific and often more subtle shades that are coming out from designers. For instance, you might like to add a pair of delicate pink jeans to your rotation or opt for a deep, rich chocolate brown on the days when you want a dark color but something a bit different from dark blue or black.
80s and 90s Styles
If you can never get enough of 80s and 90s movies and television shows, you should be delighted to hear that designers' love for nostalgia has them incorporating an increasing number of 80s and 90s stylings into their new denim creations. The classic shapes of these decades are being revitalized with features like super high-rise designs, exaggerated silhouettes, and slouchy fits.
The pencil-straight style is also popular when it comes to updated women's 80s jeans or 90s jeans. Popular retailers including Gap, Madewell, and Everlane are coming out with many straight-leg jeans this spring.
Printed and Patched Denim
We typically bring patterns to our clothing with the tops we wear in a jeans-based ensemble, but this year, you can go down a different path. Trending right now is printed denim, where campy motifs, graphic prints, look-at-me logos, and other patterns and additions are front and center on denim jeans. If you wear these more detail-oriented bottoms, it pays to compliment them with a simple, solid tee and white sneaker combination and let the denim be your outfit's standout piece.
Alternatively, those who want to add more flair to their denim without going on a complete flashback to the past can instead opt for some printed jeans or jackets. There's a trend for handwork and details such as patches, abrasions, and even mending. With sustainability so top of mind for most of us these days, it's not surprising that the idea of repairing products carefully and fixing holes with striking adornments is making its way into the general fashion culture.
Rather than throwing away items that are past their best and adding them to landfills, you can instead patch them up and add your own personal touches and creativity.
Low-Rise Jeans
While high-rise jeans have been popular for a while now and remain in flavor, there's also a trend back to low-rise options in 2022. Show off the toned abs you've worked so hard for with transition-worthy jeans that aren't as low as the bum-crack baring versions we had ten years ago but definitely low enough to flaunt a shapely stomach. Pair this type of pant with a corset top or a cute white crop top, etc., and some cool trainers for the ultimate laid-back-and-loving-it look.
Tailored Denim Tops
Denim is going playful on the top half, too. Be on the lookout for tailored tops that feature plenty of structure and even corseting. You can wear this "Canadian Tuxedo" with low-rise denim for an all-denim fashion choice or dress it up further by pairing these types of tops with sleek trousers.
Denim crop tops are new on the scene, too, so if you're not so keen on anything too form-fitting but don't mind showing some of your tummy, this is another option. Or, if you like to bare your decolletage and shoulders, you could wear a denim bustier top instead.
Natural Washes
Don't think that you have to only stick to solid color options in your jeans this year, either. One of the latest denim trends is for a natural wash. While white jeans and jackets may be more prevalent in summer, a simple off-white shade works beautifully during the hot times of the year and also for spring and fall.
These soft neutral options are an interesting alternative to plain white, making it easy to find tops to suit, since most colors will work. You can pair a natural wash with bright, bold colors or pretty pastels, too.
We often think that denim is pretty much the same year after year, but 2022 proves that this type of fashion is never dull and can be just as playful for fashionistas to work with as other types of garments.