Vaping trend, originally appeared in the US, has rapidly spread around the world. It transformed into something more than just a need for nicotine. It has created a new smoking subculture with its rules, attributes and even slang.
Now we can say that vaping has moved from being a niche hobby to the mainstream as a healthier and more entertaining option for everyone. It is also a way to complement an individual image and style.
But it's not only the best vape mod and the plumes of vapor that can show people your enthusiasm in a brand-new way of smoking. Vape clothing helps vapers demonstrate their support of a safer option and show off their personal style in the same time.
Vape clothing designers are inspired by classic urban streetwear trends. That's what you need right now to put a statement outfit effortlessly. T-shirts, hoodies, sweatshirts, jeans, sneakers and baseball caps will set you at the cutting edge of the fashion.
Vaping is becoming widespread because many celebrities have embraced it. Actors and singers are often caught on camera with their vape mods, and millions of fans become pro-vaping. Some celebrities are associated with e-cigs more than others.
Leonardo DiCaprio
The Oscar-winning actor by no doubt is a celebrity vape icon. At the time when electronic smoking devices were beginning to invade the smoking scene, DiCaprio was already at the forefront of new technology.
Leo and his now famous vape mod have become a common sight. They are spotted together so often that fans jokingly call them an IT celebrity couple.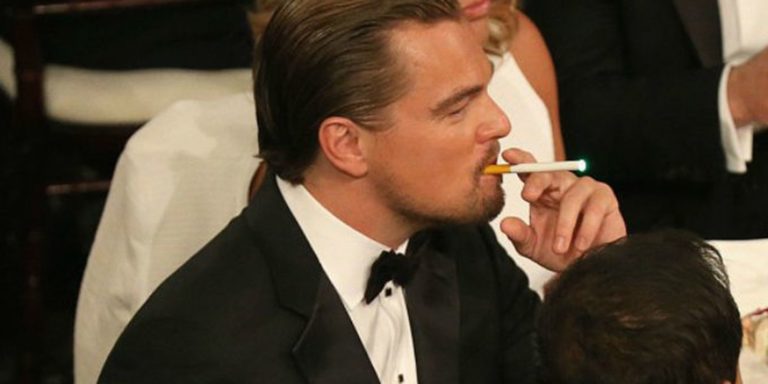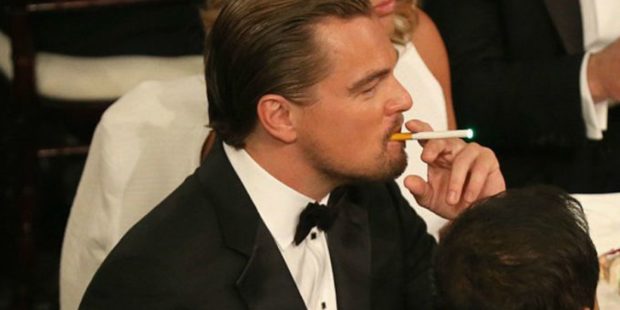 Whether it is a beach or a red carpet, the actor feels free to make large volumes of vapor. DiCaprio has proved himself to be the most prolific celebrity vaper after doing it at The SAG Awards. He took home the SAG Award for Outstanding Performance by a Male Actor in a Leading Role. But the hottest topic for discussion was the photos of Leo using his vape pen at the table during the ceremony. We don't know who else could do it so careless and classy.
Katy Perry
What is the perfect complement to a cold beer? An e cig, of course! Katy Perry looks glamorous while she celebrates a labor day in 2011.
One of the most popular singers did many quit attempts. Then she discovered vaping. Years later, we can see her bringing her trusty vape pen to the Golden Globes in 2016 and sharing it with then-boyfriend Orlando Bloom.
Celebrity lifestyles impact teenagers hugely. Katy Perry inspires millions of young girls. We should thank the singer for her decision to follow her habit in a smart and healthy manner.
Katherine Heigl
Of all the female celebrities, Heigl is one of the biggest proponents of using vape devices instead of smoking. Katherine appeared on David Letterman in 2010 where she discusses the benefits of a vape pen.
Katherine started smoking at 25 years old. To quit, she had tried all of the traditional methods, including patches and gums. Vaping helped her to refuse from tobacco.
She pulled out her e-cigarette at the show, explained how it works, and shared with Mr. Letterman who puffed in a fun way. You can see that one more time on YouTube.
Sienna Miller
"I think the more positive approach you have to smoking, the less harmful it is." It seems that Sienna Miller has changed her doubtful opinion. Perhaps, becoming a mother forced her to ditch her nicotine addiction and turn to vaping.
The style icon has been spotted enjoying her vape pen while running errands, on the set of "Just like a woman", and even at the 2015 Golden Globes. Did you see her when "Argo" was announced as Best Picture? She stood up to clap and still was taking a hit off of her e-cig!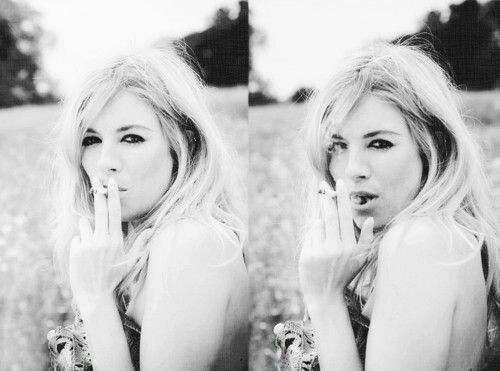 Johnny Depp
If anyone is going to encourage you to leave traditional smoking, it's Captain Jack Sparrow himself. Johnny Depp has kicked his tobacco habit. He has been spotted with his vape box mod at home, on vacation, and on set during shooting. Depp always vapes with coolness and sophistication, like anything he does.
The actor is the first A-class celebrity to vape on the big screen. In "The Tourist" Mr. Depp can be seen vaping on a train while having the dialogue with Angelina Jolie.
Jack Nicholson
Breaking stereotypes on a regular basis, 80-year-old Jack Nicholson proves that vaping isn't only for the twenty-somethings. The legendary actor was seen leaving a Beverly Hills restaurant with a smile on his face and an e-cig in his mouth. He was photographed puffing while giving autographs. The actor was also seen using an electronic cigarette as he cheered on Los Angeles Lakers with his son Ray.
A Hollywood star has been a long-term smoker who was never been shy of his habit. It's a pleasure to see that someone as respected and inspiring as Nicholson has switched to the healthier alternative. Hopefully, this will encourage struggling adult smokers to follow his example.
Lindsay Lohan
There was a time when Lindsay wasn't the best role model for susceptible teenagers. However, the actress was one of the first celebrities to start vaping. She was spotted using her e-cig while taking a break on the set of "Extra" in 2011.
Having dealt with past issues of drug abuse and hard partying, she finally opted for a cleaner high and became one of the first Hollywood vapers. We hope she won't be back to her harmful habits again.
As the vaping trend has taken the world by storm, more and more celebs are being caught on camera with different electronic smoking devices. Whether it's a simple cig-a-like or a more advanced vaping mod, it is a better choice than smoking a traditional cigarette.
But for true vapers, their hobby is more than an alternative to smoking. Millions of people are pushing the boundaries of what they can do with a vape and how to make it part of their style.
About the Author: Phyllis Baker is the blogger specializing in health issues. Currently, she writes about vaping as the smoking alternative and manages public relations for the quitting smoking community.