A mug can be used to serve hundreds of beverages – tea, coffee, soda, and many more. Just like tea flavors, mugs come in many shapes and colors. Of course, we don't even have to mention the designs that mugs can have. Mugs can even be the perfect gifts for cat lovers, for traveling enthusiasts, and so on!
Therefore, it is only natural that most people start collecting them. The issue is that, after a certain point, finding a spot to place your mugs becomes awfully difficult. If you have more than twenty of them, you'll soon discover that your kitchen simply cannot hold anymore.
Because of this, we thought of presenting you with seven ways of storing your precious, beautiful mugs. We have everything covered – from simple additions to your kitchen shelves to fully-fledged, dedicated storage spaces for your mugs.
Wall Art
You don't have to overdo it when it comes to colorful mugs. You can just rely on them to become the art that you hang on your wall.
Simple metal frames can be found almost anywhere and can become the perfect way to display your mugs. They only need to have some pins on which you can attach your mugs from their handle.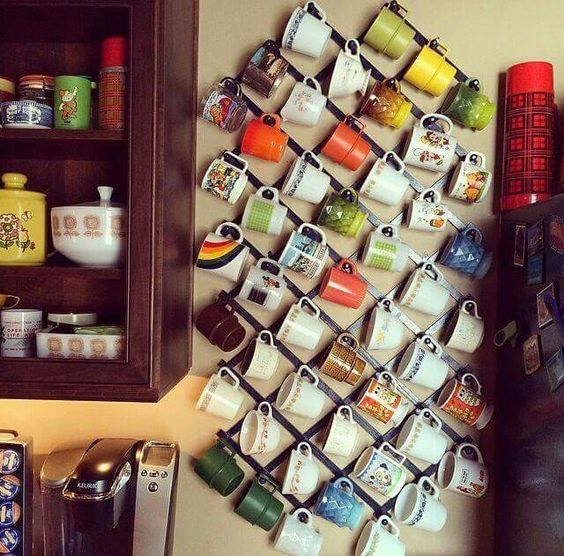 Open Shelving
Open shelving means, essentially, that you can place a shelf anywhere in your home. However, you'll use those shelves to store anything but mugs. This is because the latter will be stored on a steel rail, with the help of some S-hooks.
Spices or tea on top and mugs beneath them. In short, you'll have an easy way of choosing today's tea mug without having to head into another room for your tea.
Wire or Fiber Baskets
Baskets made of any material can be placed all over your home. Instead of leaving them empty or filling them with fake fruits, you can use them to display your dazzling mugs.
Either wire or fiber baskets are one of the best and prettiest ways to store your mugs mainly because you can place the latter in any position you want. You can even sort them by color!
Racks
If you have a couple of empty walls in your home, and a large mug collection, you can go to the nearest store that sells racks and just buy a couple of them. You could go with the basic metal racks or with some made of dark wood.
With the proper rack, you will have just enough space to store each mug on one of the rack's shelves. This makes for an artsy and creative display, especially if you take some time to decorate the rack.
Mug Drawer
Your mug storage can also be something that would surprise people. You just have to come up with a drawer design that would perfectly store your mugs.
This way, when you open it up to choose a mug for your guest's cup of tea, they will be amazed by your collection.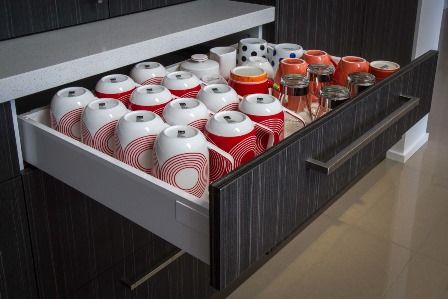 Under Cabinet Hooks
If you lack space in your kitchen's cabinets, then you can go buy some hooks from the nearest store and attach them under the cabinets.
Doing so will make it much easier for you to get the mug you need when you need it. Moreover, the mugs will be beautifully displayed in your kitchen, for everyone visiting you to see.
Clothes Hangers
If you are looking for pretty ways to store your mugs, then you may already know that clothes hangers come with really amazing designs. You can have a vintage hanger that will impress your neighbors or a simple, modern one that will give a fancy look to your home.
However, you could freely use clothes hangers to store your favorite mugs. The hangers' design will complement the colorful mugs, giving your home a fairytale look.
The Bottom Line
As with any design or way of storing something, you can be as creative as you want when storing your mugs. Simply let your mind go wild and place a mug wherever you want in your home – be it hooked on an S-hook, under or on top of your cabinets, or on a rack in your living room.
When it comes to pretty ways to store something, the sky is the limit!