Celebrities love to be associated with causes like animal rights or the environment. Is it all part of "branding" themselves, or do some famous people really care about the planet? These seven celebs have proven their commitment by taking their posh mansions into the green zone with energy efficiency, water conservation, solar power, and more. See how your favorite green celebrities are walking the walk.
Julia Louis-Dreyfus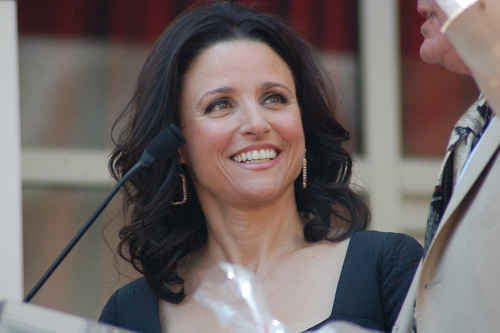 Image via Flickr by Sharon Graphics
Louis-Dreyfus, best known as Elaine Benes from "Seinfeld," is a committed environmentalist. She and husband Brad Hall share a dedication to going green. Their home in Santa Barbara has a retractable roof for airflow, which requires a laid-back attitude toward sanitation.
"It's only a matter of time before one of those things takes a crap in the house," Louis-Dreyfus told Mother Earth News. "I'm not too keen on that, but what can I tell ya? They live here, too." Their home also uses daylighting and solar heating.
Orlando Bloom
Perhaps it was his outdoorsy roles as a pirate and an elf that made this Hollywood heartthrob fall in love with nature. When Bloom built his home in London, he was committed to making it as environmentally friendly as possible. The house has every green feature that could reasonably be installed, from solar panels on the roof to energy-efficient lightbulbs. Bloom, a driving force behind the Global Cool initiative, has reportedly said that the project cost twice what he'd budgeted. The actor is well aware that solar energy costs might be slightly higher up front but save money in the long run.  
Gisele Bundchen and Tom Brady
The pair has built a jaw-dropping château in Brentwood that sprawls over 22,000 square feet. The massive mansion can hardly be accused of having a small carbon footprint, but it does have some eco-friendly features. The supermodel's abode has solar energy panels on the roof, energy-efficient appliances, and consists mostly of sustainable building materials. The mansion is a miss on the "reduce" bit of the "reduce, reuse, recycle" mantra, but without those features, it could be so much worse. 
Daryl Hannah
It's impossible to talk about green celebrities without mentioning Hannah, who is as well-known as an environmental activist as she is for her film roles. She lives happily off the grid on her farm in the Rockies, in a house built of wood salvaged from an old barn. Her home uses solar power and a gray water recycling system. She also keeps a modest one-bedroom house in California to live in when she's filming. Hannah claims to have been petroleum-independent since y2k and drives a car powered by recycled vegetable oil. Her website at dhlovelife.com has been a source of environmental information via cute films for more than 10 years.
Jessica Alba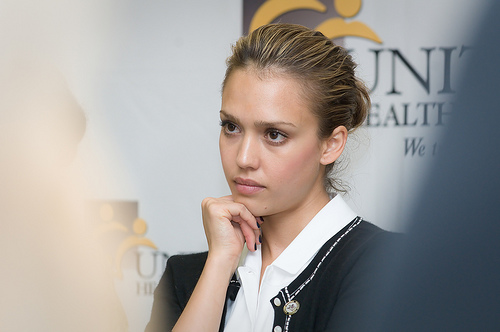 Image via Flickr by wumpiewoo
Alba is no empty-headed starlet. The actress created The Honest Company to offer green options to mothers looking for cloth diapers and nontoxic products for their families. For her own home, Alba chose no-VOC paints, PVC-free vinyl chairs, vintage furnishings, and even commissioned couches with non-toxic stuffing from a local carpenter. 
Bryan Cranston
The "Breaking Bad" star has built a beach home filled with futuristic environmental features. The garage has an automated car lift that allows two cars to stack vertically in the footprint of a single-car garage. The modest 2,450-square-foot home also has radiant heating, solar panels, and solar hot water. The builders used sustainable materials, and leftover materials were given away to charity.
Leonardo DiCaprio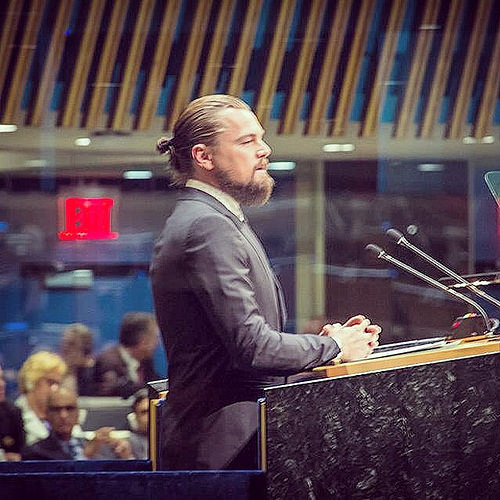 Image via Flickr by john.gillespie
Leo has become quite the environmentalist in recent years, even talking about the topic on Oprah and with Bill Clinton. DiCaprio follows through in his personal life, with a hybrid car and eco-friendly New York apartments. Leo is apparently a fan of solar power, circadian lighting, and vitamin C-infused showers.
Celebs lead the way when it comes to lifestyle, and these A-listers are blazing the right trail with their eco-friendly housing options. Solar power, radiant heating, and energy-efficient appliances are the new standard among the Hollywood elite. Hopefully, this thinking will soon spread across the rest of the nation.