While most people think of vacations, mornings at the farmer's market, and late nights when making summer plans, things tend to be the opposite in the winter months. Wintertime is synonymous with time indoors with family making memories, holiday parties and cozying up by the fire with a good book.
Though the weather outside is frightful, you can make your home the most delightful place. No matter your budget for home design and decor, there are plenty of ways to cozy up your home for the cold weather. Keep reading for inspiration on how to make the most out of the short days and long, cold nights right around the corner.
Mood Lighting
The importance of the right lighting in your home cannot be overstated. Having the right ambiance in a room sets the tone for what you do there. Bright lights help in the bathroom for applying makeup or tweezing your eyebrows, but your bedroom and living room, where you'll be doing most of your lounging, should have lights that induce a calming effect. From floor lamps, candles, or a roaring fireplace, set a cozy vibe with appropriate mood lighting.
Festive Smells
While lighting will set the stage, take things up a notch when it comes to your coziness and use items that smell like the season. Investing in an oil diffuser that emits festive smells like evergreen or vanilla is a great start. The candles you use for mood lighting could be scented with some of your favorite wintry smells. Other ways to make your home smell merry or soothing are with natural items like evergreen plants, cinnamon sticks, and even the act of baking cookies.
The Right Textiles
One of the quickest ways to amp the cozy factor up is by using the right soft textiles. Sherpa blankets, fuzzy throw pillows, and beautiful area rugs can take a room from boring to luxurious coziness. This area can be a significant financial investment, so make sure you have a budget.
Especially if you plan to use these items as holiday decor, don't overspend here. Pillows or blankets geared toward specific holidays are fun, but they are only displayed for short windows of time. If you want to keep them out long-term, invest in pillows and throw blankets in calming, cozy neutral shades like deep blues, greens, or cream.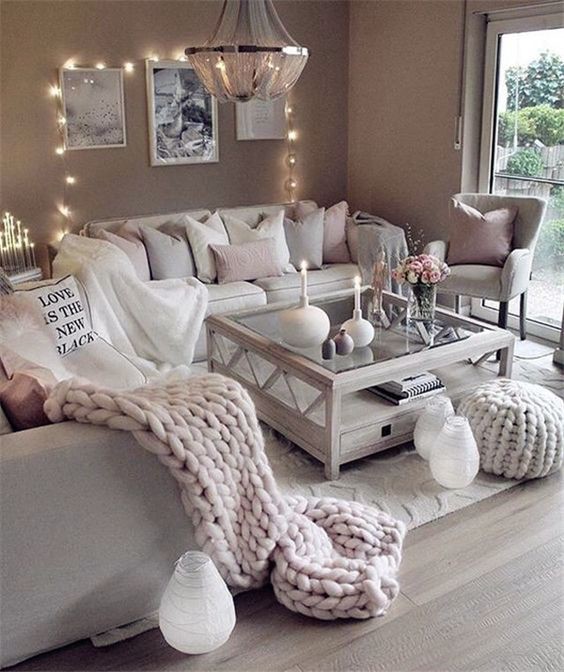 Touch of Gold
Gold is the perfect accent in home decoration to keep things festive during the holidays and your mood high during the harsh winter. From gold accent mirrors, picture frames, and floor lamps, this neutral yet shiny color accomplishes much in even the most minimalist homes. Many people start to feel nostalgic during the winter, so antique brass or gold candlesticks like your mother had are a beautiful addition to dining and coffee tables. If you're having trouble finding gold pieces you love, your local craft store should have gold spray paint that will help you add a gilded touch to pieces you already own.
Heavier Drapes
Even if you have new windows that are great at keeping fluctuating temperatures at bay, you can still feel the chill in the air during the harsh winter months. Investing in high-quality, heavy drapes during the winter is a great way to make your home feel cozier and keep temperatures comfortable. There's nothing wrong with having multiple sets of drapes in storage to match the seasons and your mood.
Layered Bedding
Your bed is where you will likely spend 1/3 of your life. Your bedroom is like a sanctuary, and you want to feel enveloped in its soft security during the cold winter weather. Of course, most people turn their thermostats up in the winter to stay warm or use their fireplace, but it can still get nippy during the night. You'll want to layer on the quilts and throw blankets – they keep you warm and look inviting and cozy.
For some people, winter is a tough time of year, with a small percentage dealing with seasonal affective disorder. If this is you, not only should you cozy up your home with the above ways, but adding house plants and vibrance to your home to help you ignore the dreary weather outdoors can be helpful. Make the most of this winter by having a beautiful home in which you feel safe. Happy Winter!