Some people see the glass as half full, while others see it half empty. Depending on your outlook on life, you might see a problem and think that hiding from it is the best option, but more often than not, it's better to deal with a problem head on! And while your bathroom might not be the source of your greatest problems, it's likely that it's the place of lots of tiny, little nuisances. So, instead of ignoring any potential bathroom problem, however, we're going to handle them simply and efficiently!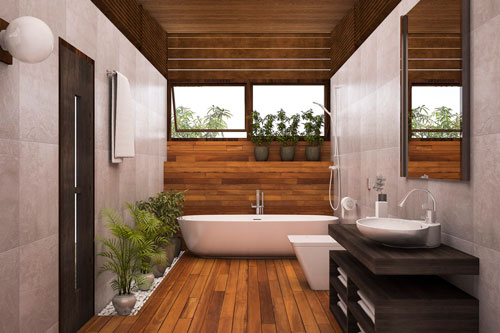 Problem: Shower goes freezing cold or hot due to some thoughtful person flushing the toilet or turning on a tap in the same house.
Solution: Pick up a thermostatic shower mixer, like the ones from Grohe, as these will keep the water temperature constant while you're in the shower, even if your partner or housemate uses a tap by mistake (or on purpose) when you're washing your hair.
Problem: Freezing your feet off when you run to the bathroom at night or step out of the shower.
Solution: Install underfloor heating. It's true that there are pros and cons to underfloor heating, but seriously, once you install it, you'll wonder how you ever managed before. Warm feet forever and ever!
Problem: You and your partner can't agree on a wall color or motif. Bathroom tiles or wallpaper? Neutral white paint or an exotic blue color? What can be done?
Solution: Accent wall. This is a new trend that basically involves one wall looking completely different from the others. It could be another color or another material, such as wood, marble, tile, etc. The best thing about it is that an accent wall can nullify any arguments about how the bathroom should look. One of you gets three walls and the other gets an accent wall: win-win.
Problem: You're trying to brush your teeth and apply makeup before work while your partner insists that they need the bathroom sink to shave and moisturize. Can't they just wait?
Solution: A double sink vanity can eliminate bathroom-before-work drama, as two people can use their respective sinks to do whatever they need to do. Two circular mirrors or one large rectangular mirror are both trending options when it comes to checking your reflection.
Problem: Your bathroom feels drab, lifeless, and without any statement piece.
Solution: Bring in some plants to enhance the space. Plants don't just help clean the air, they also look beautiful and add much-needed energy to a home. You might think that a dark and damp spot like the bathroom would be bad news for greenery, but thankfully many plants can thrive in this spot. Peace lilies, ferns, and orchids are just some amazing plants that will help brighten your bathroom.
Problem: Clutter. So much clutter.
Solution: Try out different types of storage options in your bathroom. There are even ways to create cupboards and drawers that are hidden to the naked eye. Removing all sorts of styling tools, extra toilet paper, and other types of bathroom products and moving them into a storage space will help the bathroom look cleaner and tidier.