Have you ever seen a picture of a fashion/lifestyle blogger's closet and thought, "How does it stay so organized?" Even the fashionistas who seem to have a look ready for every occasion often have closets that look pretty spare. What gives? Well, you may just be witnessing the magic of a minimalist wardrobe, centered upon quality clothes you actually wear rather than a lot of clothes you seldom wear
Another way to think of minimalism in fashion is having more to wear, but fewer actual clothes. Here are five key principles of the minimalist wardrobe — and why it works for so many fashionistas.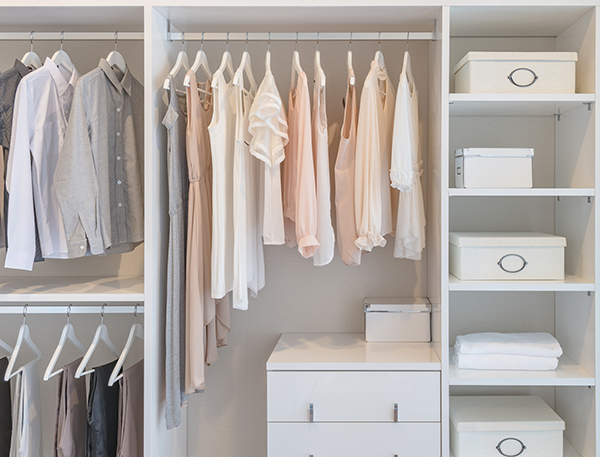 #1: Invest in Versatile Pieces
Versatility is the core of minimalism. Instead of having a bunch of clothing with conditions — "This top only looks good with these jeans, I might wear that dress to a wedding someday," etc. — you have fewer pieces and you're confident they look and feel great.
These pieces should be fairly interchangeable, which is precisely why so many minimalist wardrobes are comprised of neutral garments. You'll thank yourself when you're getting dressed in the morning when you can pair any top with any bottom, or any dress with any jacket
Think about the simplicity of getting dressed when you're sliding on your favorite pair of jeans. You can pair them with a fitted tee, a slouchy tee, a sweater, a bodysuit, a button-down… the list goes on. Well, that's how nearly every garment can function within a successful minimalist wardrobe.
Love What's in Your Closet
How many pieces in your wardrobe do you just, well, not really like?
The answer might surprise you.
So many of us keep aspirational pieces on hand, assuring ourselves we'll wear them in the future — only to find them taking up valuable closet space for years before we force ourselves to give them up.
A straightforward approach to minimalism is buying and keeping only what you love.
Avoid Trendiness; Go for Timelessness
Dressing for trends is a surefire way to experience high closet turnover and perhaps even clutter. When you're building a minimalist wardrobe for women, it's really important to aim for longevity.
For instance, a sleek trench coat will always be in style. It's been that way for decades and will almost assuredly remain a staple. A metallic crop puffer jacket on the other hand? Its sense of timelessness is far riskier.
Get Rid of What You No Longer Need
Minimalism expert Marie Kondo became a huge hit worldwide with the debut of her Netflix special Tidying Up with Marie Kondo. Followers of this method are supposed to declutter their belongings, freeing their lives from the burden of anything that fails to spark joy or serve a purpose. As Fortune writes, "There's a real possibility that Kondo's influence could push consumers toward fewer, higher-quality investment pieces."
As you can see, minimalism really boils down to selecting quality over quantity.
Get Creative with Accessories
Of course, minimalism doesn't mean you have to wear the same seven outfits every week. Far from it. There is tons of potential to get creative with accessories — whether it's jewelry, shoes, bags, belts, hair add-ons or anything else.
The point of minimalism is building a quality collection of versatile separates that make it easier to get dressed for any occasion — and free up closet space from less meaningful purchases.
Minimalism works because it's all about investing in quality pieces that'll last for years to come and continue to look timeless.