So Much Can Happen in Just One Week. We make our choice of 20 best photos from all around the world.
Artists perform in street of Rome on March 27, 2013. (Photo by Andreas Solaro/AFP Photo)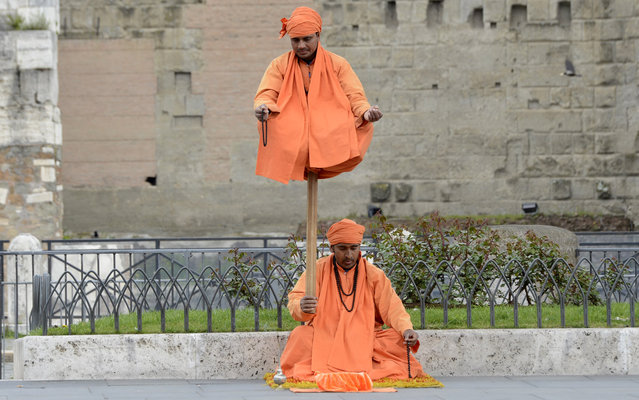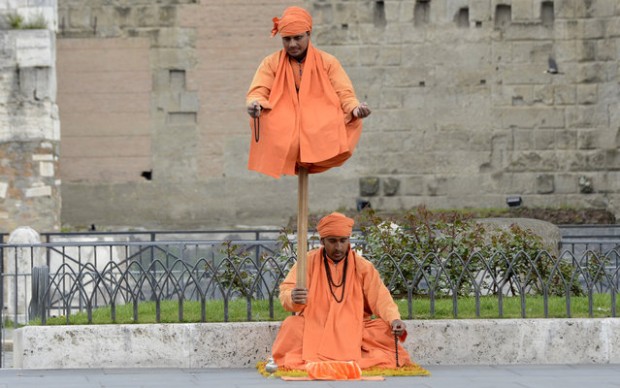 9-months-old Jaycee Philen cries as she gets her photo taken by her mom, Jamie Philen, in the blue bonnets near Chappell Hill, Texas, on March 28, 2013. (Photo by Karen Warren/Houston Chronicle)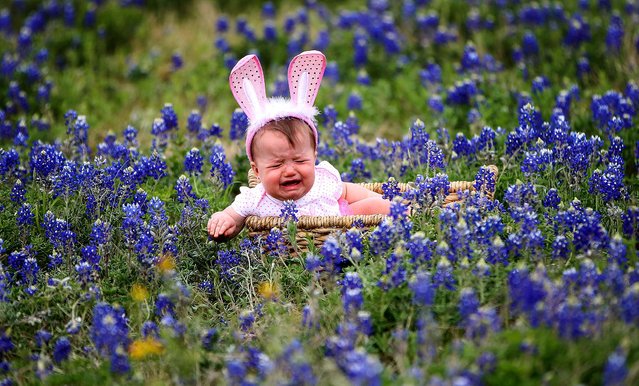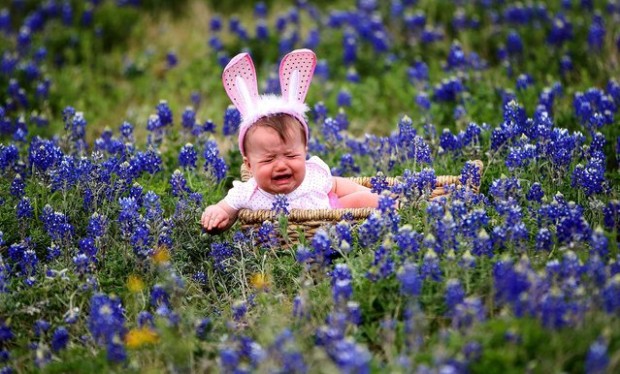 In this photo released by the Philippine Coast Guard in Manila, Wednesday, March 27, 2013, the bow of the USS Guardian, a US Navy minesweeper, is lifted by a crane during a continuing salvage operation off Tubbataha Reef, a World Heritage Site in the Sulu Sea, 640 kilometers (400 miles) southwest of Manila, Philippines.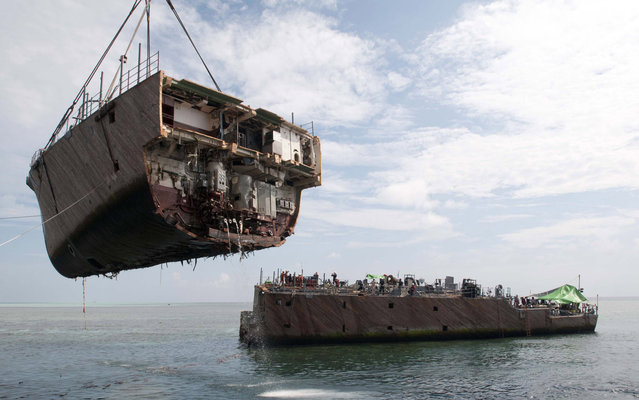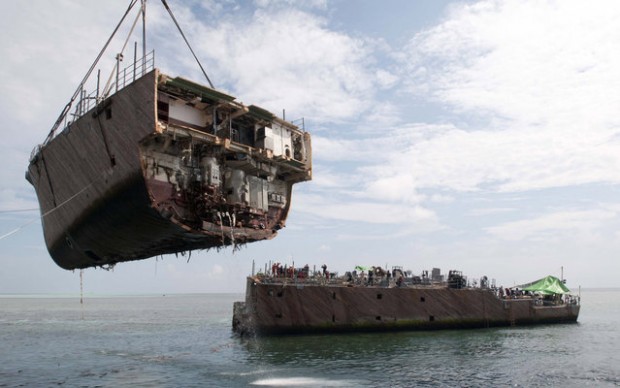 Jordan's fans sit on top of a fence as they watch Jordan play against Japan during their 2014 World Cup qualifying soccer match at King Abdullah stadium in Amman March 26, 2013. (Photo by Muhammad Hamed/Reuters)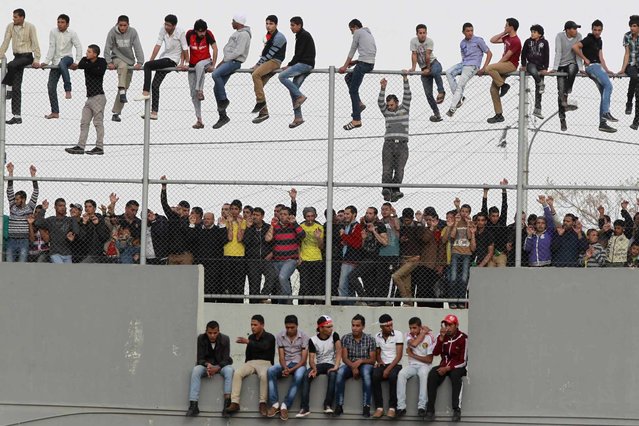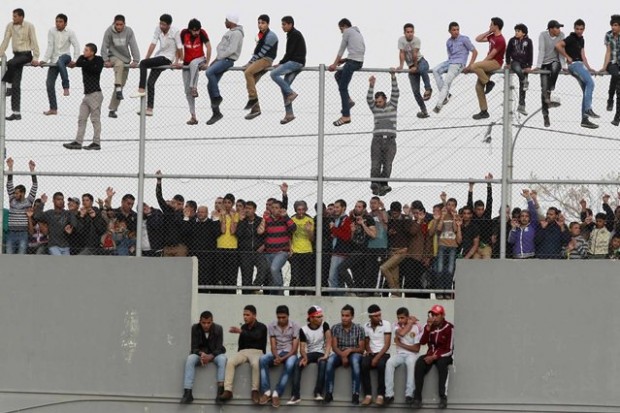 An Afghan seller of U.S. dollar notes waits for customers in Kandahar, southern Afghanistan, Tuesday, March 26, 2013. Residents of Kandahar complain of few jobs despite heavy international investment in the country since the collapse of the Taliban in 2001. (Photo by Allauddin Khan/AP Photo)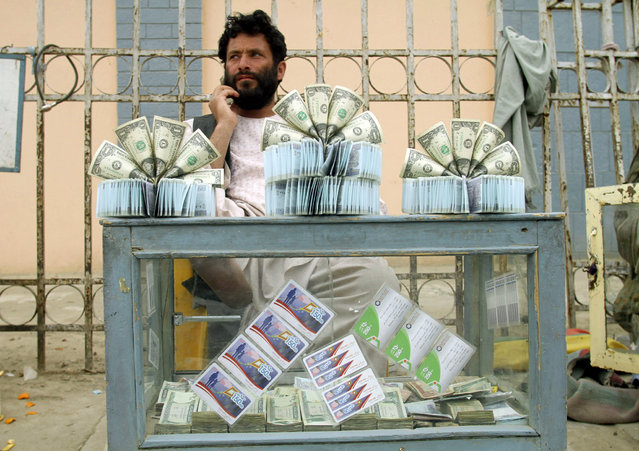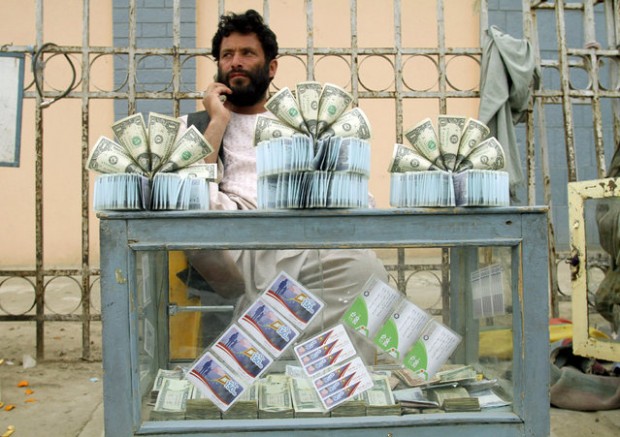 A Palestinian boy stands on a bed of nails during a class at the Red Dragon martial arts club in Beit Lahiya in the northern Gaza Strip March 29, 2013. Dozens of boys from eight to 15 years of age are part of the club. (Photo by Suhaib Salem/Reuters)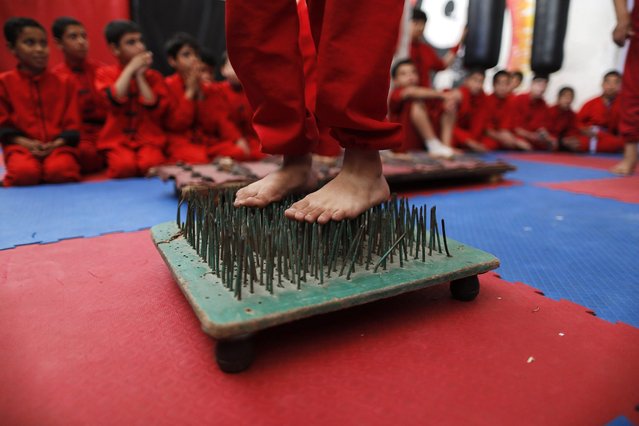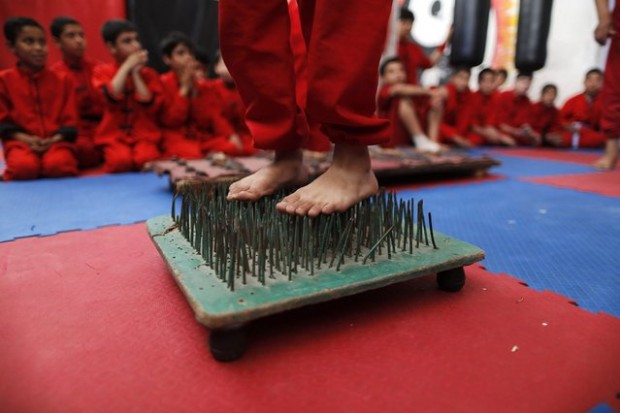 A foreign activist tries to escape from a jeep after he was detained by Israeli border policemen on suspicion of attacking an officer during minor clashes at a rally marking Land Day in the West Bank village of al-Tuwani, south of Hebron March 29, 2013. Palestinian, Israeli and foreign activists took part in the rally which marks the annual commemorations in Israel of six Arab citizens killed by police in 1976 during protests against land confiscations in northern Israel's Galilee region. (Photo by Ammar Awad/Reuters)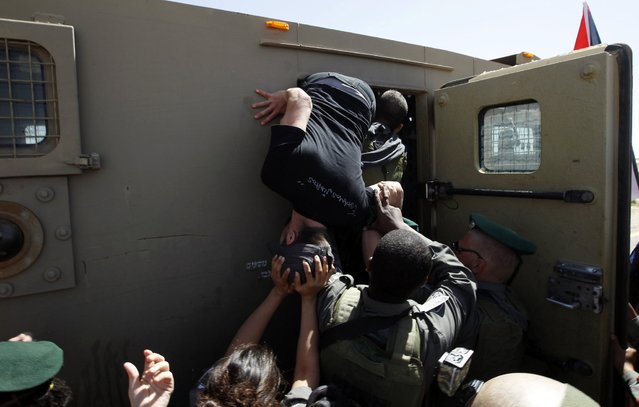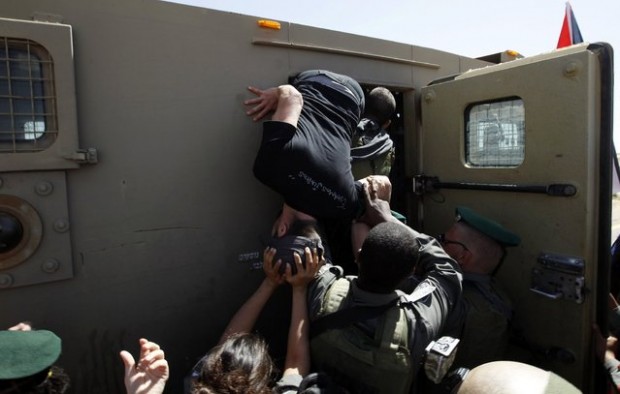 Azerbaijan's Hasan Aliyev (blue) wrestles with Georgia's Manuchar Tskhadaia (Red) during their Greco-Roman Wrestling 66kg bronze medal match at the Senior Wrestling European Championship in Tbilisi, March 24, 2013. (Photo by Vano Shlamov/AFP Photo)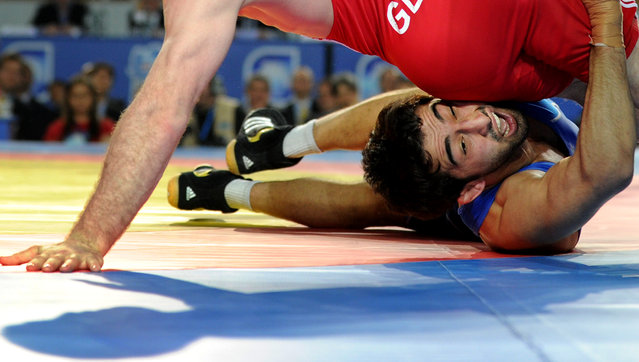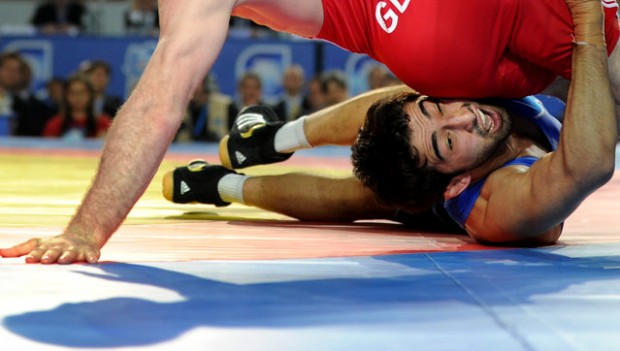 An Indian Sikh devotee bathes in the holy sarover (water tank) on the occasion of "Hola Mohalla" at The Golden Temple in Amritsar on March 28, 2013. Hola Mohalla is a three day Sikh festival, in which Nihang Sikh 'warriors' perform Gatka (mock encounters with real weapons), tent pegging and bareback horse-riding, which usually falls in March following the Hindu festival of Holi. (Photo by Narinder Nanu/AFP Photo)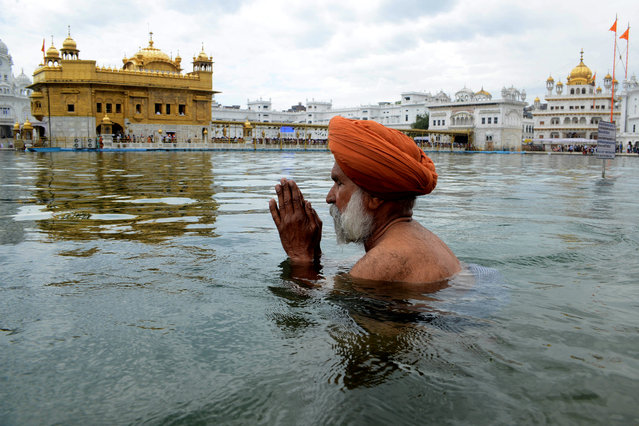 An exhibitor places a miniature chair into a dolls house during Miniatura 2013 – The International Dolls' House Show at the NEC, Birmingham, on March 24, 2013. (Photo by Joe Giddens/PA Wire)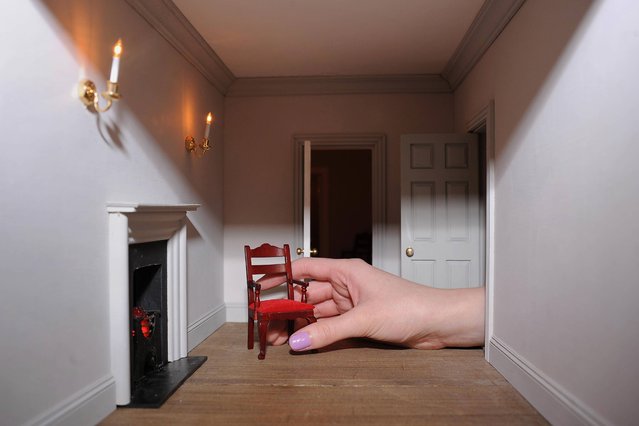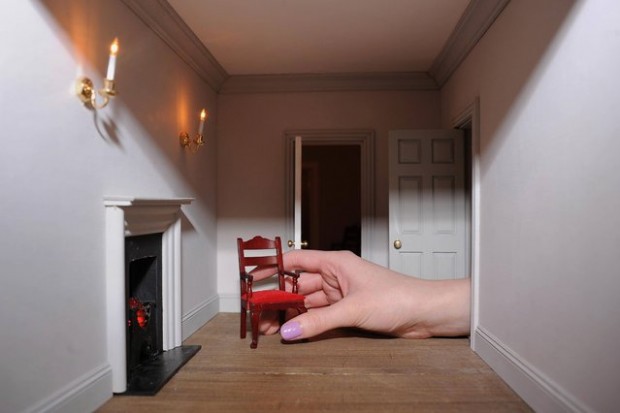 Pedra da Gavea highline, 850 meters above the city, 100 meters direct exposure, March 24, 2013. Brian Mosbaugh on the line. Carefully tiptoeing almost 3000 metres above Rio de Janeiro on a thin wire got a bit too much for this adrenaline junkie – so he decided to have a LIE DOWN. Fearless Brian Mosbaugh is so used to the perilous heights he decided he deserved a short break and proceeded to kick back and relax over the famous Brazilian city. (Photo by Scott Rogers/Caters)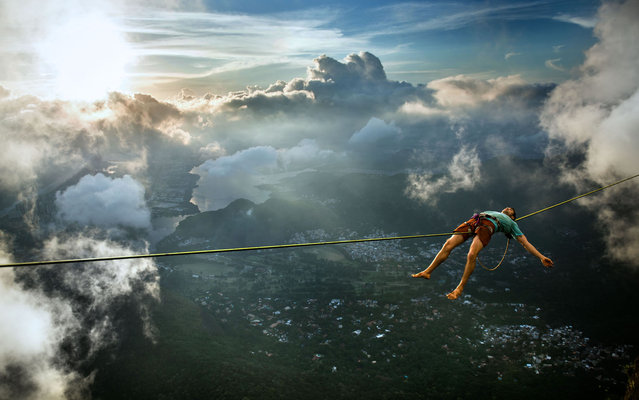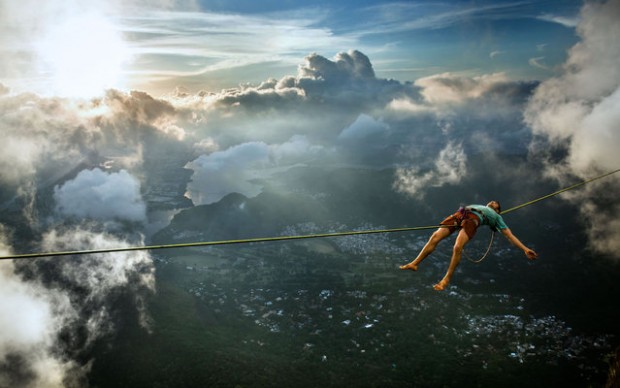 There is a massive internet photo trend brewing amongst youths in Japan right now that involves taking pictures of teens who appear to be releasing invisible energy that sends their peers flying. The photo mania is especially popular amongst schoolgirls who started the trend by uploading images on Twitter and labeling them as "Makankosappo", a reference to a special attack in the popular manga-turned-anime Dragon Ball series. In anticipation of a new Dragon Ball Z movie, these pictures of teens playfully performing air-bending feats have been turning up from all over Japan. (Photo by Danny Choo)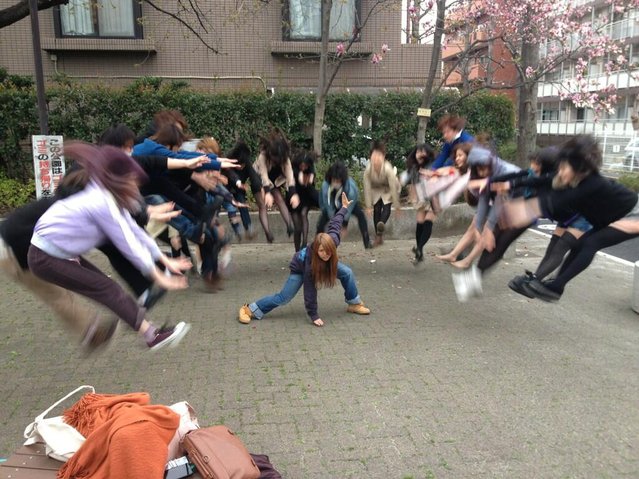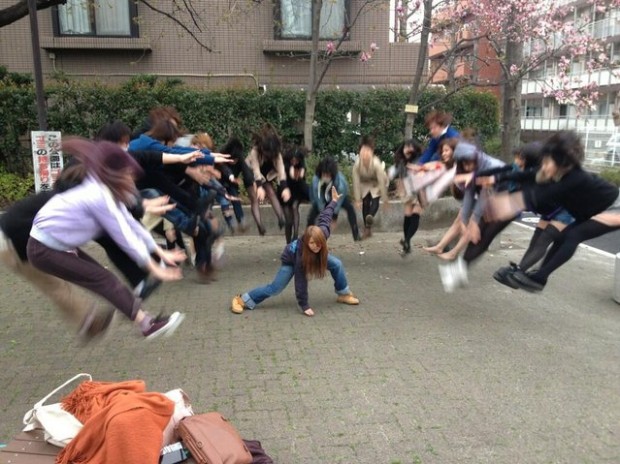 Two young men pose with their huge tattoos at the International tattoo Convention in Frankfurt, Germany, Saturday March 23, 2013. (Photo by Boris Roessler/AP Photo/Dpa)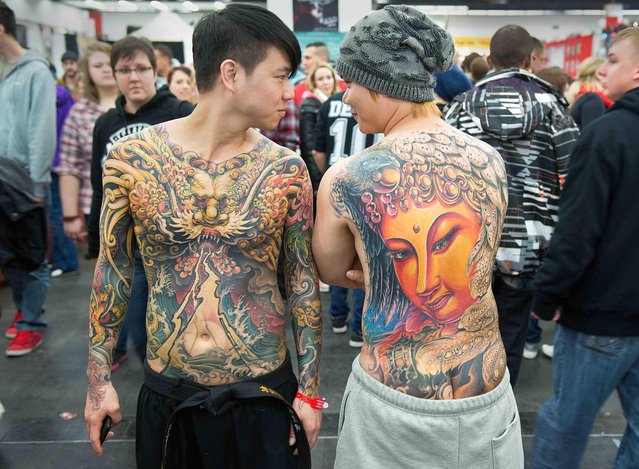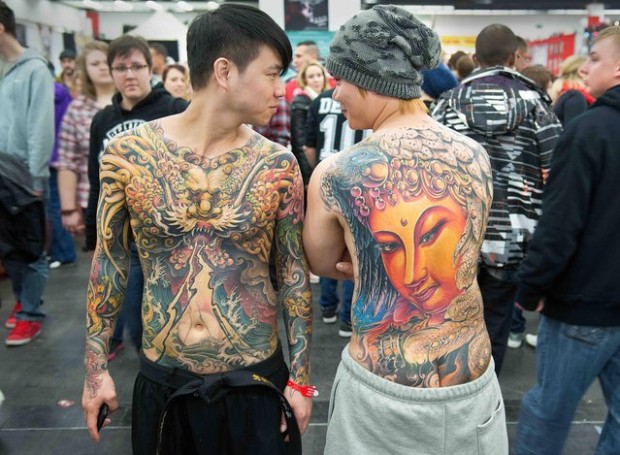 A swimmer gets out of the water next to a snowman with bunny ears at the snow covered beach of Strandbad Lake Wannsee lido in Berlin, Germany, Good Friday March 29, 2013. Bathing season at the lido traditionally starts on Good Friday. (Photo by Rainer Jensen/AP Photo/Dpa)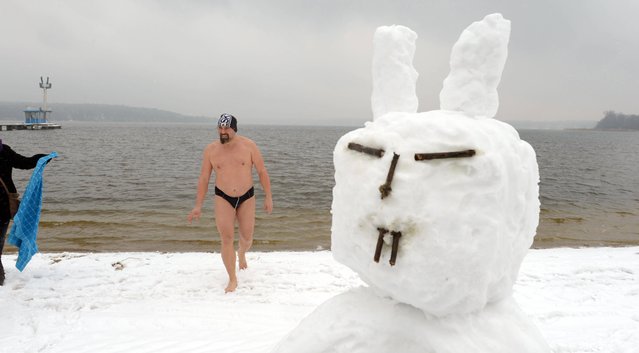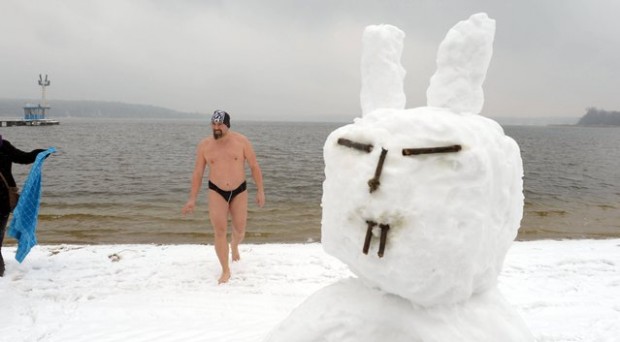 Muslim women sit on a cart as they cross through a flooded street in Bandung, West Java, Indonesia, Wednesday, March 27, 2013. Heavy rain triggered floods in the area Wednesday, submerging hundreds of houses and forcing residents to flee. (Photo by AP Photo)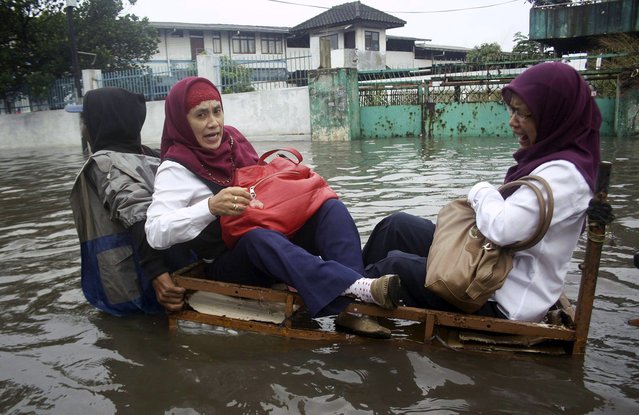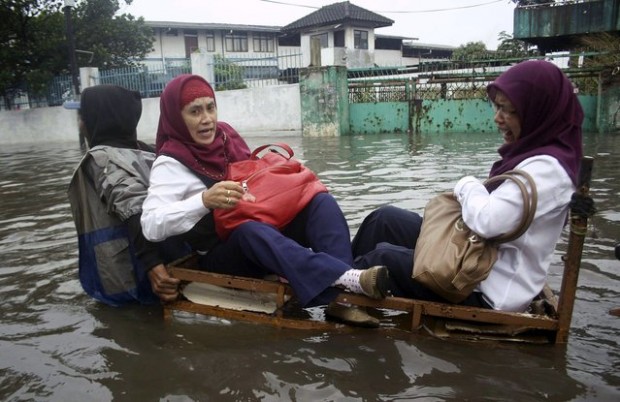 A homeless man sits coated in snow early on March 25, 2013 in Washington, D.C. A messy Monday was in store for millions along the East Coast, with winter weather advisories warning of a mixture of snow and rain for Washington, Philadelphia, metropolitan New York and parts of northeast New Jersey. (Photo by Karen Bleier/AFP Photo)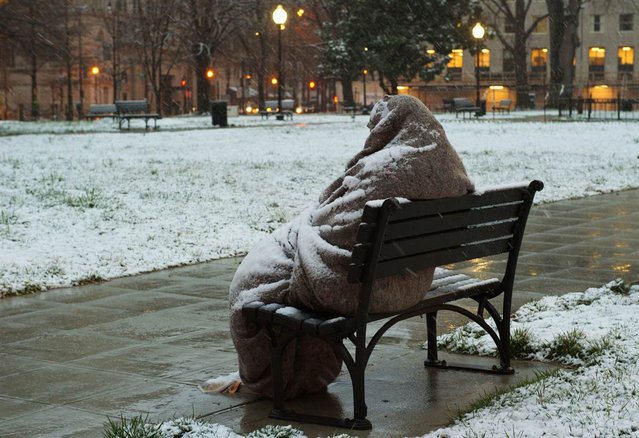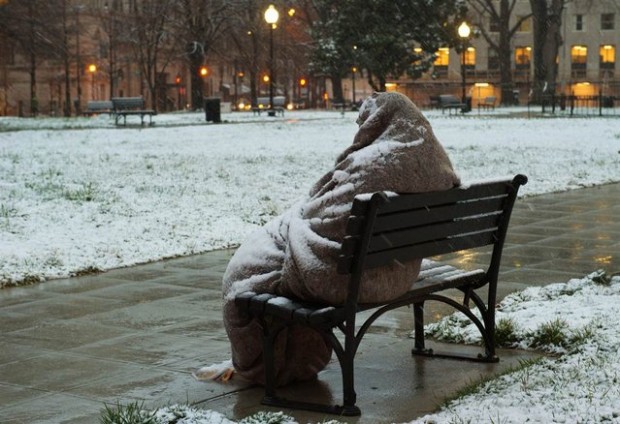 The girl rides mountain skiing on the street of Kiev, Ukraine, on March 24, 2013. In Ukraine the record quantity of snow dropped out. (Photo by Sergei Chuzavkov/AP Photo)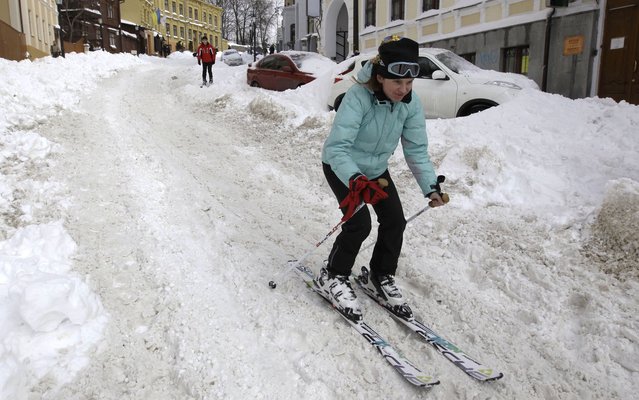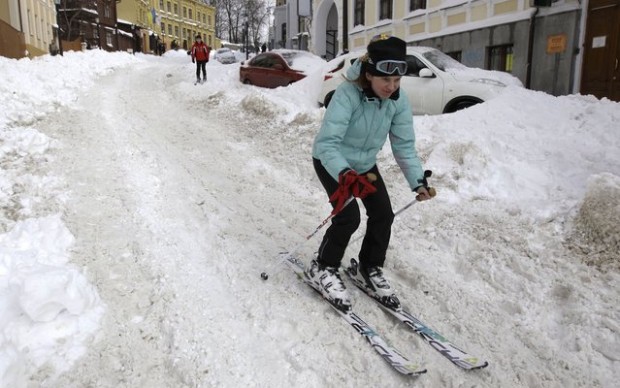 A woman stands on a pier under an umbrella during a storm in a Russian Black Sea resort of Sochi on March 24, 2013. (Photo by Mikhail Mordasov/AFP Photo)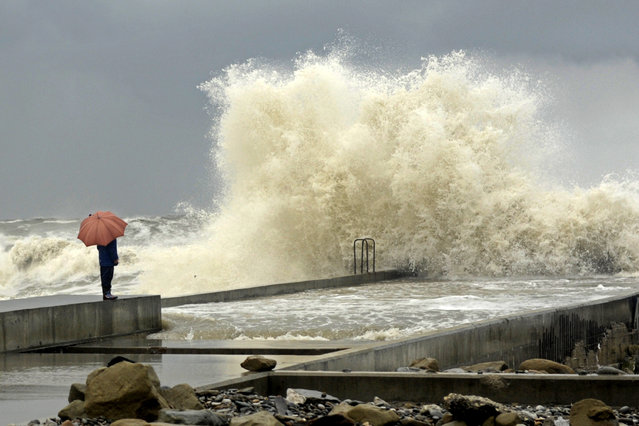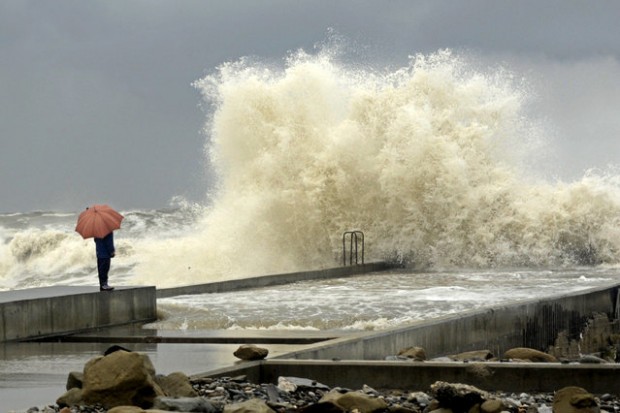 Icicles hang from a statue in Trafalgar Square, central London, as the cold weather continues Tuesday March 26, 2013. The cold weather is predicted to continue for the upcoming days with freezing temperatures and high winds hitting many regions of Britain. (Photo by Andrew Matthews/AP Photo)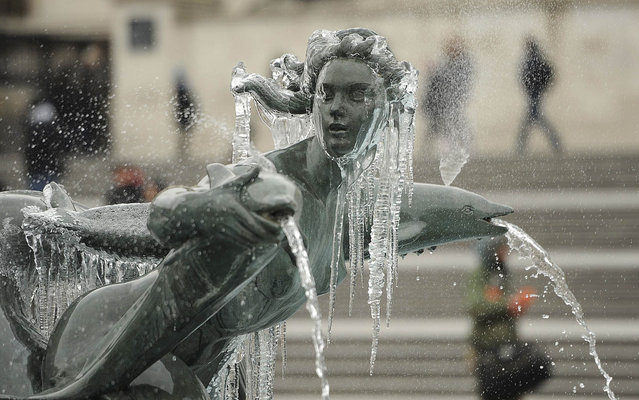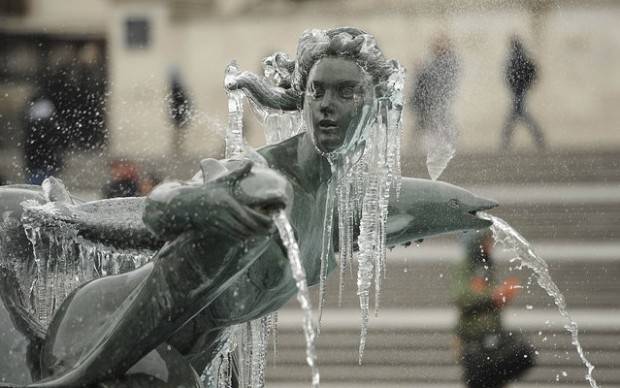 Men are dragged on the ground to cover them in red coloured water during "Huranga" at Dauji temple near the northern Indian city of Mathura March 28, 2013. "Huranga" is a game played between men and women a day after Holi, the festival of colours, during which men drench women with liquid colours and women tear the clothes off men. (Photo by Ahmad Masood/Reuters)