Think of the last time you used a hot tub. If the answer is, "years ago" or even "never" and you're thinking about purchasing one, consider your own personal style and what you'd like in a hot tub before making the plunge. A hot tub can be used for different occasions in various settings, including an at-home spa day, a romantic evening or winter party. Find out what kind of hot tub is right for you by taking a look at these creative, inspirational, and sometimes over the top, hot tubs. Yes, these really do exist.
1. Wood-Fired
Ever seen a wood-fired hot tub? These resemble oversized barrels and have an overwhelming amount of old-fashioned charm. This design is perfect for vintage homes and for those who want an au naturel hot tub. A wood-fired stove is used to heat the water, keeping maintenance cost low or even non-existent if the owner uses his or her own wood. The approximate initial cost of this unique hot tub is around $3,000 but can cost up to $7,000, depending on the size and features.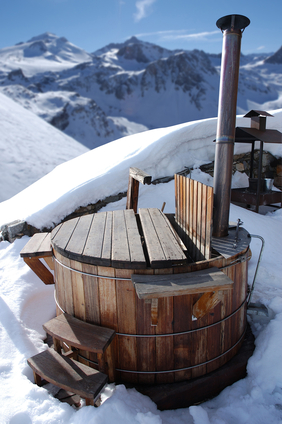 2. Everyday Object
For quirky styles, consider imitating a unique object and creating a giant cup and saucer, a cauldron or a Ramen bowl hot tub (sans noodles, of course) like the one at Amusement Park and Spa Resort Hakone Kowakien Yunessun. If these ideas seem too wild, a Dutchtub is a great substitute. Fun color options like orange and blue Dutchtubs will satisfy a peculiar taste.
3. Natural
Surround yourself with nature by choosing a hot tub that emphasizes the beauty of the outdoors. Use natural materials like stone, shrubs and pebbles and add waterfalls and tiers to recreate your very own paradise. This design is ideal for those who love nature and want their hot tub experience to be an escape from everyday worries.
4. High Tech
La Scala Jacuzzi is one of the most unique hot tubs due to its high-tech features and top of the line surround sound. According to GizMag, a 24-inch, high-definition Plasma screen, floating remote and stereo are all included as part of this elegant and futuristic hot tub. Perfect for those with expensive taste, this hot tub can cost you nearly $30,000.
5. Oversize
For those who believe the bigger, the better, a hot tub that resembles the size and shape of a pool might be the perfect match. Large hot tubs are few and far between and you'll have better luck building your own with the desired measurements than trying to purchase a ready made one. If you become the owner of an oversize hot tub (more than 96 inches) make sure you purchase an oversize hot tub cover to keep debris out and the water crystal clear.
6. Glass
The Champagne Tower Suite at Cove Haven Entertainment Resorts features a champagne glass whirlpool hot tub for two. For the hopeless romantics out there this choice might be love at first sight. You won't easily find a giant champagne glass to recreate this hot tub, but you can amp up the romance by sprinkling rose petals in the water, lighting a few candles and creating bubbles with your hot tub's water jets.
7. Indoor
Take your hot tub indoors if you live in an area with long winters. There's nothing more satisfying than coming in from the bitter cold and taking a dip in your hot tub's warm, soothing water. This can also be a viable option for those who prefer more privacy or want to make a hot tub a part of their home gym.
8. Floating
Ahoy there matey! If you love the open sea you'll love this unique hot tub as well. An electric boat with a hot tub built into its deck is perfect for sailors or fishermen. Of course, you also want to make sure you live near a beach to take advantage of this engineered wonder. The Hot Tub Boat (as its aptly called) will set you back $42,000.
9. Bar
Relaxing in a hot tub wouldn't be complete without cocktails. The two-tiered Luxema 8000 has a huge flat-screen TV and its own bar. With 130 separate jets and plenty of space for guests, this hot tub is a party animal's dream. There's no doubt you'll impress your guests with this hot tub, that Daily Mail states is bigger than most New York apartments.
10. Light Show
For all the late-night movers and shakers, a hot tub with an underwater light show will certainly cause excitement. Replicating this colorful hot tub design is as easy as purchasing adequate underwater LED lights and dropping them in. Follow Golden Nugget Hotel and Casino's lead and pair this lightshow with music to create a backyard dance club.