A liquid limestone pool area is an excellent option for the yard. It's attractive, inexpensive, and natural. But once you get the pool installed, there are many ways to make it stand out. Create the perfect pool area for your home with the tips below.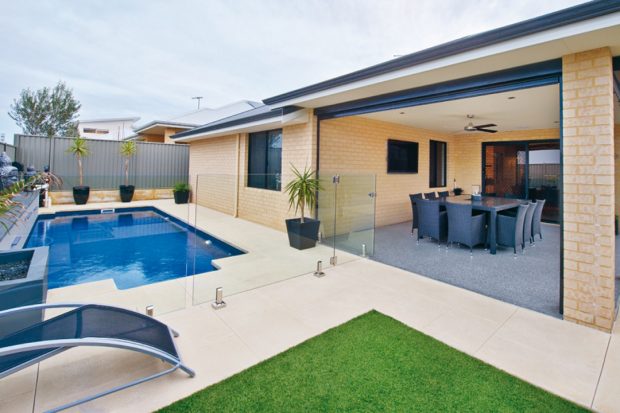 Consider Entertainment
Swimming is fun, but pools are designed for entertaining. Make areas where you can host people, such as fire pits or outdoor dining rooms. Choose materials for outdoor use to keep the space looking great for years.
Add Decorative Boundaries
For large yards, decorative walls can break the space into different areas. For example, try a white wall that complements the blue water or add in a pool fence.
Utilise Softscaping for Privacy
Adding some hedges and trees around the edges of the pool ensures total privacy. That means you can have a dip in the waters of the liquid limestone pool whenever you want and the neighbours will never see you.
Create Recreation Areas
Recreation areas are another great option for your pool. Make space for games or sports so everyone can have a good time. It doesn't have to be an expensive set-up; you could do something simple like a mini-volleyball court.
Bring Out a Natural Feel
If you prefer less manicuring, choose a natural yard to go around the pool. Consider paving stones, rustic trees and plants, and other items that soften the space's vibe.
Think About Manicured Landscaping
On the other hand, you can go with manicured landscaping. Add soft and hardscaping to lounge areas and keep the grass trimmed at all times.
Add a Few Terraces
Create a feast for the eyes with a terraced patio at various heights. This gives you several zones to access while socialising with friends.
Incorporate a Waterfall
Waterfalls are a great addition to a liquid limestone pool. There are several ways to implement them to create an environment that looks like a resort. Even a faux waterfall will look great in the space.
Implement LED Lighting
Need some lighting for the pool? LED lighting can be installed right in the pool. You can also add in fountain lighting, landscape lighting, and furniture lighting. It will highlight the entire area.
Bring in Pool Experts
If you haven't yet installed your liquid limestone pool edging, get in touch with local experts to help. Once you have a beautiful pool available, the tips above will make it even more fun and aesthetically pleasing.