A Sanskrit term meaning 'circle', Mandalas are considered objects of harmony and devotion among both Buddhist and Hindu religions. Renowned for their often bright colors and intricate designs, mandalas are extremely attractive and mesmerizing to look at. So much so, many people use mandalas as a way to help meditate as, by intently looking at a mandala for long periods of time, the brain can become immersed in thought, making meditation much more effective.
But, as mandalas are often extremely intricate and contain various geometric shapes, most people shy away from creating their own mandala designs simply because they think it will be too difficult. And, as meditating or simply looking at a mandala is a very personal experience, drawing your own unique mandala design is sure to enhance it. So, if you've always wanted to create your very own special mandala designs but are unsure how, here's a simple guide that will have you creating mandala masterpieces in no time!
Select your materials
The beauty of art is that there are no rules, so you can create your mandala with almost anything. Using materials like paper and either paint, pens or pencils to draw with is probably the easiest option for beginners. But, if you're feeling really adventurous, you could branch out and mold one out of clay!
Practice first
Before going ahead and creating your mandala freehand, it's always a good idea to get a feel for the mandala variations out there, and even create a mock-up of what you ideally want to produce.
Coloring Book for Mandala & Me is an Android coloring book app specifically focused on mandalas and the relaxation that comes with them. Offering an endless array of colors and a huge selection of detailed, intricate designs for you to color, you're able to play around with multiple different color schemes and designs until you find something you feel confident enough to draw yourself. Better still, as this is an app, there will be no mess to clear up at the end!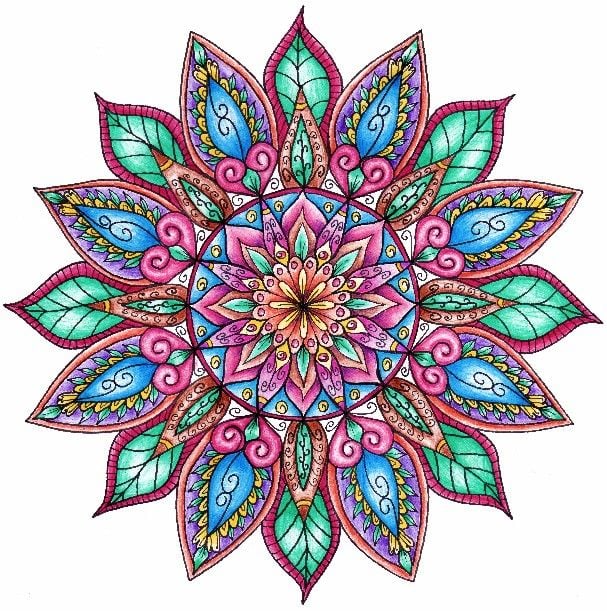 Get drawing!
Before drawing your mandala, get yourself into the right mindset first. After all, mandalas are renowned for their relaxing properties so it's important to have a calm and open mind.
Start off by cutting your paper into a precise square shape and draw a small dot in the center. Then, place 4 equally-spaced dots around the central dot, and continue expanding these dots using equal distances until you've created a '+' shape.
Connect these dots with straight lines and create another diagonal sequence of dots the exact same distances from the center you used before. Connect these too, and also draw circles to connect all other gaps between dots.
Now that you have your outline, you're free to create any design you want! Whether it's petals or geometric triangles, your outline will provide the perfect blueprint to ensure everything is symmetrical.
Mandalas aren't difficult to create as long as you learn the technique. Now you know the best method of practicing and how to create a fool-proof outline, you're ready to get creative!