When it comes time to upgrade the outdated and inefficient windows in your home or business, there are a lot of options. One option that you should definitely consider is that of a double pane, NFRC rated energy saving vinyl window systems.  Double pane energy efficient windows offer a lot of advantages over a single pane window, making it an excellent choice for most homes especially those looking to conserve energy.
Single Pane Windows Regulate Temperature
One of the main reasons someone would get a dual pane energy efficient vinyl window is that it helps to regulate the temperature in your home more efficiently. Since double pane windows are engineered using spacer technology between two panes of glass, the windows work to keep heat trapped inside the home, slowing through process of losing thermal heat through the glass in the winter.   Today's windows incorporate a smart glass technology referred to as low-emissivity glass that works in such a way that it reflects heat back to its source helping homes to stay warmer in the winter and cooler in the summer.
According to MichaelAllbritton, President of Windows USA, "There's so much more to a premium quality window than the product itself. It requires a system of processes that ensures the seal and installation of the window optimize the premium performance of the window itself. At Windows USA, the Alaskan Window System isn't just a window; it's a complete system that we manufacture within our own facilities that fulfills our promise of quality and performance to customers. Windows USA began the manufacturing of the Alaskan Window System because we were frustrated with the inability to control the quality standards of other manufacturers and we learned that the highest quality of product can still be captured without compromising an affordable price for consumers."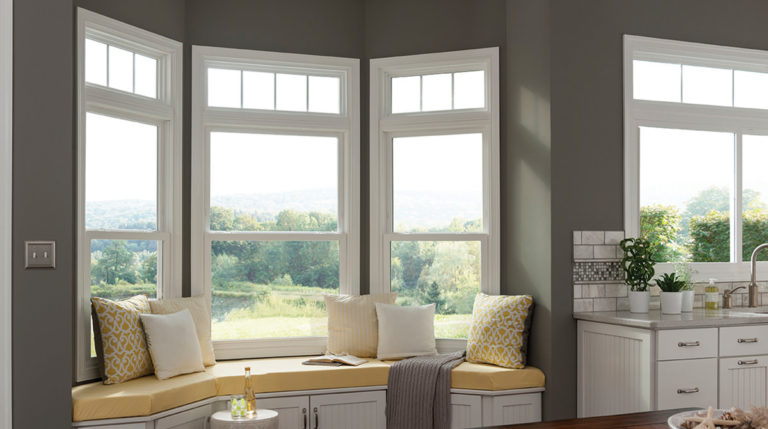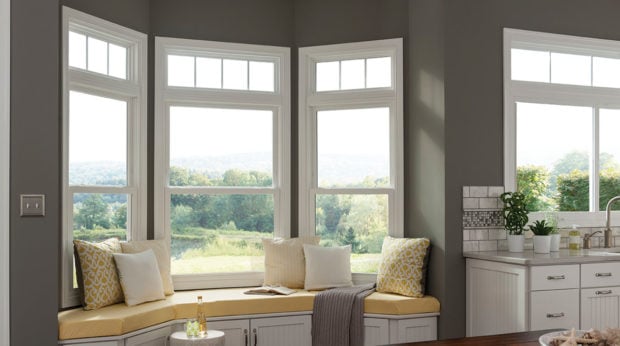 Lower Costs
With better insulation comes lower energy costs.  Multiple experts have explained the significance of heating and cooling costs and the impact of replacing outdated inefficient windows.   Since your home or office won't have to work as hard to heat or cool down a home – because of the double pane window better sealing the room – you will ultimately spend less on energy costs. So while double pane replacement windows may cost more now, the savings in the long run usually compensates.
Great for the Environment
Now that your home is more energy efficient, you'll also help out the environment. Since double pane, energy efficient windows keep your home from burning more fossil fuels, you'll help to lower the CO2 emissions into the air. Every little bit helps when it comes to saving the environment, and double pane windows are one way to do your part.
Sound Reduction
Not all of us are fortunate enough to live on a quiet countryside. Some of us have noisy neighbors, or a lot of traffic outside of our office. If you want to quiet things down, double pane windows with a high quality spacer system canalso greatly benefit in noise reduction especially when replacing single pane windows.
Good for Home or Business
Whether you're looking to replace the windows in your home or office, double pane windows are a good choice. They offer benefits to both types of locations, and have plenty of styles available to suit both needs.
Beautiful Styles
Just because double pane windows are more efficient doesn't mean they sacrifice style. There are plenty of options available so that you can find something that suits the style you are looking for. According to Allbritton, "At Windows USA, we know how large of an investment your home is. Not just the financial investment but the overall emotional investment as well. You shouldn't sacrifice anything to have the look and feel you want in your home."
Improve Home Value
Another great benefit of double pane, energy efficient windows is that they improve your home value. Whenever it comes time to sell your home, you want it to be worth as much as possible.  Newly replaced, energy efficient dual paned windows can provide many benefits to selling your home, from raising the value to improving the time in selling the home.   Double pane windows give your home another selling point, allowing you to get more for it.
Improve Curb Appeal
Double pane windows don't just improve the value, but they also make the home look better. With so many styles and options available, when you upgrade your home with newly installed energy efficient double pane windows, you can be sure the beauty and curb appeal will increase as well.
Many Options Available
When it comes to double pane efficient replacement windows, there isn't a one-size fits all. This means you can consider different options, and decide which ones work best for your home/office and your budget. For instance you could choose a type that has air between each pane of glass, or a type that has specialized gas injections that offer additional efficiency benefits.   According to Allbritton, "Windows Mart, the manufacturing division of Windows USA, takestremendous pride in our manufacturing. We know that by committing to making the best product on the market, that translates to satisfied customers that we are so grateful to serve."
Low Maintenance
Vinyl continue to excel as the consumer's choice for window replacement because of its tremendous energy savings benefits combined with low maintenance and long-lasting appearance.  In most cases, the vinyl exterior does not require painting and if using premium materials also does not warp or fade over time allowing your new windows to perform consistently for many years.
Consider Double Pane Windows for Your Next Window Upgrade
As you can see, there are plenty of advantages to getting double panevinyl windows that incorporate modern energy saving technologies.  When the time comes to upgrade the windows in your home or office, keep these advantages in mind, and weigh them against the initial cost increase. You will likely find that paying more now is a small inconvenience compared against all of the advantages new energy efficient windows offer.