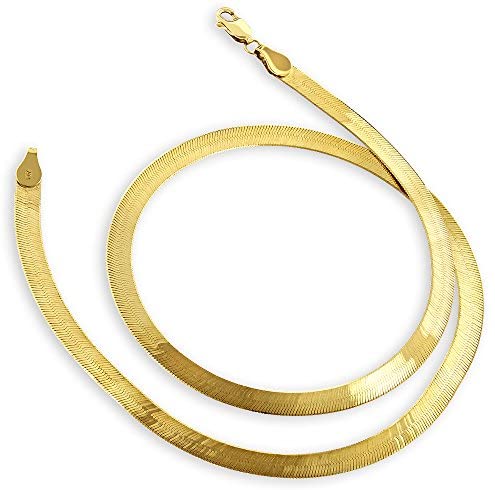 A lot of people love to stay in style and be fashionable. An accessory commonly found on the neck would be a gold chain necklace. Moreover, what a better way to stay trendy by knowing which gold chain designs are popular these days.
Chain Designs You Might Want to Look At
There are many gold chain designs available for women. Most of the time, they are available in 14K and 10K gold. Below are some of the chain designs you might want to know about:
Anchor/ Mariner
There are two kinds of mariner chains: solid flat mariner chain and puffed mariner chain. The nautical world inspired this style. Moreover, it gained its name since it resembles the chains that connect the anchor to the ship.
The mariner chain comprises interlocking ovals interconnected with a bar across the center of each oval. This gives it a distinct appearance. Moreover, thicker mariner chains are more commonly used by men. On the other hand, most women prefer smaller ones.
Ball/ Bead Chain
This design consists of little beads that are connected all together to form a chain. Most of the time, these balls are connected close to each other. On the other hand, others prefer the beads to have a little space in between for movement.
The ball/ bead chain is commonly incorporated with dog tags. This leaves it a street smart and cool look most people love.
Box Chain
Unlike the usual round or oval links, the box chain is made up of square links. This is a popular choice for both men and women. Furthermore, this design has a variety of widths.
Box chains are known for being strong. If, in any case, a link breaks, it can easily be replaced. Furthermore, you can also choose any length of your box chain based on your preference.
Cable Chain
The cable chain is composed of interconnected oval links. It is one of the most common necklace chains. Moreover, it is usually paired with a pendant.
Cable chains are quite sturdy. This means it will be easy to fix a misshapen or broken link. Hence, you won't have any worries in case you accidentally broke a link.
Curb Chain
The curb chain is a timeless design. It is made up of uniform links connected together. Furthermore, curb chains are sturdy and easy to maintain.
Figaro Chain
This design originated in Italy. It is considered a gender-neutral design. Moreover, the Figaro chain consists of flattened links (usually in different sizes) placed in an alternating pattern.
Rope Chain
The rope chain is made up of metal segments with a twisting pattern. It resembles the appearance of a real rope. Furthermore, this design tends to be shiny since the twisting pattern of the chain reflects light.
Singapore Chain
This design consists of interlinked segments. Many people chose the Singapore chain to hold pendants. This is because they are quite strong regardless of their width.
Snake Chain
It is called a snake chain because it resembles a snake's body. It also moves with similar flexibility to a snake. Furthermore, the snake chain consists of a tightly connected series of small rings (either bands or plates).
Spiga/ Wheat Chain
This design consists of twisted oval links. It is called a wheat chain because the design looks like tips of wheat stalks. Moreover, this chain has a timeless and classic look.
Gold Chain Necklaces and Skin Tones
There are many shades of gold. However, most people prefer yellow gold for their gold chain necklaces. On the other hand, a few others would pick out white gold.
Yellow gold chain necklaces complement people with warm skin tones. But, this doesn't mean you can't rock a yellow gold chain just because you don't have a warm skin tone. At the end of the day, your preference will be the one that matters. If you think it looks good on you, choose it.
Tips on Choosing a Clothing Style that Complements Your Gold Chain Necklace
If you plan to wear a top with a jewel neckline or a turtleneck, a gold chain necklace is a great way to accessorize. You can opt to choose a 24-28 inch long chain necklace to enhance your outfit. Moreover, necklaces with pendants would also make them stylish.
You can also choose to layer two chain necklaces with different sizes. This looks best if the fabric on your dress or top is not too busy. Furthermore, layering also draws attention to your pretty face.
To add an elegant look to your outfit, why not try small or choker chains. They look good on clothes with plunging necklines. Moreover, they will definitely make you fashionable.
Takeaway
With many chain designs available, it might be overwhelming for you to choose one. To help you with the picking process, it is best to narrow down your chain design preferences. Once you have done that, you can then decide what trendy gold chain design you might want to buy.