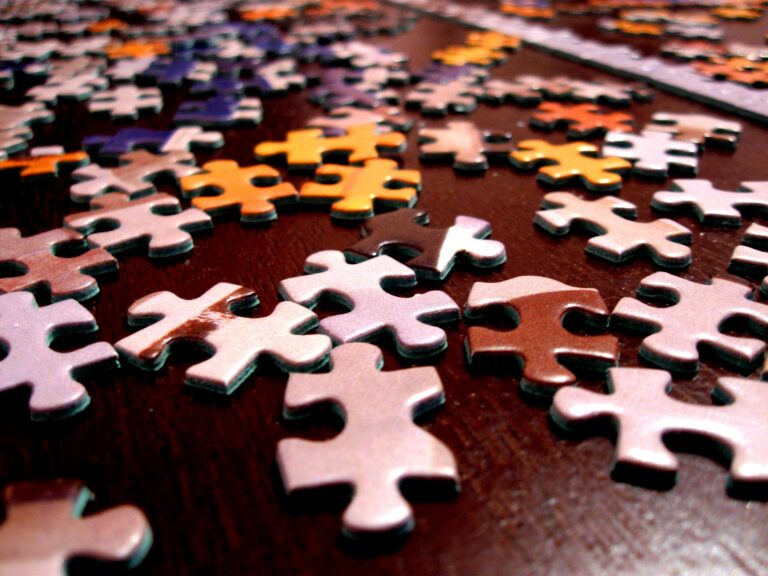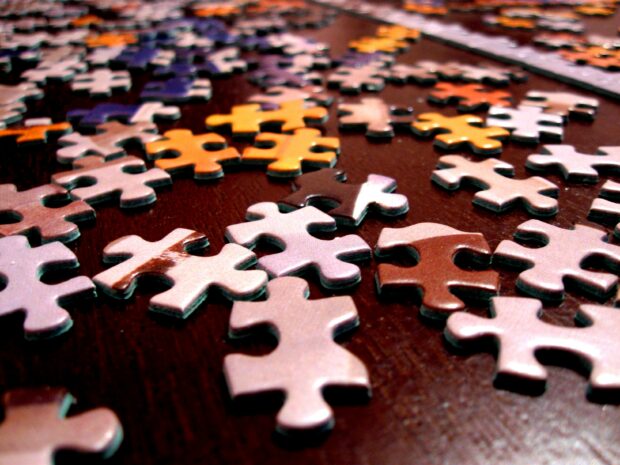 Image source: Pixabay from Unsplash
Solving jigsaw puzzles has been a pastime that has fascinated us for generations. Puzzles are not only useful for training the brain, it is also an activity that makes you relax and stress less. For children, it has been proven to be beneficial as it enables fun-filled learning of, among other things, mathematics, coordination, motor skills, and interaction. Jigsaw puzzles come in a variety of sizes and among the most popular and purchased ones are the 1000 piece jigsaw puzzles, allowing more family members to join in the fun and assemble the differently and oddly shaped pieces.
Once you have completed your puzzle and you are left standing there admiring the results, you will surely come to a point where you wonder what to do with it. Put the puzzle pieces to use and continue the family activities by getting creative and showing off your crafting skills. Here are several tips and ideas on super-simple crafts that are suitable for rainy days or if your creative desire awakens.
Puzzle Frame as Wall Decoration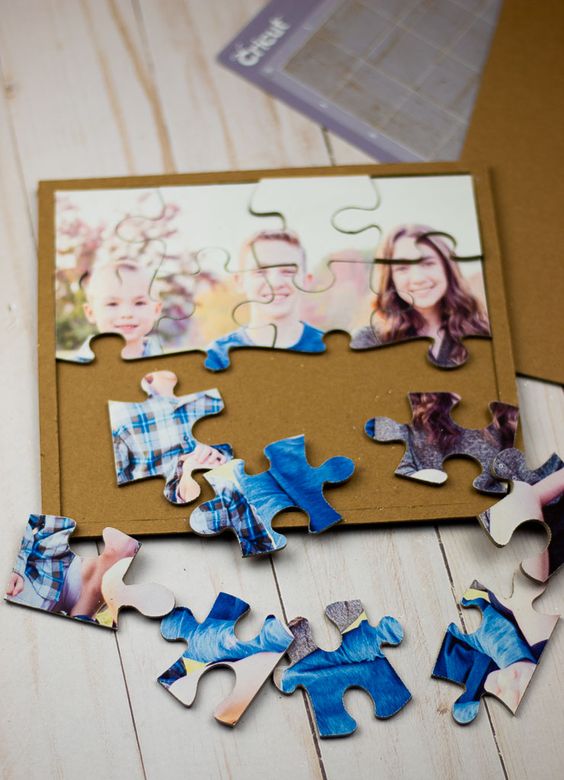 Image source: Pinterest
When you have finished putting the puzzle together, you might think once or twice before disassembling it and letting it disappear into the packaging. But, why should you really put aside something that you have invested so much energy in? The absolute best thing would of course be to try and decorate your home with the puzzle pieces. You can frame them, especially as the alternative would be to pick them up and put them in the box again. What could be a better place to showcase your masterpiece or favorite personal memory than to hang it on the wall? A favorite photo in puzzle format behind glass is a unique and rarely seen wall decoration.
The puzzle frame does not have to be turned over when framing, like a regular frame. The acrylic glass can be easily placed from the top of the puzzle and the strips, which close the frame, are inserted from the side and fixed with corner connections, without the risk of the puzzle falling apart during framing. If you later decide to put another puzzle, the frame can be quickly disassembled, and immediately it is ready for a new puzzle motif.
Drink Coasters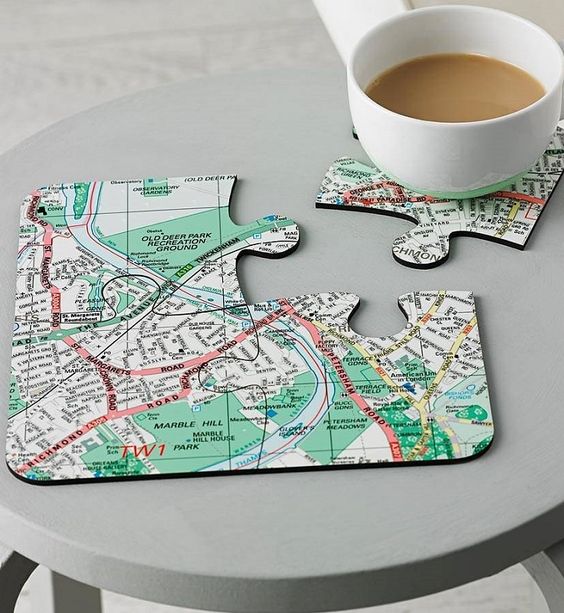 Image source: Pinterest
If you are in need of coasters and happen to have a wooden puzzle where pieces are missing or one that the children are no longer interested in, you can solve two problems with one solution. The puzzle coasters can be painted or varnished if you feel like it, which makes them more durable.
Put the puzzle and glue on cardboard, with the picture side up. To get rid of the image itself, you can soak it with decoupage glue and the image can then be easy to scrape off, piece by piece. Cut off excess cardboard and you can also paint the pieces in your favorite color. If you want to protect the surface from moisture, just put some paint on and there you go, brand new coasters for your home!
Holiday ornaments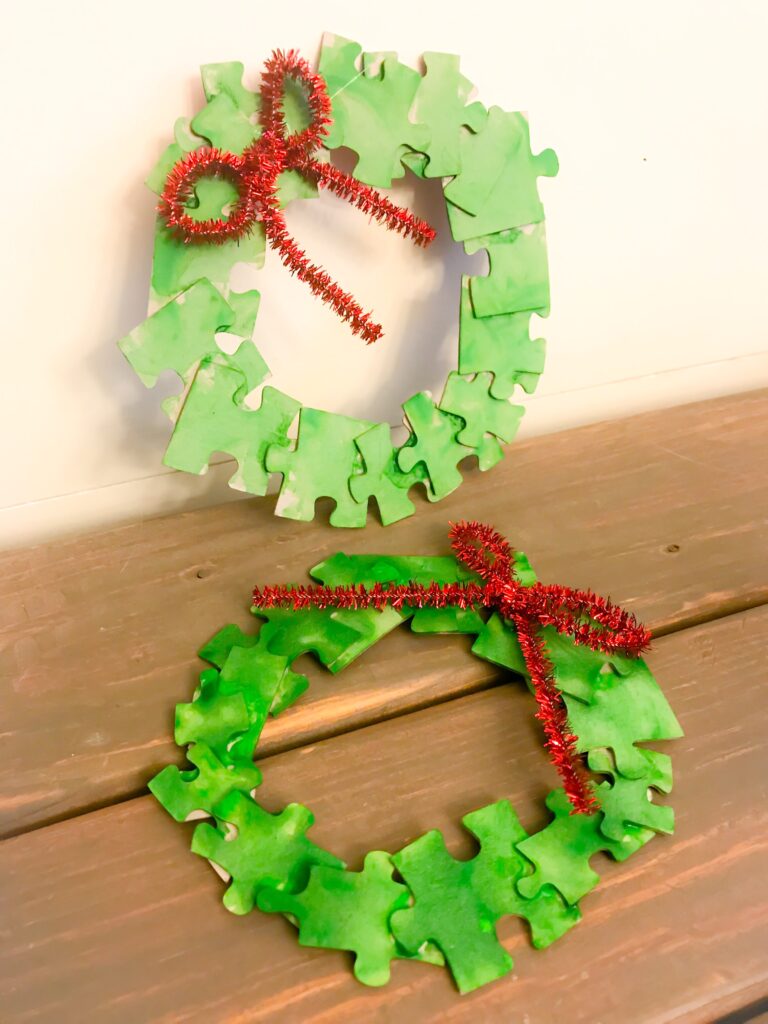 Image source: Pinterest
As Christmas is just around the corner and while most of us are trying to pick up a new hobby while stuck at home because of the ongoing pandemic, why not create your own puzzle piece ornaments. This craft idea is perfect as a fun holiday activity you can do with your family and children while you are decorating the Christmas tree. Every home has plenty of puzzle pieces to spare, so why not make the best of it and create the reindeer, snowflake, door wreaths, and other ornaments with various motifs that serve as a symbol of the Christmas holidays.
Personalized cards
When we celebrate or wish to congratulate someone's birthday, anniversary, wedding, or baby arrival, we usually send our own personalized card extending our very best wishes. How about designing your own card? A personalized card made of puzzle pieces can be perfect when marking a special occasion, as it is both creative and unique. Craft the puzzle pieces into a letter, maybe the initial of your name or the person you want to give it to. The person receiving the card will appreciate your thoughtfulness and personal touch.
Accessories & Miscellaneous
Puzzle Necklace & Earrings
When it comes to making something fun and funky to wear, there's really not much to puzzle over. You can try and make a cool and colorful necklace and earrings from the puzzles left around your home. Jigsaw necklaces are light on your neck and can show off a unique fashion style. It could also work out as a pair of earrings for your teenager at home and even as a gift to someone young and hip.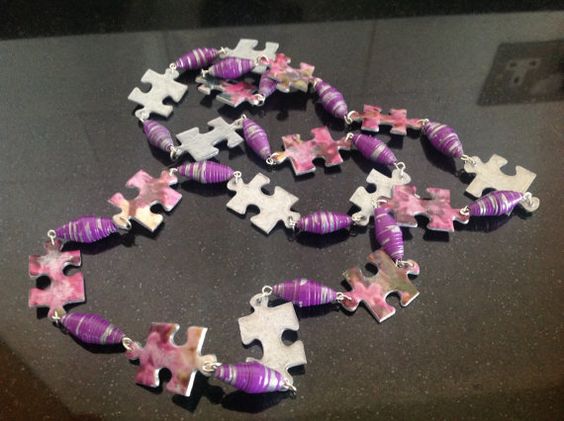 Image source: Pinterest
Puzzle Keyring
Is a puzzle keyring with a photo a good gift? We think so. A double-sided photo puzzle keyring is a great gift for family and friends who can never find their keys. Use any piece of the puzzle and print out a photo of your choosing. This will surely surprise your loved one.
Puzzle Magnets
Usually, when returning from vacation, we have a habit of placing our travel magnets on our fridge. Why not put your favorite vacay photo on a puzzle piece and glue a magnet bit to the back of it? Be sure that your magnet is big enough to hold up nicely to the size piece you are using.
Final Thoughts
Getting creative and crafty is the best feeling and there are many ways to achieve this sense of contentment. For example, when doing things on your own and reusing things, not only do you attain the feeling of being productive, you are also motivated to use your imagination. In addition, you teach your children a valuable lesson of the environmental benefits of reusing things, saving money, and getting creative.
If you lack the inspiration or idea of how to use your old jigsaw puzzle pieces that are scattered on the floor of your home, but still want to reuse them, you can always check the above mentioned tips and suggestions. Get inspired on how to do it in the best way and use them for various purposes, all the while enjoying this in the company of your family and friends!