Want to change your make-up and give yourself a changing look? Here are the palettes that should help you do that!
Do you want originality and change for your fall makeup? With these new palettes, fresh off the shelves of perfumeries, you will have something to renew your inspiration!
The new palettes for the end of 2021 inspire us!
Want to pimp your nude make-up? To add a touch of warmth to your look? You will inevitably find your happiness in these new palettes. How to use them? While halo fashion has been seen a lot this summer, it seems to be fading as temperatures drop. On the contrary, we see more of the look with light all-over eyeshadows on the eyelid, with a fine dark or colored line at the bottom of the eyelashes.
Fans of very worked looks are reassured: there is also something to work on his cut-crease and his smut. The iridescent and glittery shades will even help you play with the dimensions. Giving relief and depth to your look has never been so simple!
1. Rose Quartz Eyeshadow Palette by Huda Beauty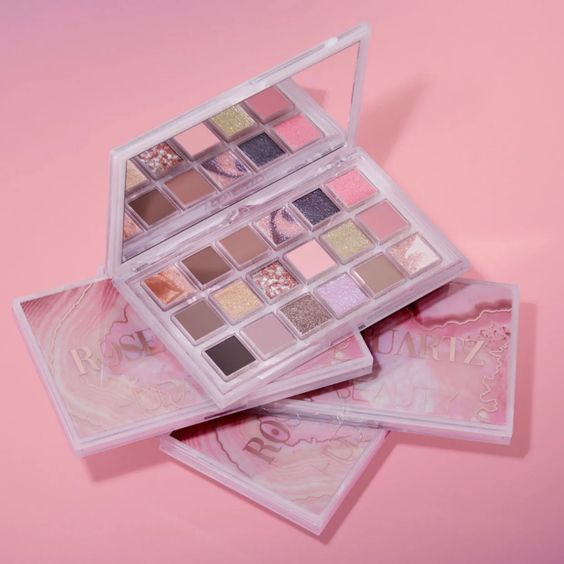 Huda Kattan has struck again with a new palette that is simply perfect colors. Bright eyeshadows, others nude and mat… In short, nothing is missing to highlight your eyes and have fun with the different textures.
2. Cinnamon Swirl by Too Faced
Warm colors perfect for blue eyes, pink and purplish tones that will flatter green eyes, cool nude tones to enhance brown eyes.

In short, everyone will have something to highlight their eyes with this new palette signed Too Faced!
3. Gucci Eye Beauty
With Gucci, the make-up is as beautiful inside as it is outside. The palette is in itself a sublime object and the eyeshadows it contains equal them! Blue tones, a real matte black, iridescent tones… Enough to vary the pleasures!
4. Morphe Jaclyn Hill Divine Neutrals Palette
Who says nude eyeshadow palettes have to be boring? Not us, nor Morphe, and even less Jaclyn Hill who for her new collaboration with the brand is launching a palette of 12 colors, each more attractive than the next.
Presentation side: one level of matte eyeshadows, the other of iridescent eyeshadows: we will therefore match them as we wish, according to the mood of the day.
5. Primrose Palette by Anastasia Beverly Hills
These warm tones will be perfect for warming us up when the winter temperatures drop!

Sublime golden browns, rosés that will go happily to everyone … All in a pigmentation that ensures a hold all day!
6. Discovery True to Myself by Rare Beauty
For the record, the colors of this palette would have been inspired by the introspective journey of Selena Gomez, creator of the Rare Beauty brand.
Well, without necessarily going that far, this palette contains 7 rather canon eyeshadows with different textures and shimmering colors.
We don't guarantee you the introspective journey, but a nice make-up, yes.
7. 5 Couleurs Couture limited edition Atelier des Rêves de Dior
This fall at Dior, we play the card of brown and taupe tones with a lightning touch of gold.

Something to attract all eyes in the blink of an eye.