Multi-level techniques have made a real revolution in hairdressing. Layering strands allows you to achieve a stunning transformation, the effect of correcting the appearance is comparable only to plastic surgery. The naturalness and lightness of the form will allow everyone to find the optimal model. A torn haircut makes any look relevant and modern, a combination of negligence and elegance will help not limit styling ideas.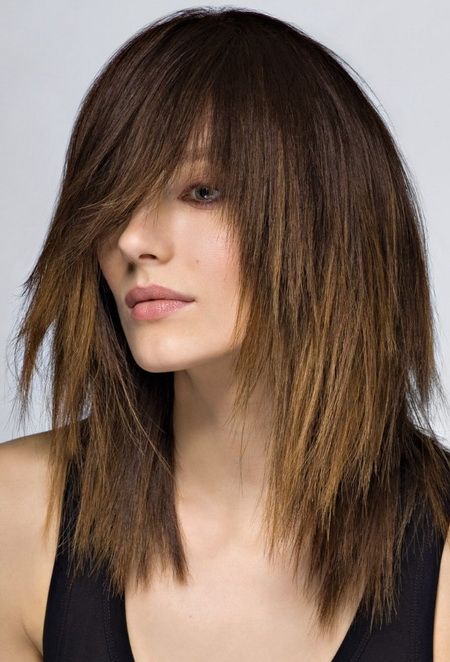 Who suits a torn haircut:
for each oval, you can choose your own length, and graduation, with the help of a successful haircut it is easy to hide some features of appearance, a high forehead, plump cheeks, a pronounced chin, and a large nose;
for those who want to look younger, this is the best option, graduation gives lightness to the image;
suitable for girls of different builds, visually can make them slimmer or, conversely, highlight curvaceous forms;
you can choose the owners of long straight hair or shocks of naughty curly strands, the right haircut will not only emphasize the beauty of the curls but also simplify home care;
a torn model can complement the image of a practical businesswoman, suitable for creative professions.
There are no restrictions for execution, thanks to the thinning technique, even thin, porous strands can be transformed. Performed with and without bangs, depending on the option chosen, will help emphasize individuality.
How to do styling at home:
Wash curls, and dry them with a towel. Using a comb, spread the mousse or foam along the entire length.
Tilt your head, and dry the root area with a hairdryer.
Using a round brushing comb, add volume to the top of the head, winding several strands with the tips inward.
In the same way, dry the neck and crown area.
Divide the curls along the side parting, highlight the bangs, and dry them by wrapping them on the brush with an offset to the side.
Treat the cuts with a thermal protective agent, and use an iron or curling iron to give the desired direction.
Rub the modeling paste in the palms, and ruffle the curls from the roots to the very tips with your fingers.