Sugaring is a popular way to deal with unwanted body hair using a special sugar paste. After the procedure, the skin remains soft and smooth for several weeks. The success of the procedure largely depends on the master's experience and the sugar paste quality.
How to Choose Sugaring Paste
What is sugar paste? In fact, it is a viscous caramel. This is one of the most effective cosmetic products for removing unwanted hair. The main ingredients are sugar, water, and citric acid. The color depends on the proportion of ingredients taken and can vary from light amber to dark brown.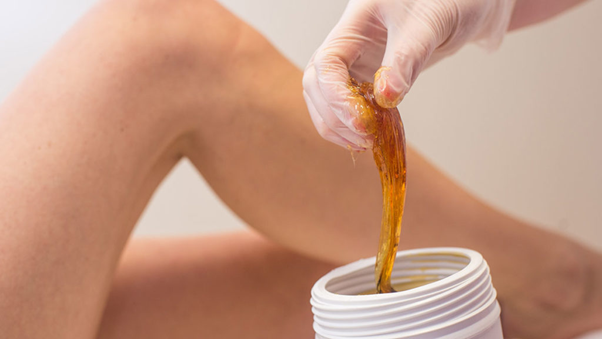 Sugaring wax is suitable for hair removal on all parts of the body such as the bikini area, armpits, arms, legs, and even face. Due to its composition and consistency, sugar paste envelops the hairs completely, removing them from the root. This lets to avoid injury to the skin and ingrown hairs.
For sugaring to be effective, you need to choose the right paste. When choosing a paste, several important criteria must be considered:
Sugaring pastes are divided by density: soft, medium, and hard.
The selection criteria depend on the area to be depilated, the hair removal technique, and the temperature and humidity of the room.
Soft-paste is effective for big skin areas, however, it is not recommended for beginners to use it.
Sugaring paste of medium density is universal, can be applied to any area of the skin, and is suitable for beginners.
A hard paste is suitable for manual technique. You can use it for the depilation of delicate areas such as the bikini zone and armpits.
The sugaring paste may stick and spread if the rules of the session are not followed correctly.
Sugar Pastes Luxury Pro by Sugaring Factory™
Sugaring Factory™ is a sugaring cosmetics manufacturer that has been on the market for over 7 years. We produce cosmetics but treat our product as a tool that customers work with. The main goal of Sugaring Factory™ is to attract working masters who will stay with us for a long time. That is why only high-quality natural ingredients are used in the production of Luxury Pro sugaring paste.
LUXURY PRO is a professional line of sugar pastes suitable for both salons and home use. The cosmetic formula does not contain dyes, fragrances, allergens, and other harmful substances. Therefore, the product can be used even for people with sensitive skin. More information you can find here.
The Assortment of Luxury Pro Sugar Pastes
The Luxury Pro line includes several types of sugar pastes with an improved formula:
Luxury Pro Soft. It is the softest paste in the line for removing unwanted hair from large areas in cool environments. The paste can also be used to adjust other pastes' density.
Luxury Pro Gentle. This is a soft paste that is used in a cool environment to remove hair from large areas.
Luxury Pro Ultra. The most versatile paste that is easy to apply, so it is suitable even for beginners. The paste can be used to remove hair from any area with any hair removal technique.
Luxury Pro Ultima. It is a hard paste created for cold environments for hair removal in the bikini area and armpits. This paste is specifically designed for manual hair removal techniques. With this paste, you can control the density of other pastes.
All types of sugar pastes presented in the line do not require preheating.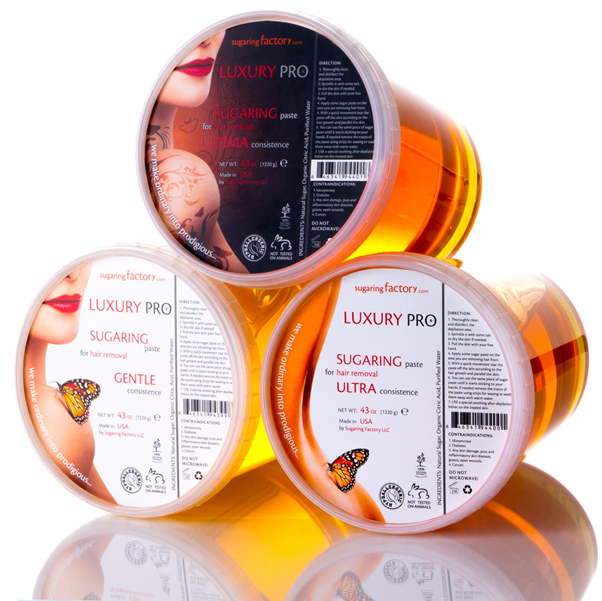 Advantages of the Luxury Pro Line
Let's highlight the main advantages of products included in the Luxury Pro line:
Large selection of sugar pastes in the line for hair removal in any area using any technique.
Advanced cosmetic formula.
100% natural safe composition without fragrances and dyes.
Possibility to order pastes in a set at a better price.
You can order Luxury Pro Sugaring Paste wholesale and retail with delivery throughout the United States. If you have any questions, please contact us for advice at any convenient time. Leave a request on the website, and a company representative will call you back as soon as possible.