After a hard day, there's nothing better than a good hot bath with bath bombs to relax. These small accessories will allow you to perfume our bath and enjoy yourself in peace.
The bath bombs are very easy to make and you can even make them from your home. If you want to know the steps, then you've come to the right place. Let us discover the original recipes for DIY bath bombs.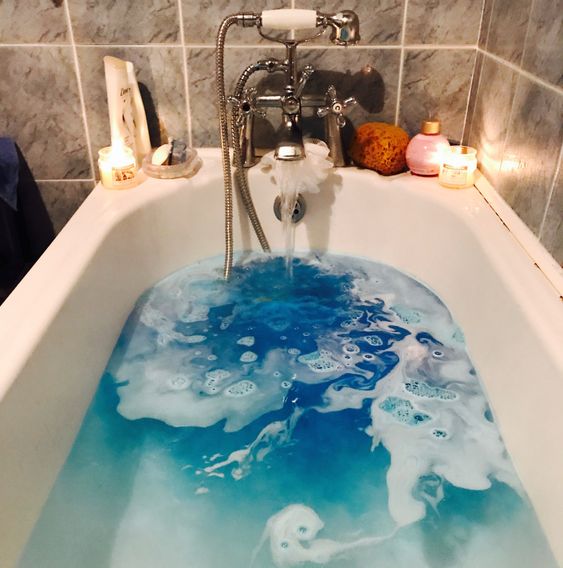 How To Make Bath Bombs Yourself?
The bath bombs have been popularised by the English brands of fresh cosmetics Lush, and right now are the essential gadget for bathroom baths. They are easy to use and will allow you to enjoy a colorful and scented bath to relax.  If you are already familiar with bath bombs, you probably already know where to find them, But, did you know that you can make it yourself from home? Indeed, bath bombs can quite easily be made at home. So let's get down to business and see how can you manage this DIY.
As a starter, you can choose their sizes, their scents, and their compositions,  This allows you to have bath bombs perfectly adapted to your desires.
To make your bath bombs you will need:
Sodium bicarbonate
citric acid or lemon juice
white clay or cornstarch
vegetable oil or melted butter
liquid coloring (if you want to color your bath water)
the water
So once you have these ingredients, you can begin the preparation, Know that there are several recipes to prepare your bath bombs, but we choose to present you the simplest of them and you will find three recipes for bath bombs further down on the page of this article.
To prepare your bath bombs:
Start by pouring the citric acid: baking soda and clay into a large container,
Then mix everything thoroughly dry (these powders must not come into contact with water).
Once everything is well mixed, add vegetable oil or melted butter.
Then add the dye if you want your bomb to color your bath water and mix the paw well.
Once you have an evenly colored paw, spray water on it and mix it in by hand.
Then you have to mix the paste by spraying it with water until you get a wet sand texture.
You have to be careful when spraying the water on the paw because if you spray too much water it will start to foam. We, therefore, recommend that you regularly check whether your dough is already wet enough. So, to do this, take a handful of dough in your hands and unzip it. If the paw holds its shape once you release it, then it's ready. Once your paste is ready all you have to do is install it in a bath bomb mold and wait about 6 hours for the taste to finish drying before handling it. Once they are dry your bath bombs can be kept where you want while waiting to be used.
1. Lavender Bath Bomb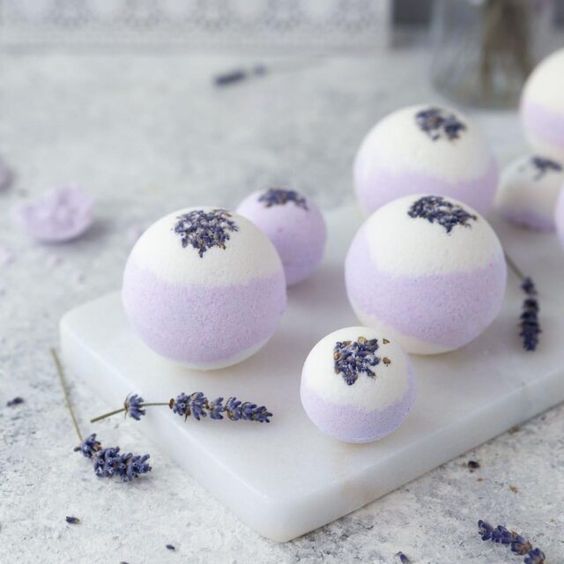 Lavender is a perfume known for its relaxing virtues. This fragrance will allow you to real and fall asleep more easily. You can even use it to relieve your headaches. To make the lavender bath bomb:
Mix 20 drops of lavender essential oil and a few springs of dried, crushed lavender with your usual bath bomb preparation.
Add the dried and crushed branches directly into the dough or place them at the bottom of the mold. This is so that they appear on top of the bomb.
2. Rose Bath Bomb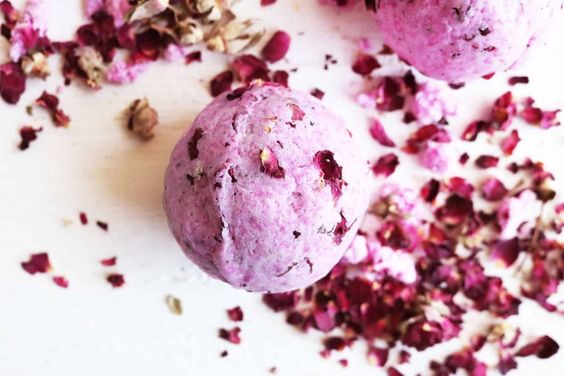 Known as a classic among bath bombs, the rose bath bomb is perfect for an intimate and sensual ambiance. It will allow you to have fun and relax in the best conditions.
To make the rose bath bomb:
Add 20 drops of rose essential oil and a few crushed dried rose petals to your usual paste.
Add the dried and crushed petals directly into the dough or place them at the bottom of the mold. This is so that they appear on top of the bomb.