The wedding is over. Now, bring on the honeymoon!
This special, romantic time was made just for recently married couples to find respite and intimacy after their nuptials. But even with the exciting plans you've made and the destination you pinned down, you open your suitcase and don't have a clue where to start.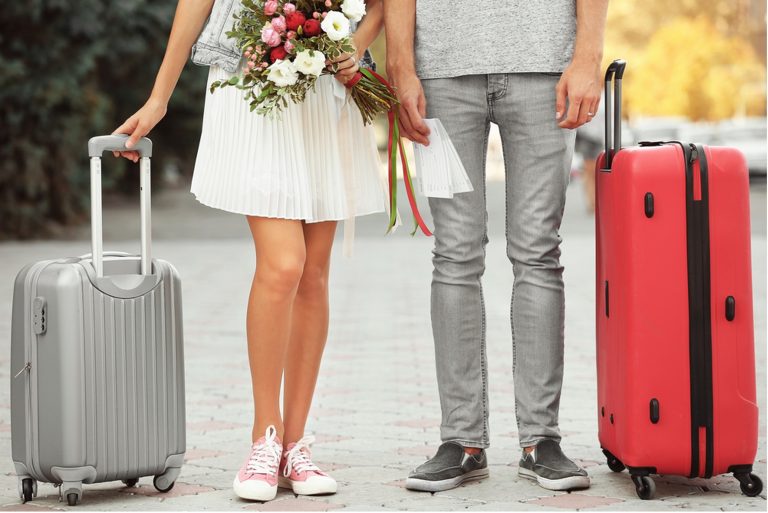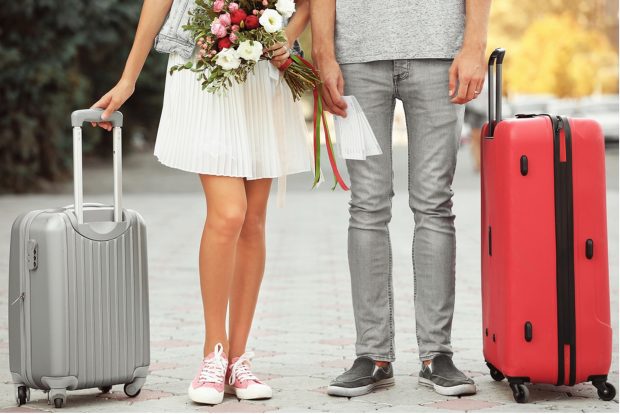 Whether you're still coming down from joyous wedding day highs or frazzled from months of wedding day preparations, don't worry. We've got you covered so that you've got it in the bag! Use this handy guide of 48 things to pack for your romantic getaway.
Travel Essentials
As you prepare for your honeymoon, excited to get to your relaxing destination, don't forget these crucial items. Take extra precautions and be sure to set them aside in a place you won't forget or keep them stored on a device.
Airline tickets–whether printed or an e-ticket confirmation
Passports–Don't forget any special travel visas and driver's licenses for car rentals.
ID tags for luggage–place tags on both the inside and outside of luggage
Credit cards–Leave most of your wallet at home, taking only a few (also let your credit card company know your destination so they don't flag you with fraudulent charges).
Reservation confirmations–This can be anything without e-tickets (hotels, restaurants, excursions).
Emergency contact numbers–Keep contact numbers in case your phone or card is stolen (credit card companies, doctors, pet sitters, etc.).
Medical documents and prescriptions–also keep prescriptions in their original bottles
Birth control and condoms
Trip insurance coverage
Err on the side of caution and protect yourself by creating backup copies of each item listed above. It's also wise to designate a trusted family member or friend back home to keep a set on hand, just in case. Another safe travel tip is to create a detailed itinerary (with flight information, accommodations, consulate contacts, etc.) that you can share with close family in case of an emergency.
Honeymoon Wardrobe Essentials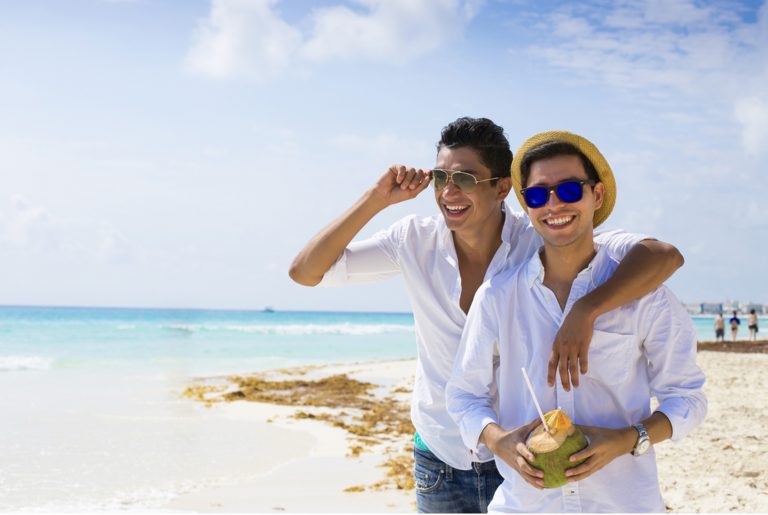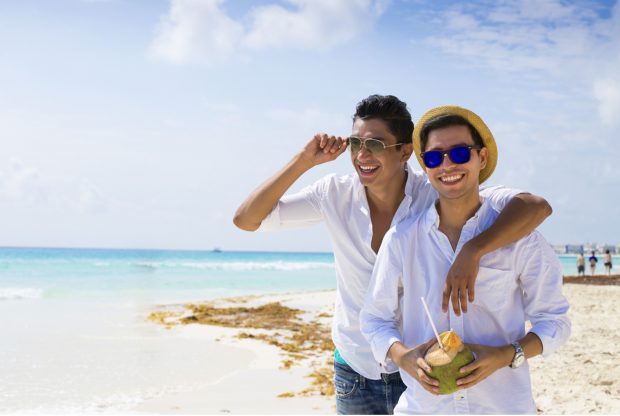 Source: Luna Vandoorne/Shutterstock.com
Okay, now that we've covered the must-have travel essentials, let's dive into more fun details, like your wardrobe.
Of course, every newly married couple has a different idea of their dream honeymoon destination. Some prefer to go skiing in the French Alps, while others would rather sunbathe and scuba dive in the Maldives. And obviously, where you choose to book your honeymoon will dictate a lot of your wardrobe essentials, but here is a general breakdown.
Pants–Jeans can be dressed up or down, and leggings can offer comfort for your plane ride.
Jackets–Consider a packable jacket that can stuff down easily into a suitcase.
Sports jacket–for more formal dinners
Cardigan sweater–even warmer climates can drop temps during evenings
Dresses–Think simple black dresses for formal dinners and breezy dresses for warmer days.
Shirts–Think T-shirts and tank tops, as well as slightly more formal polo or button-down short sleeve shirts.
Shorts–at least two pairs should get you by for a week, with a pair of slacks.
Swimsuits–Carry two swimsuits so you can wear one as the other hangs to dry. Consider both a one-piece for fun activities and a two-piece for catching rays.
Swimsuit coverup–Kaftans and kimonos can transform beachwear into something more formal for grabbing a quick bite or drink at the bar.
Bras–Bring a comfortable bra for activities and strapless for dresses.
Accessories–Scarves and jewelry can go a long way to vary your honeymoon wardrobe. Think sunglasses, too!
Hats–something to protect your head from the sun, or even a wool hat for colder climates
Shoes–Bring along sneakers/walking shoes and sandals.
Extra socks and underwear
When it comes to underwear, of course, no honeymoon would be complete without some sexy bridal underwear. From elegant laces to flirty ribbons, find something extra special for those romantic getaway nights.
Travel Accessories, Medications and Safety Kits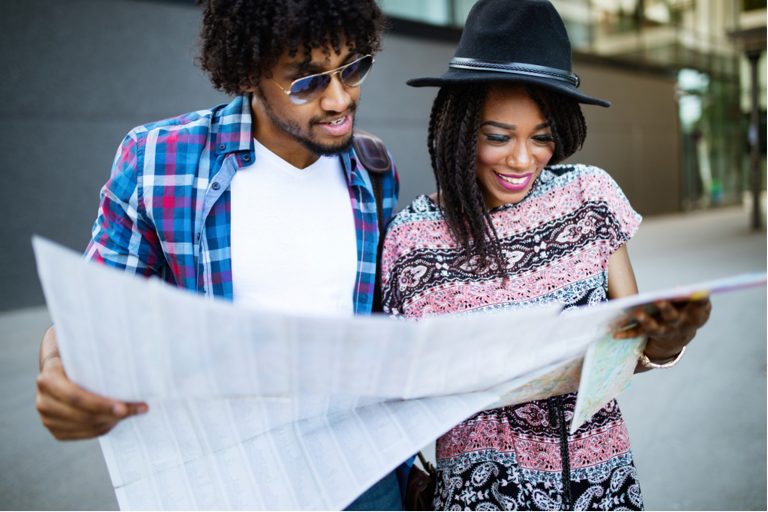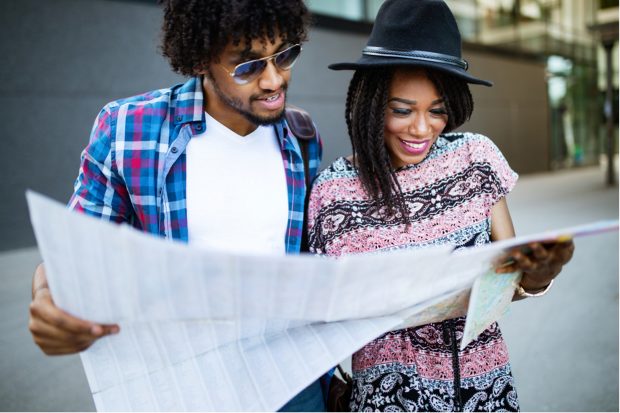 Source: NDAB Creativity/Shutterstock.com
Depending on your honeymoon destination, you may need to bring along a few extra items to help you get around, adapt to the environment and generally just stay safe and healthy.
Guidebook and maps–you can also download maps
Electrical converters and adaptors–Make sure to check the voltage and plug type of the country or countries you'll visit.
Light foldable bag (like canvas tote)–This is great for carrying books to the pool and even souvenirs back home.
Medications–antacids, antihistamines, aspirin, diarrhea medicine and motion sickness medicine (cruises, for example)
Malaria pills–Verify with the CDC if you're at risk (African safari honeymoons, for example).
Band-Aids–for minor cuts and sores 
Tampons or pads–Outside the U.S., it might be hard to locate your favorite brand.
Aloe vera–for accidental sunburns
Sunscreen and lip balm
Insect repellent and anti-itch cream
Beauty Products and Bathroom Essentials
Pack some beauty products and bathroom essentials for you and your partner. Whether you have a personalized skincare routine or your partner has a particular way of styling their hair, bring along the products you prefer in case you can't find them at your destination. Consider the following items:
Travel-size toothpaste and toothbrushes
Deodorant
Cosmetics
Skincare creams
Body lotions
Combs and brushes
Hair gel/paste and hairspray
Shaving cream and razors
Contact lenses and solutions
Cotton balls and Q-tips
To pack light, remember that your hotel may offer a few items, too. Look on your honeymoon accommodation's website, calling if necessary, to determine if they provide some basic bathroom amenities. Most hotel rooms and suites have a hairdryer near the vanity as well as bottles of:
Shampoo
Conditioner
Shower gel
A bar of soap
Body lotion
But some accommodations may also provide other hygiene products at your request, such as:
Toothbrush and toothpaste
Shaving cream and razors
Makeup remover wipes
Shower cap
Ready for Your Romantic Honeymoon Getaway?
Hopefully, this list of things to pack for your romantic honeymoon getaway gives you a head start. While it's not entirely comprehensive, it should be a base of essentials.
Congratulations and have a wonderful honeymoon!