If evening dresses seem too pompous to you, find an alternative to them. For example, it can be cocktail dresses. Became incredibly fashionable with the light hand of Coco Chanel back in the 20s of the last century, they continue to be very popular with ladies of different ages and social statuses to this day. What cocktail dresses should you consider for your wardrobe in 2023? Let's list the most trendy models.
What color to choose?
"Late day outfit" – this is the definition of a cocktail dress. This is a more simply tailored, compared to the evening, ladies' toilet. Here you will not find trains, maxi to the floor, an abundance of flounces with frills, and deliberate luxury. Everything is concise, moderately restrained, and moderately elegant.
Traditionally, a cocktail dress has an open shoulder line, mini or midi length, and open arms, emphasizing the elegance of the female silhouette. According to the dress code, it is necessary to wear an outfit from 17 to 19 hours. However, now these time frames have expanded, and the dresses themselves have become more versatile.
Let's explore the main fashion trends together. And first of all, let's talk about what colors will be relevant for this category of outfits.
Red. A bold dress for a bold woman. And don't worry, you won't look pretentious in a red cocktail dress. The main thing is to choose an elegant style without catchy decor. Black pumps or beige sandals will help balance the look.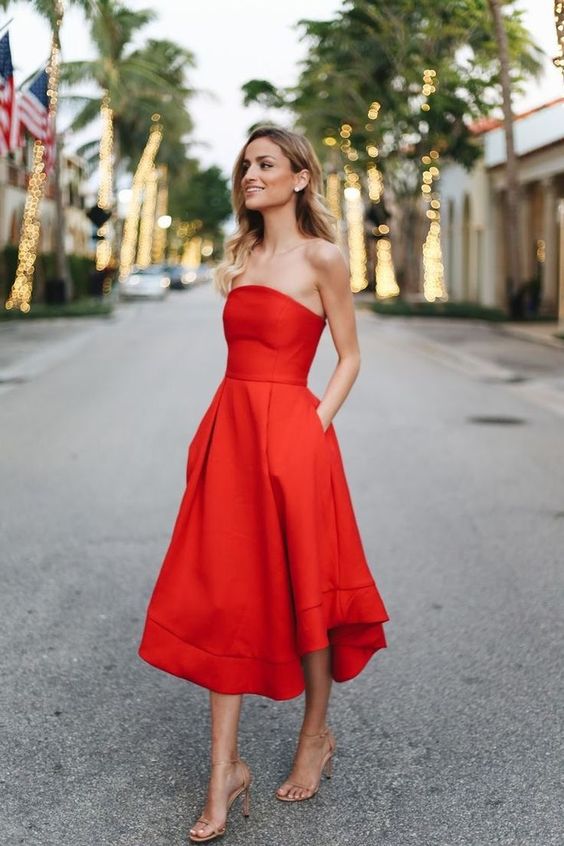 Black. Classics out of fashion and time. After all, it was the little black dress from Coco Chanel that became fundamental in this direction. Black color always looks expensive, stylish, and elegant. It will help to make the image sophisticated and mysterious.
Gold. A golden cocktail dress will definitely not let you get lost in the crowd. This is a rather bold choice, therefore it is worth wearing it confidently, with dignity. Often, the outfit can be sheathed with sequins, which makes it even more catchy. Therefore, think over the image carefully.