Your car. Your pride and joy. You've driven it, cleaned it, hung out with your mates in it, dated in it… but the time's come to move on and move up to a new model. All well and good, but this involves selling your current car, and aside from the emotional attachment (Ssh! We won't tell anyone) you might have to her, there are a whole load of other things to watch out for when selling your car to make sure the transaction goes smoothly and doesn't turn into a nightmare.
Paperwork and practicalities
However you're going to sell, make sure you've got your paperwork in order at the start of the process including service history and other documents that need to go with the car. Check your licensing details and make sure you've got the relevant transfer forms at hand for your eventual purchaser to sign.
From a practical perspective, get your car in tip top shape – make sure obvious things like the lights are all working, get any necessary repairs completed, and get your car cleaned and valeted. You want to make a good impression!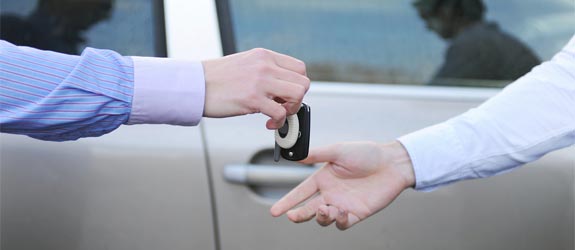 Private sales
Selling privately can be a great option to get a higher price for your wheels, but there are a number of risks involved that you need to watch out for. Most importantly, make sure your advert is honest – if you misrepresent something about the vehicle's condition, you could find yourself in a lot of trouble down the line.
Check that your potential buyer is genuine to avoid the time wasters and scammers out there, and get a mate to be there with you for viewings, or at least let someone know where you're going and who you're going to meet. Once you've agreed a deal, be confident to ask for a deposit to give you some protection against the deal falling through and you having to start from scratch, and draw up a sale agreement to cover exactly what you've agreed. It's also a good idea to make it clear that the car is being 'sold as seen' to prevent any unscrupulous buyer trying to come back and complain about issues that they didn't notice or didn't ask about.
If your buyer wants to pay by cheque, make sure it's cleared before you hand over the keys, and be wary of someone trying to pay for an expensive car in cash – the money could be dodgy. An electronic payment direct to your bank account is the best way to secure the deal. Remember to get the transfer forms signed!
Sell to a dealer
Using a reputable company that offers a offer for your car service is a great alternative to the private sale. You don't have to worry about finding a buyer or dealing with paperwork, and you get paid immediately, leaving you free to go and find your next vehicle. Check the valuation service offered and shop around to make sure you get the best offer for your car.
You might also consider selling your car on consignment – where you leave the car with a dealer to sell on your behalf – but this can be open to scamming, so make sure you use a trustworthy dealer that has taken out appropriate insurance to cover this. Alternatively rather than 'selling your car' for cash, you can trade it in against your next vehicle. Be prepared to haggle and compare what different dealerships will offer you.
Selling your car doesn't need to be a nightmare – whether you sell privately, to a dealer or go for a trade in option, be prepared, be confident and it should all go smoothly.