According to the Realtor® remodeling impact report for 2019, both kitchen remodeling, as well as lower-key upgrades, are the top two factors for increasing the value of your home as well as improving it's appeal to buyers.
Some kitchen upgrades can cost up to $60,000 to complete, especially if you include all the latest high-end appliances and SMART upgrades. Yet, you don't need to spend that much on your kitchen renovation to benefit from improving the appeal, saleability, and value of your home.
Here's how to pull off a DIY kitchen renovation without breaking the bank.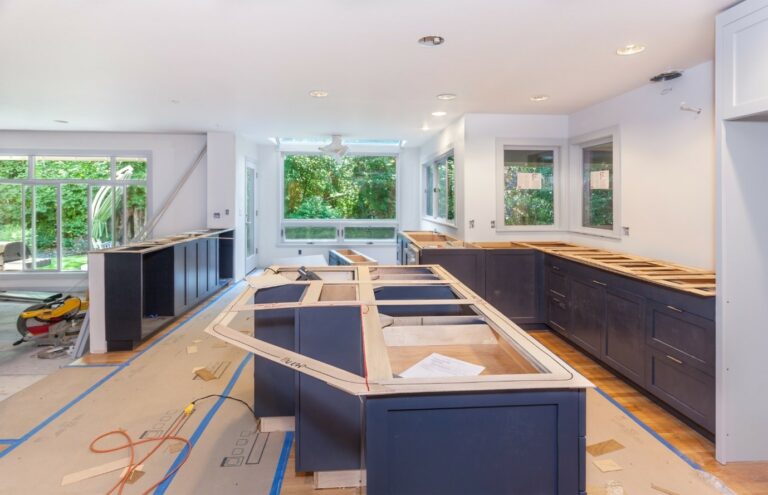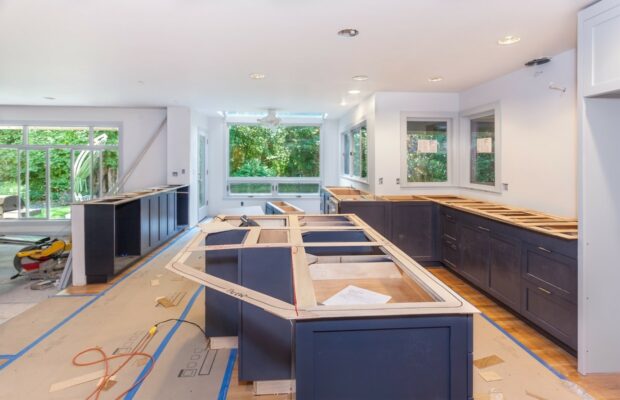 DIY Kitchen Renovation Planning's Important
Before you gut your kitchen down to its bare bones, plan your entire renovation from start to finish. By the time you start remodeling you should have checked off most of the following DIY kitchen renovation steps.
After all, if you're doing a major refurbishment, you'll have nowhere to cook throughout the process and takeout only adds to the final cost of your project. Do as much as you possibly can before you start removing appliances and ripping out cabinets.
The first thing you need to do is consider your aims. Spend a few days listing the things that really bother you about your kitchen.
Perhaps the layout's inconvenient or your appliances need replacing. Maybe everything's looking old and jaded, or your kitchen's simply outdated, dark and unattractive.
Your specific needs will affect every aspect of your planning, so make sure you have a clear idea of what you want before you start planning.
Set a Budget
Even if you have an unlimited amount of money to spend on your refurbishment, it's a good idea to work within a set budget. A budget helps keep you focussed and prevents unnecessary expenditures.
According to the NKBA, you should allocate funds in your budget as follows:
29% for cabinetry and hardware
17% for installation costs
14% towards ventilation and appliances
10% for countertops
7% for flooring
5% each for lighting, as well as ceilings and walls
4% for design fees if you're hiring a professional interior designer
4% for doors and windows and another 4% for plumbing and faucets
1% for incidentals
From this, it's clear that you can save at least 21% by doing some of the work yourself.
Once you know what your limits are for each aspect of your kitchen renovation, you can get down to working out the finer details.
It's important to work out a detailed plan for completing your renovation too. Some items, like windows, have a long lead time, so consider these time frames when you're planning your order of work.
When to Call the Pros
There are some aspects of your kitchen renovation that you simply can't or shouldn't DIY. Most electrical and plumbing work in a kitchen requires an experienced touch.
Besides the danger involved, you could waste a lot of time and resources trying to complete these complex tasks yourself. Get estimates from a number of reputable contractors for any specialized tasks and work the rest of your budget around these costs.
Remember to enquire about timelines when approaching contractors too. You might need to wait a few weeks until they have an opening.
First Things First
When planning your kitchen renovation it's important to work out the costs for priority items such as those items you need to replace because they're no longer functioning.
After that, you can prioritize things according to what's important to you.
If you've got your heart set on a particular type of fridge or cooker, you should have it if it makes your heart happy. Try to cut down on areas of your budget to ensure you can afford these items you really want, especially when it comes to things with a long lifespan.
Measuring Up
There's an old adage in the world of DIY that goes, 'measure twice, cut once'. The same applies when planning your kitchen renovation, especially DIY small kitchen renovations.
Measure every inch of your kitchen before you start looking at large items like appliances and cabinets.
You don't want to get to the end of all your hard work only to discover your expensive double door fridge combo is an inch bigger than you thought.
Ways to Cut Your DIY Kitchen Renovation Costs
After careful planning, if there's one thing that will help you master cheap DIY kitchen renovations, it's research. There are so many ways to save when you take the time to look for the best price on every item.
Here's where you could find cheaper items for your kitchen upgrade.
Compare Prices Online
The online realm is one of the best places to save on almost anything nowadays and have it delivered. Some good sites for discounted kitchen items include:
Don't underestimate the power of local advertising boards as well as Craigslist and eBay either. You might find someone selling almost-new appliances for a fraction of the cost of new ones.
Tips for Saving on Appliances
It's a good idea to shop for appliances during September, October, and January. This is when manufacturers bring out their new ranges, so you can often get last year's models at discounted prices.
Remember energy-star rated appliances will save you money for years to come, so it's worth installing them where possible.
You can also enquire about floor models or items with small dents that are selling at discounted prices.
Common-Sense Cost-Saving Tips
Consider alternative design options. For example, a painted glass backsplash works out cheaper than tile. A kitchen table could suffice instead of a center island until further notice.
It's a good idea to avoid changing your existing kitchen layout too much. This helps reduce the time and cost involved in moving wiring and plumbing fixtures unnecessarily.
Refurbished items like lighting, hardware, and accessories will come at a much lower price than new items. Check out your local thrift shops and second-hand stores for bargains.
Be Flexible When Shopping
All of the above aspects require a degree of flexibility but it pays to rethink your original color scheme or design layout in order to save costs.
Don't hesitate to go back to the drawing board if you find that a different color scheme or design style works out cheaper overall. Also, consider whether you can adjust your bargain finds by painting or resurfacing them to fit in with your original idea.
Part of the fun of DIY home improvements is the ability to embrace your creativity in the process.
Kitchen Cabinet Renovation DIY Tips
New kitchen cabinets are among the most expensive items to replace in your kitchen.
Shops like Ikea offer affordable DIY cabinets compatible with most kitchen designs. If you buy Ikea cabinets and you don't like the doors, you can get custom doors from another supplier, or refurbish them yourself.
Home Depot and other established stores also run regular special offers and offer some great discounts.
If your kitchen cabinets are structurally sound, rather paint them instead of installing new ones. A fresh coat of paint and some new hardware can make the world of difference to the appearance of old kitchen cabinets.
Instead of installing over-the-counter cabinets, you can also opt for open shelves. These are right on trend right now, easy to install yourself, and much cheaper than conventional cabinets.
Add Some Convenient Extras
If you've managed to excel at your budget-beating tactics while renovating, you should have a little extra to spare for a few special elements to take your kitchen up a notch.
Art adds color and character to any room, and it's a big trend in kitchen decor nowadays too. A few well-placed plants or a small vertical garden can bring you kitchen to life as well as provide a source of fresh herbs.
A humidifier helps keep the air in your kitchen healthy and hydrated and can help reduce dry skin and respiratory problems.  The best humidifiers help combat bacteria and viruses too.
Touch-sensitive faucets are hygienic and convenient, while under-cabinet lighting adds a pretty ambiance to after-dark kitchen activities.
When you consider that most Americans spend up to an hour every day in their kitchens, it's worth adding a few nice-to-haves if you've got some room in your budget.
You Deserve Some Style in Your Life
Your DIY kitchen renovation needn't be a nightmare involving late nights and budget overruns.
Stick to these guidelines and you could end up with the kitchen of your dreams at an affordable price. What's more, you'll also get to enjoy a wonderful sense of accomplishment every time you enter the room.
If you love a little luxury and style wherever you go, browse our website for more ways to enjoy comfort and enjoyment in every area of your life.