Vintage inspired looks offer timeless elegance, a sense of decadence and a homely feel which is often absent from the stark lines and minimalist décor of modern bedrooms. Soft colours, delicate patterns and textured fabrics help to recreate the romanticism of antique bedrooms, whilst authentic replica pieces can capture the expert craftsmanship and exquisite handmade appeal of old world furniture. If you want to recapture the glamour and opulence of the past, here are a few tips to help you.
Stencil a Wall Panel
Get your hands on a wall stencil to create an elegant focal point. When painting it onto the wall, roll lightly and unevenly to create a faded vintage effect. Draw attention to your artistry and add an extra touch of opulence by using the stencil as a backdrop for your jewellery. Purchase pretty white, gold or brass hooks with a floral theme, each in a different style to recapture the essence of unique, hand-made pieces, hang them from the wall and drape your necklaces and bracelets from them for an antique feel.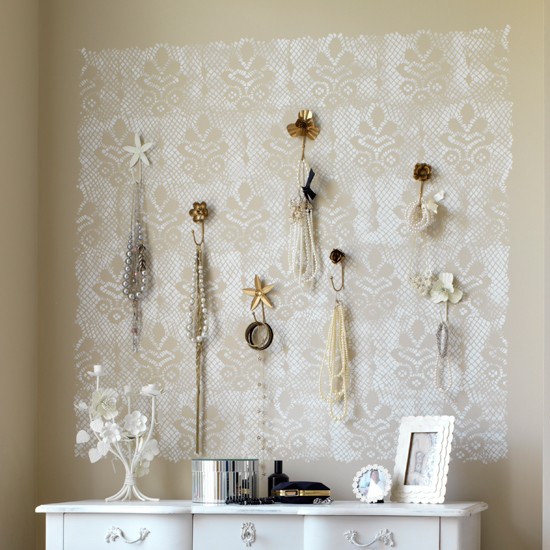 Paint Your Floorboards
A lick of white paint will act as a quick, inexpensive accent for your shabby chic decorating theme. Don't worry about clean lines and neatness; scuffs are to be encouraged, as they add to the aged effect. Visit your local antique shop and find a faded, well-worn carpet in a traditional pattern to finish the look. Colours with a soft, neutral tone will look best.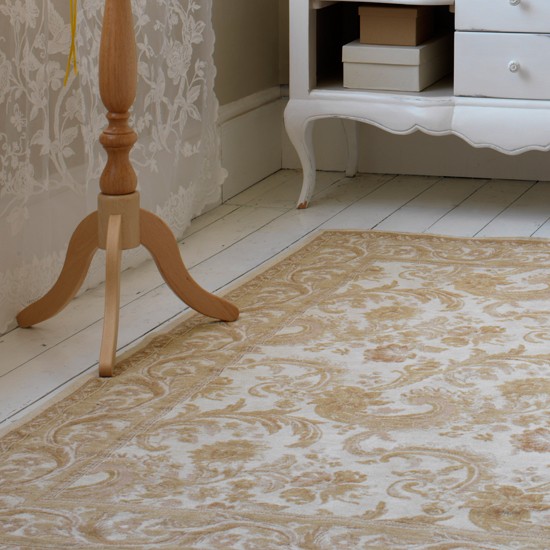 Bold Wall Patterns
The quickest way to add charm and character to a room is with wallpaper. The best designs should remind you of the exquisite artistry of Victorian wallpaper, so look for rich backdrops overlaid by flower and fauna motifs. To stop the room from looking too dark and to keep costs down, consider papering one wall and painting the others white or cream.
Heirloom Opulence
Small furniture often creates a busy effect. To recapture the dramatic grandeur of days gone by, opt for fewer, larger pieces to make a big statement. Solid wood furniture was beloved of the men and women of yesteryear, yet it can be quite expensive. For a modern take on the exaggerated size and splendour of antique furniture, consider an oak frame bed from a manufacturer such as Fortune Woods or a mahogany chest or wardrobe. Look for a piece big enough to dominate the master bedroom. If you want to stick to antique creations, keep an eye out for smaller, cheaper accent pieces, such as bedside tables.
Add Ornate Storage
Scour antique shops for a decorative French-style console table and refresh it with a lick of paint. Transform the original mahogany by painting it white or pale grey, and replace and update the handles to add a more feminine touch. Mirrored storage boxes can be used to add vintage glamour, recapturing the essence of olden day idols and the shabby decadence of their music hall dressing rooms. Decorate the top with vintage-inspired frames with floral motifs.
Alternatively, look for antique valises which can be stacked to create a stunning side table that doubles as off-season clothing storage.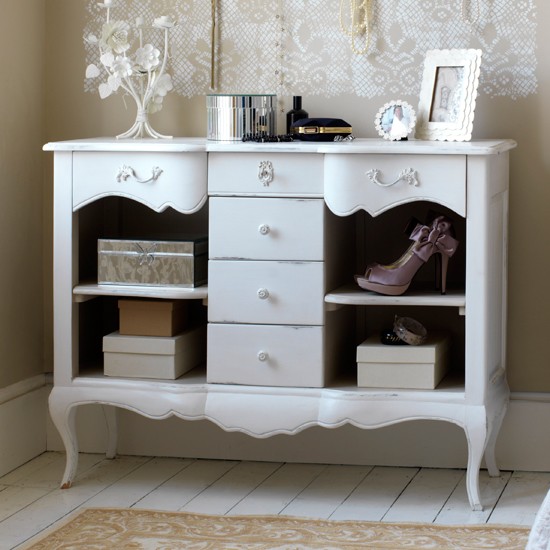 Linens and Hangings
Hanging a single panel of lace at the window will provide privacy and diffuse light, creating pretty patterns on your wooden floorboards. The delicacy of the material and the craftsmanship evident in its design will complement the look of the rest of the room, particularly if you source the fabric from a vintage market of charity shop.
Carry on this theme of delicate opulence with floral bed linens in rich fabrics. Handcrafted and vintage accessories should take centre stage. Monogrammed linens and sewed cushions will add a hand-crafted originality to the décor, appearing both familial and elegant.
Follow these inspired ideas, and immerse yourself in the glamour and elegance of the past every time you step inside your bedroom. Shut out the world for a while and let yourself revel in the luxury.