A modest snack before eating or the starters for a meal like Christmas Eve might serve as good incentives to speak up and impress everyone with delectable meals.
We like to come together with our loved ones throughout the holiday season to celebrate a variety of things. Nothing works better for this than surprising your guests with high-quality goods while serving them the best Christmas appetizers. As a result, we will demonstrate the three best dishes for you to prepare this Christmas.
1. CHEESE BALLS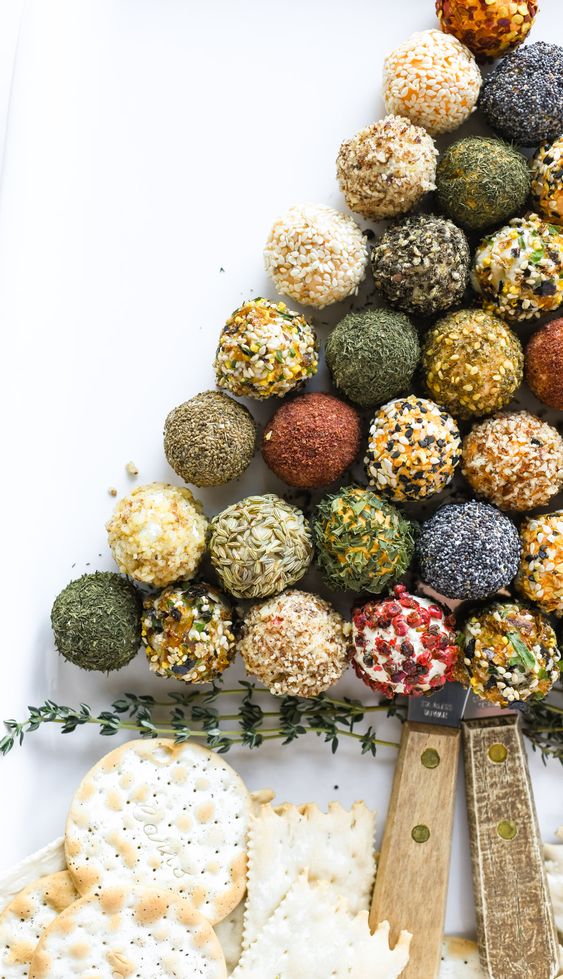 INGREDIENTS:
– 8 slices bacon
– 225g cream cheese, softened
– 1 cup grated cheddar cheese
– 1 teaspoon garlic powder
– 1 teaspoon paprika
– salt and pepper
– 1/3 cup chopped chives
– 1/3 cup chopped pecans
– 18 pretzel sticks
PREPARATION:
Step 1. Fry the bacon until crisp, 8 minutes. Drain on a plate lined with kitchen paper and chop finely. Booking.
Step 2. Meanwhile, in a large bowl, combine the cream cheese, cheddar cheese, garlic powder, and paprika, and season with salt and pepper. Shape into 18 small balls and transfer to a baking sheet lined with parchment paper. Refrigerate until firm, 1 hour.
Step 3. In a bowl, mix the bacon, chives and walnuts. Coat the balls in the bacon mixture, insert a pretzel stick into each, and leave at room temperature for 15 minutes before serving.
2. FETA CHEESE CANAPES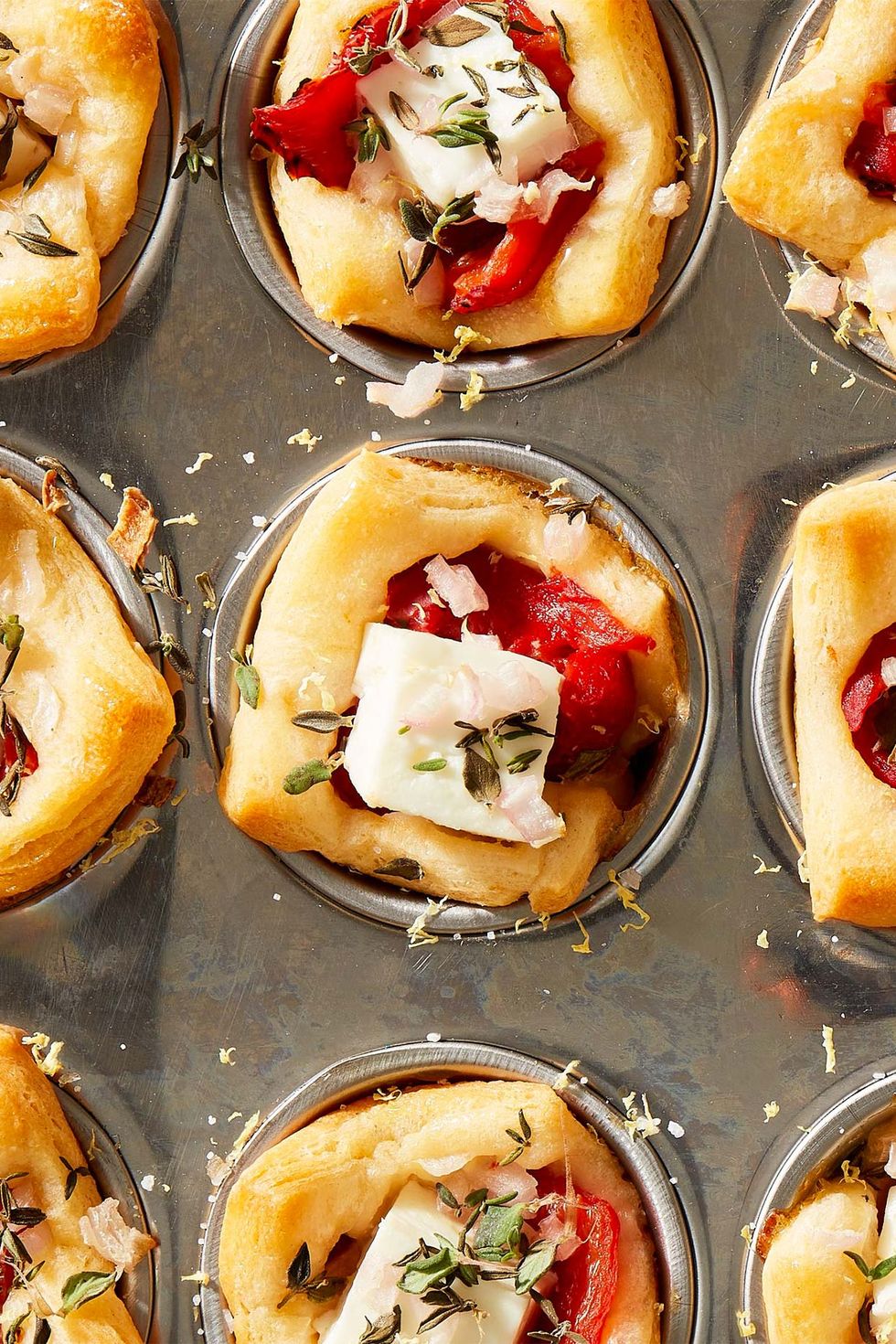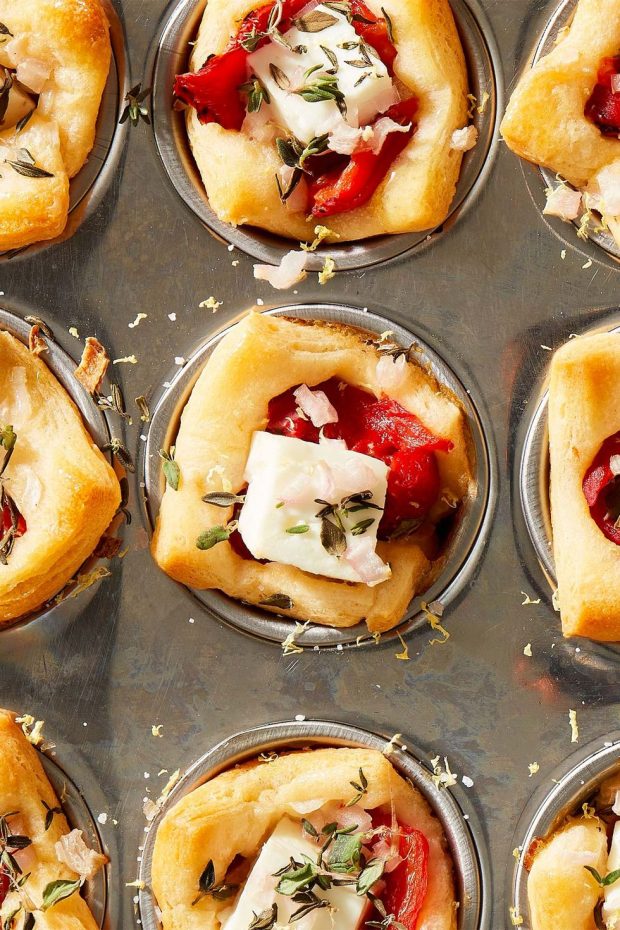 INGREDIENTS:
– crescent dough or puff pastry sheet
– 24 square pieces of roasted red pepper
– 24 cubes of feta cheese
– 1 tablespoon of fresh thyme leaves
– 1/2 medium shallot, chopped
– salt
– lemon zest, to decorate
PREPARATION:
Step 1. Preheat the oven to 190°C and place the oven rack in the center position. Roll out the dough and cut into 24 squares. Grease the mini muffin tin with oil and place the squares in the slots of the muffin tin.
Step 2. Fill each square with a piece of roasted red pepper, a cube of feta cheese and a sprinkling of thyme leaves and shallots. Season the bites lightly with salt.
Step 3. Bake until the crust is cooked through and golden brown, 15 to 17 minutes. Let cool 5 minutes, then transfer to a serving plate and top with more fresh thyme leaves. Grate a light layer of lemon zest over the bites and serve.
3. BAKED BRIE IN PUFF PASTRY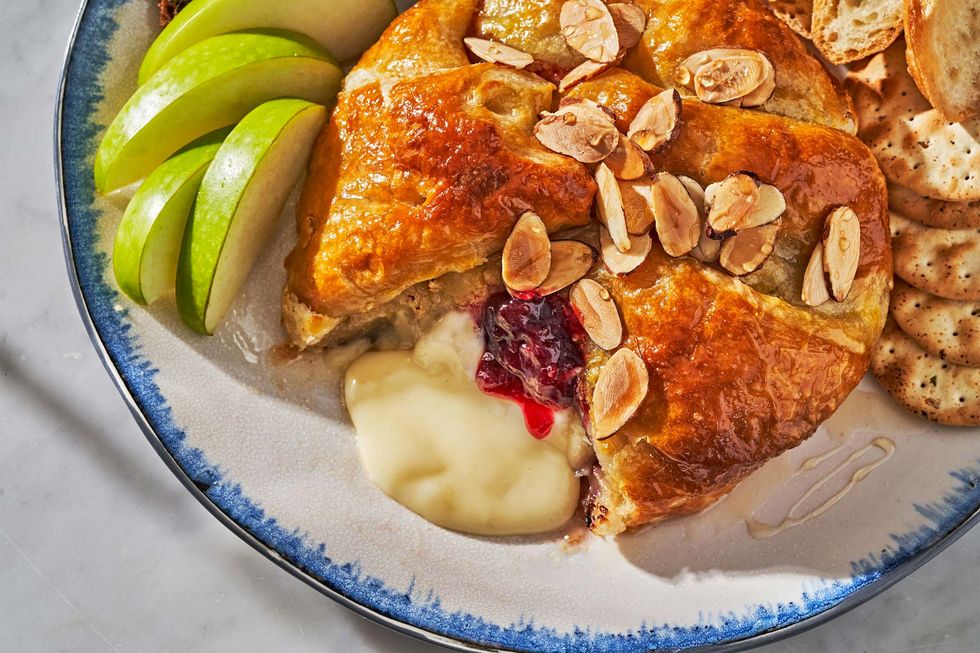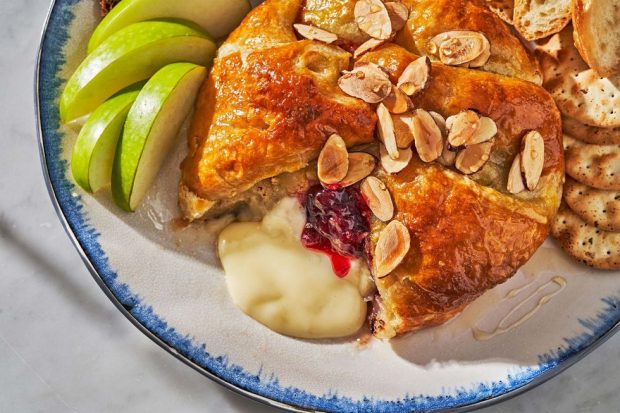 INGREDIENTS:
– 1 puff pastry sheet, thawed according to package instructions
– 1 brie cheese
– 3 tablespoons preserved cherries or raspberries
– 1 egg, lightly beaten
– 2 tablespoons sliced ​​almonds
– 1 tablespoon honey
PREPARATION:
Step 1. Preheat the oven to 220 °C. Prepare an oven tray with baking paper. On a lightly floured surface, roll out the puff pastry into a square. Place the brie in the center and top it with the preserved cherries or raspberries. Brush the puff pastry with a beaten egg. Fold one corner over the brie, then continue folding the puff pastry over the brie, creating creases. Brush the top with a beaten egg.
Step 2. Bake until lightly golden, about 25 minutes. Garnish with the almonds and bake until golden, 5 to 8 more minutes. Let cool at least 10 minutes.
Step 3. Drizzle with honey just before serving.