While most people need to take out a mortgage loan to buy a home, they still have to come up with cash for a down payment and other fees like closing costs. The down payment alone is no small chunk of change. If you're required to make even just a 10 percent down payment on a $300,000 house, that's $30,000, and, if you want to avoid paying private mortgage insurance (PMI), you'll usually need to come up with a 20 percent down payment, as moneyunder30.com notes. Ouch.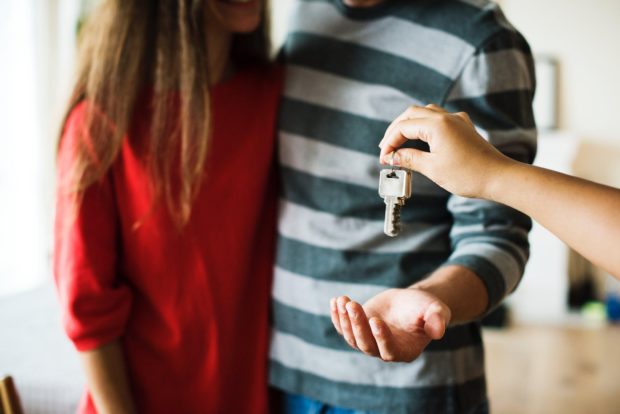 After all the money you probably spent just to get your new home, you probably don't have a lot left to furnish and decorate it. The good news is that there are many cheap ways you can furnish it, and make it an appealing, comfortable place to be.
Search for Free Items
Free is, of course, even better than cheap, and surprisingly, you can often find people in just about any community giving away items, often because they're moving and don't want to or can't take it with them but don't want to go through the hassle of trying to sell it or haven't found a buyer. Check places like Freecycle, Facebook, Craigslist and Nextdoor. You never know what you'll find – if you're willing to pick it up right away, you can often score some great pieces.
Of course, sites like Nextdoor, Facebook and Craigslist are also great for finding cheap used items as well.
Shop Online
Shopping online not only makes it easier to find the exact furniture you're looking for in terms of size, color and style, you can usually find some good deals too. Cheap giant rugs help to pull the look together of any room and there are lots of online options. You can even find couches, chairs, dining tables and other items on sites like Amazon, Wayfair and Overstock at significantly discounted prices.
Go to Estate Sales
Estate sales are often held after a person dies, although they're sometimes held when a family moves, someone goes through a divorce or another situation that causes them to need to sell belongings quickly. One of the best ways to do that is by holding an estate sale, which means they can be the ideal opportunity for you to furnish at least part of your home on a tight budget. Sites like EstateSales.net are a good place to start.
Make Your Own
If you're creative, Do-It-Yourself (DIY) furniture is almost always the most economical way to go – other than finding free items anyway. While it will take some time, it can be fun and a great opportunity to make a personal statement, perhaps turning two-by-fours into tables. You'll find lots of tutorials on sites like YouTube to help.