The art of sewing can give you outstanding ideas to put your creativity at work. But sometimes, coming up with these ideas may be a little harder than it seems.
Especially if you're just starting out with a sewing machine, then you'll find out that it takes more time and effort to come up with great projects. But don't worry – we got your back.
The following simple yet awesome DIY craft ideas will give you the perfect start on your sewing machine. From accessories to clothing and even decorative items – here you have 7 sewing craft ideas to put your skills to the test.
1. Tassel Cushion
A tassel is one of the most interesting decorations you can use in curtains and kitchen towels. But nothing compares to adding them in cushions and/or pillows.
This works more as decoration than anything else, but it can be a fantastic idea to get your sewing skills working.
You will learn how to make pillows, how to sew tassels on it, and eventually create super exciting pieces of decoration for your living room and/or bedroom.
For this, you'll only need yarn or embroidery threads, an old cushion or pillow, and the sewing machine. In case you don't have a pillow, then you can make one yourself and take your skills even further.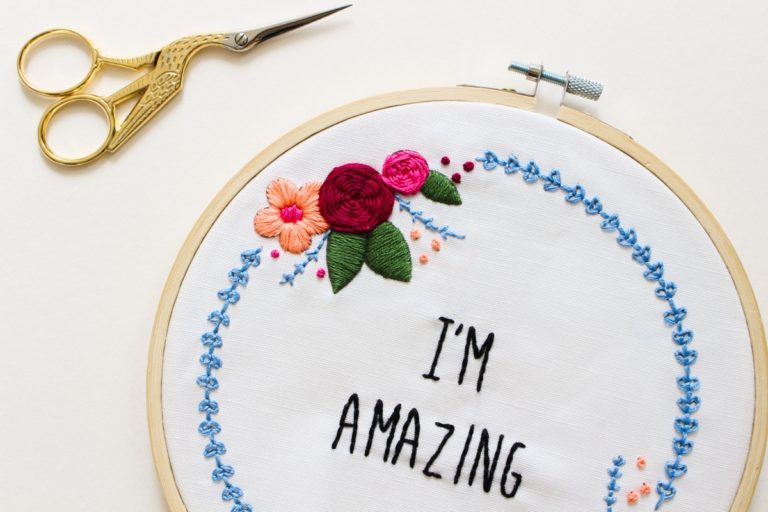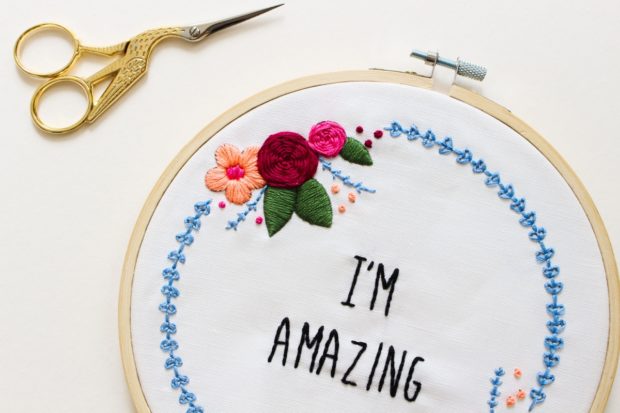 2. Embroidery Designs
In case a tassel cushion seems like too much work or just too complicated for your skills, then you can still make something straightforward that doesn't require as much experience – just an embroidery sewing machine.
This would embroidery designs on thick fabrics. You can make whatever you want on the surface of the material, from hearts to animals, messages, and much more.
Embroidering is the ideal way to test your skills as a sewing enthusiast. You just need to use the machine over the fabric and make unique shapes and/or graphics with it. The result will be super cute pieces of fabric that you can embed onto bags, clothes, and more.
3. Earbuds Pouch
With the Airpods frenzy, there's nothing more useful than a pouch where you can bring them around when not in use.
This is an excellent craft idea if you want to both test your skills and have something super useful to store them. You can eventually give it away to someone or just keep it to yourself if needed.
Another advantage of an earbud pouch is that you will put your creative skills to the test. You will need to create a cute bag that anyone can use (or whatever you like) while setting up zippers or similar closing mechanisms.
With just a few pieces of fabric, you can make something large enough to store the earbuds while still offering a small design so you can bring it all around without problems. An earbud pouch has all kinds of advantages.
4. Fabric Storage Bins
If you have children and you're tired of having to pick and storing back all the toys after they use them, then you'll probably benefit from one of these.
This will help you not only with toys and stuff your children use but also with any other object that's always laying around. And sure enough, it works as crafts for kids or adults the same way.
A beginner and intermediate seamstress can make this possible in just a few hours of work. So set your hands to the task, and you'll make it happen.
Only a few thick pieces of fabrics are sufficient to make this possible. And if you add embroidery designs all around, then you can make it  even cuter. Check out to Crafts Insider for some good fabric recommendations.
5. Double-Side Scarf
If a pouch and a storage bin are not your ideal items to make – then you can always come up with a double-sided scarf.
It is one of the simplest yet most useful and still skill-developing things you can make. And if you put your creative skills to work, then you can make something amazingly cute.
There aren't many materials required for this. Only two thick pieces of cotton fabric or something similar will be enough. Sew them together, cut them like a scarf, and then add some tassels if you want, you will get an attractive double-sided scarf for any situation.
6. Unique Sewn Skirt
Nothing gives away a better sense of excellence in sewing than a handmade skirt. Clothing is always useful, and if it looks good, then it becomes an instant worthwhile endeavor.
The interesting part of making a handmade skirt is that you can add all kinds of embroidered shapes, include unique accessories, add up pockets, and set it up for any size.
There's almost no limit to what you can create with a sewn skirt. But this is somewhat difficult to make, so you'll have to be ultra-careful if you want a decent skirt in the end.
The materials you'll need and get from Tshirt Professional are the skirt fabric, a few extra pieces for pockets or accessories, and a waistband. Just take the measurements, sew the fabric, and other parts, and you'll be ready to boast a handmade skirt around.
7. Baby Blanket
One thing that every new mom needs is a baby blanket. Whether you're one of these moms, or know someone who is – then you can always put the work in and make a blanket with your sewing machine.
This is an ideal craft project for those who are starting and want to take on a challenge. It requires two pieces of thick cotton fabric and sewing on the machine. If you can get something like flannel, then that would be even better.
The usefulness of a baby blanket is unsurpassed, and it is also one of the forgotten things that many moms forget.
But the exciting part about this project is that you don't more than 30 minutes or so to make it possible. And if you want, you can still add some embroidered designs and make it unique.
Start Sewing in your Machine Now!
Improving your sewing skills is all about practicing and putting them to work. Otherwise, you won't get to the point of being a DIY seamstress.
Don't be afraid to make mistakes or ugly stuff at first. It all takes practice and work. But sure enough, you'll be able to create whatever you want with these sewing craft ideas.