Dabbling in the latest fashion fads can be all shades of fun, whether it's  sporting a splashy patterned maxi dresses or splurging on those uber-high platforms that make your legs look a mile long (but impede your ability to walk). Still, there's a lot to be said for timeless fashion choices. We all have those days when we eye up our closet and conclude we have absolutely nothing to wear. And when those days hit, your beacon of comfort are those classic wardrobe pieces that can talk you off the ledge. Take a deep sigh of style relief by adding these five fundamentals to your wardrobe.
Black Pants
Figure-flattering black pants are a staple for any closet. In addition to looking and feeling confident when you wear them, black slacks, jeans and trousers can be matched up with a zillion other pieces, from tees and tunics to blouses and fitted jackets. The cut and fit is up to you are skinny, straight, cropped or boot. Bradley Bayou, author of "Sexy Science," suggests choosing pants that balance your body, conceal your flaws and reveal your assets. His perfect-fit pants guide is a great place to start.
White T-shirt
Nothing says timeless style like a quality white T-shirt. Available in a variety of styles from scoop and crew necks to deep V-neck cuts, a soft cotton tee says "understated style" and pairs well with jeans, shorts and skirts. A simple white tee can easily be dressed up with a boldly colored necklace or a loop-knotted scarf. While you might be tempted to grab one from your honey's T-shirt stash, opt for a top that's cut for a woman and complements your wardrobe. Not sure where to start? New York Magazine took the top tops for a test drive.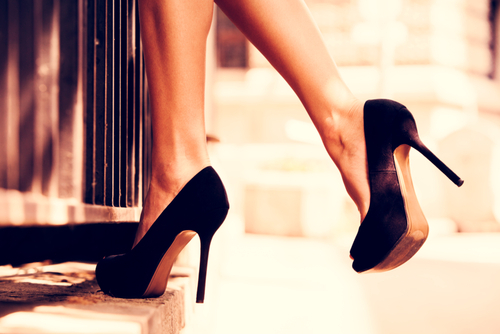 Neutral Handbag
While a wildly bright-hued handbag can be fun and festive, a neutral purse that complements your wardrobe goes a long way in punctuating your style. Color trends can come and go, but shades of browns, blacks and metallics are classic styles that save you the time of switching from bag to bag. As a bonus, you'll save a significant amount of money if you stick with a couple classic bags, rather than always running out to purchase the latest color of the month. While the shade might be neutral, the bag doesn't have to be boring or drab. For example, Coach features a wide array of sleek and stylish shoulder bags in a plethora of neutral tones and understated prints that will look fantastic, keep you organized and only get better with age.
Black Pumps
If you are looking for a dependable, professional and sophisticated choice for footwear, the classic black pump should top your list. While mega-high stilettos aren't appropriate for all occasions, a classic black pump can take you from the office to a night out with ease. As a major bonus, black pumps can go with just about any outfit – for example, they will complement those skinny black jeans just as well as that boldly patterned dress. Harper's Bazaar offers a handy list of criteria for hunting down the perfect pair of pumps.
Crewneck Sweater
When the weather is cool and you need something to keep you warm and cozy, a crewneck sweater should be your go-to. You can slip it on over a T-shirt along with your black jeans, or you can layer it over a collared long-sleeved shirt and pair it with trousers or a skirt. If you happen to catch a great sale, pick up several crewnecks in a variety of colors; unlike sweatshirts, which can be too informal for many occasions, the crewneck sweater can take you just about anywhere.