T-shirt design is constantly evolving, and the trends that emerge in 2022 will surely surprise and delight fashion enthusiasts everywhere. According to research, the custom t-shirt printing industry is expected to increase at a compound annual growth rate of 9.7% from 2021 to 2028. So, you can be confident that more and more trendy t-shirt designs will be making their way into the market in the years to come.
Moreover, as you shop in Pixels or any other clothing website to purchase a new t-shirt, it can be overwhelming to decide which design to choose. Yet, don't fret! This article will highlight some of the most popular t-shirt design trends expected to dominate in 2022.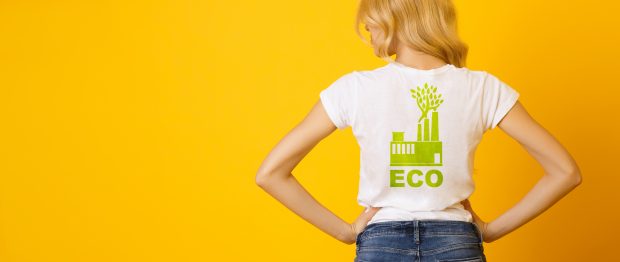 1. Curved text
Do you want something unique and stylish to show off on your t-shirts? If so, the curved text is a trend that you should consider. As the name suggests, this design involves curved text instead of straight. You can find various styles of curved text that suit your personality and style. Whether it's quotes, song lyrics, or just a cool saying, the curved text makes a statement and is perfect for any fashion-savvy individual.
Furthermore, personalization is what makes the curved text t-shirt design so popular. You can choose any text you like and customize it to fit your unique taste. Not only will you wear something classy and trendy, but you'll also be sporting a one-of-a-kind design that nobody else will have.
2. Minimalist style
This design is ideal for a more understated and subtle look. As the name suggests, the minimalist t-shirt features simplicity in its design. Most come with smooth lines, basic shapes, and primary colors for a sleek and polished appearance. There are also a few distractions, such as abstract images, so the focus remains on the shirt design.
Minimalistic t-shirt design is less visual clutter, which means you'll feel neat and fresh when you wear it. It's great for days when you want to be low-key without sacrificing your style. This design is also an excellent choice to highlight your outfit's accessories or other features. More importantly, it combines elegance and simplicity, which never goes out of fashion.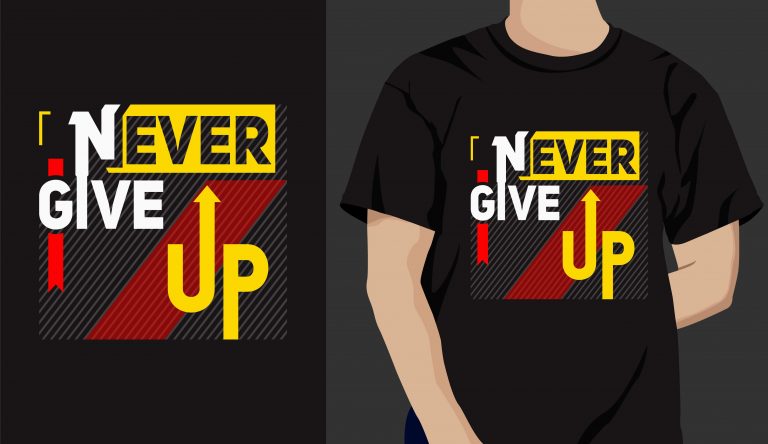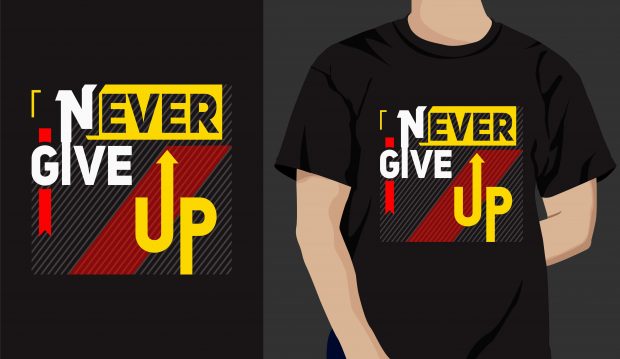 3. Vintage designs
If you're looking for a more nostalgic and classic look, then the vintage t-shirt design is your go-to option. This trend takes inspiration from the older styles or 80's and 90's fashion. So, you'll see the fun and funky designs that are reminiscent of a different era.
What makes the vintage t-shirt so popular is that it never goes out of style; it always has a place in current fashion trends, and people of all ages can enjoy wearing it. Whether you're a millennial, Gen Xer, or baby boomer, this t-shirt fashion style is a versatile and stylish choice for you.
4. Animal portrait
For an animal lover, wildlife enthusiast, or just someone who wants to show their love for animals, the animal portrait t-shirt is one of the most sought-after designs. You can choose to have your favorite pet portrait printed on your shirt, or you can go with a more general design that features various animals.
As you wear an animal portrait t-shirt, you'll feel like you have a piece of nature with you wherever you go. You'll also be supporting the work of animal conservationists and the awareness of endangered animals. Therefore, wearing this type of design will show your love and care for animals, raising awareness for their conservation.
5. Nature vibes
Nature-inspired designs have always been popular since then. People are constantly looking for ways to connect with the natural world, and what better way than through fashion? The earthy vibes t-shirt trend takes inspiration from nature's colors, textures, and patterns.
Plant designs can be realistic or illustrative with other natural elements, such as water and sky. You can also find t-shirts with slogans that promote environmental awareness. The botanical print is excellent for those who want to show their love for nature while staying stylish.
Alternatively, a floral t-shirt design is great for spring and summertime. The print may be abundant with blooms or just a few scattered petals for a lively and vibrant appearance. You won't only look fantastic with this sustainable fashion, but you'll also be sending a message about preserving the environment.
Final Thoughts
A t-shirt is an element of clothing that never goes out of style. It's one of your go-to apparel for a casual day, a day out with friends, or a special event. Regardless of the occasion, there's a t-shirt design that'll fit your style.
So, be sure to keep up with the latest fashion trends and experiment with different designs until you find the perfect one for you. Use this article as your guide, and it'll inspire your fashion choices for the year 2022.