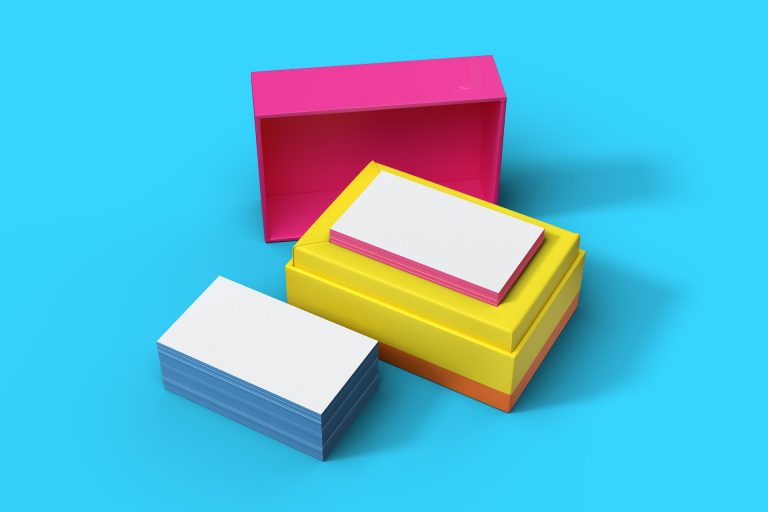 Humans like all things beautiful. Neuroscientists hypothesize it's all in our brain —  our orbitofrontal cortex, ventromedial prefrontal cortex, or insula, to be exact. As a business owner, you must leverage that part of human nature, but you don't need anything fancy. In fact, you can start with your business cards.
Of course, those cards serve a more critical purpose than showing off your design chops or aesthetics. They represent your business, the level of satisfaction you aim to give your customers, and your readiness to serve them.
That said, you'll want to give the right vibes each time you hand them out, but first, you must be smart with your time when designing them.
In an article published in New York-based business magazine, Inc., 33 percent of surveyed small business owners said they worked over 50 hours weekly, while 25 percent said they put in 10 hours more. Designing your business cards shouldn't tie you up any further, and that's how mockup templates can help.
Business Card Mockup Templates and Benefits
Hardcore creatives usually find templates offputting, but if you do business for business, you'll think they're heaven-sent. Business card mockup templates are pre-designed layouts that give you a 3D view of your designs.
One thing about these mockup templates is the variety of formats they can come in, such as Photoshop, Adobe Illustrator, or Sketch. Whichever you use, you will find tons of designs, sizes, orientations, and even paper finishes to choose from. But that's only scratching the surface. Here are the most important benefits you'll get by using business card mockup templates:
Realism and accuracy
Business card design mockups give you a complete 3D look at your creations to visualize them as cards rather than just pixels on your screen. This advantage gives you an almost-actual feel for how your cards look in the real world.
The visual precision offered by the mockups makes it easy to identify areas that need enhancement. The result is a perfect design that gives you pride and confidence.
Efficiency
Designing business cards from scratch can be time-consuming. You can cut your time in half with a mockup template and save energy for more revenue-generating activities. You can simplify your workflow and concentrate on making your card stand out rather than repetitive tasks.
Moreover, mockup templates grant you the ability to effortlessly experiment with various designs, requiring only a few clicks of your mouse. Within minutes, you can experiment with hundreds of concepts in ways you could never do traditionally.
Consistency
As a business owner, you know the crucial role branding plays in your success. Branding requires consistency, which can be a problem with manually created designs. A mockup template solves that problem with machine precision for all your design elements, from your logo's position to your color scheme to your fonts.
Collaboration
For graphic designers, mockup templates can significantly enhance productivity and streamline collaboration with clients. Send them design options virtually, exchange ideas, and create the final design together. Even as a business owner doing your own design, mockup templates can help you brainstorm ideas with your staff and get the job done better and faster.
Automatic print specs
Predefined printing specifications are a convenient benefit of mockup templates for business cards. It means all the printing technicalities, like resolution settings, bleed areas, and safe zones, are already part of the template. There's no need for manual adjustments, reducing the risk of errors.
A printing error may not be as grave as, for instance, the 2020 IT blunder in the UK when 16,000 coronavirus cases didn't appear in Public Health England's daily tally. But a printing error is still a waste of resources that must be prevented.
5 Best Business Card Mockup Templates Worth a Look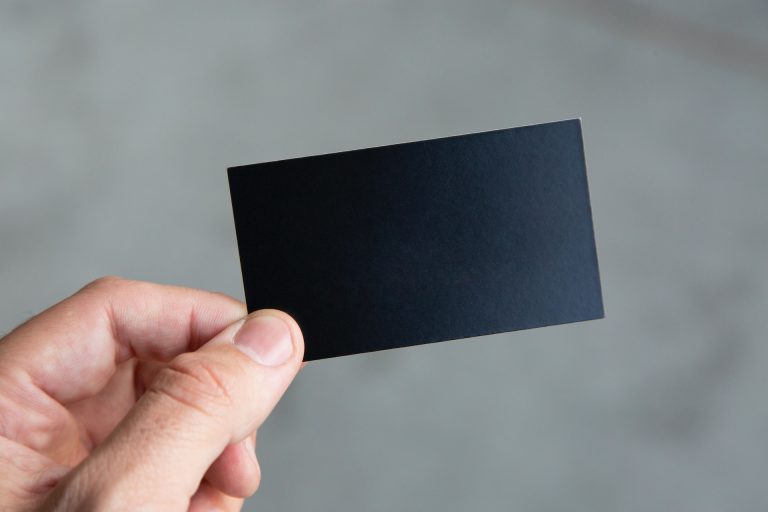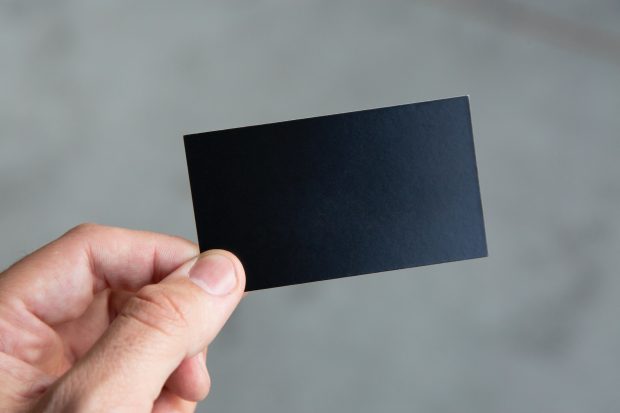 Whether you're a business owner or a graphic designer, there's no running out of mockup templates for business cards you can try. Here are five of your best choices today:
1. Square
Everybody loves a little surprise. At least, who wants something plain and boring? We're not talking about anything crazy, but something reasonably unique will surely be more memorable. A square business card, for example, can show your creative side in getting the job done. People appreciate innovation, especially nowadays, when it has even become a trend.
So if the size of most business cards is 3.5 x 2 inches, how about making yours 2.5 x 2.5? As long as all your vital contact details are there, plus an idea of what you or your client does for business, those square cards will be helpful like any other. Of course, mockup templates for square business cards will come in handy as you create and polish your design.
2. Textured
The texture of business cards plays a significant role in imparting a distinct impression. While conventional cards typically feature a flat and glossy surface, incorporating texture, such as leaf-shaped patterns, grids, polka dots, or even a sandy matte finish, can evoke a greater sense of individuality that aligns with the card owner's persona.
The texture usually contrasts nicely with soft cardstock, but that's entirely up to you or your client. You can even try different texture types in realistic environments thanks to mockup templates for business cards. Of course, texture also adds a layer of protection for those cards, making them last longer.
3. Stacked
A stacked mockup template is a versatile resource that allows you to work in a multi-layered format, giving them a three-dimensional effect. With this template, you can stack various elements, such as business cards, flyers, or packaging designs, on top of each other, creating a visually stunning composition.
Whether you're a graphic designer, marketer, or small business owner, incorporating stacked mockup templates into your workflow can elevate the presentation of your projects, capturing your audience's attention like never before.
By providing a realistic preview of your designs, stacked mockup templates enable you to assess their overall impact and make necessary adjustments before finalizing your projects. Additionally, they save you valuable time and resources by eliminating the need for physical prototypes or costly photo shoots.
4. Overlay shadow
If you like to play with different elements on your business card, an overlay shadow can be nice to add. It gives more depth to your design than a plain sheet of color ever can.
If you're fond of shadows, you can add them to different objects in your design, not just the background. Remember to keep the direction of the shadows consistent based on the simulated light source. Even if you're creating graphics, you'll still want the design to make sense.
5. Folded
A folded mockup template is highly advantageous if you must present multiple sets of information on a single card. When the individual associated with the card is affiliated with two distinct businesses, each business is allocated a dedicated "page" within its layout.
Depending on your preference, you can give these cards a portrait or landscape orientation, but consider the horizontal-vertical illusion before deciding. This mind trick tells us that space is larger when oriented vertically than horizontally, so a vertically folded card might look less crowded and, therefore, neater.
Maximizing the Design Benefits of Technology
Technology has revolutionized our lives, even as we do simple tasks like designing business cards. Still, no mockup template can replace the ingenuity and skill of a human designer, so don't feel intimidated if you're new to this.
Allow the excitement to flow freely and inspire you to create your best designs. If you're an old-timer looking for new inspiration, then the five above are yours to explore.
You can also showcase your designs with presentation folders with business card mockups from CompanyFolders.com.
They're easy to use; simply replace each smart object with your design and customize with additions or removals of text elements, embossed or debossed design elements, backgrounds, and more​. They're perfect for impressing clients with a professional, realistic mockup of your business card within the context of a presentation folder design.
Incorporating a card into the folder's business card slots adds a layer of realism to the presentation. It also enables clients to envision the harmonious blend of your business card with other marketing materials. This feature enhances the card's impact and effectively demonstrates the cohesive branding potential of your design.