Roughly one third of your life is spent in your bedroom. Think about it for a minute. That's a lot of time, isn't it? You'll rest, relax and regenerate in there, so it ought to be a shrine to you and your tastes, somewhere that you really want to be. If you crave a room which is an oasis of calm amidst your hectic daily life, here are some quick fixes to transform your bedroom.
Harmonise Your Bedroom Colour Scheme
A fresh lick of paint has the power to transform a room entirely. Choose a colour scheme and buy some paint for the walls. Try to stick to a neutral palette, carefully introducing some colour through accent pieces. Take the accent from elsewhere in the room, such as the curtains, avoiding colours that already dominate – blue sofas and blue walls are not a good combination! For a budget update, use the decorator's best friend – new toss pillows – in a shade to match for subtle colour coordination.
Update Bedroom Furniture
If your bedroom furniture is looking a little tired, a fresh coat of paint goes a long way towards creating a new look in any space. You can paint anything and everything, not just the walls. Reinvent a piece of furniture by changing the colour, or give a tired, dark brick fireplace a second life by painting it creamy white. Replacing doorknobs on a wardrobe or re-upholstering an old chair are also quick, easy projects that will transform your bedroom furniture. If you want a more dramatic update, work out a budget and identify any shabby old furniture which should be replaced. The starting point should be your bed. As this is the centrepiece of your bedroom, a new bed will make a dramatic difference. Think about your theme: do you want something traditional, classic, modern, designer or contemporary? Look at one of BedzRUs' wide range to find a unique statement piece for your home.
Replace Your Bed Linen
Your bed should be the focal point of your design scheme, so accenting it with a new throw or bed linen set can instantly enhance your theme. For a delicate, feminine room, look for lace and pretty floral designs. For something more contemporary, go for bright colours which will really pop against neutral walls and floors. In the summer months, make your room bright and fresh with yellows and spring greens. Bold floral patterns are always popular during the warmer months, but if they're too quaint for your taste look for striking geometric shapes which lend a contemporary feel to your space. In winter, create a cosy hideaway with cosy knits and faux fur throws, and darker colours such as deep purples and plums. Finish with a scattering of cushions whose designs complement your theme.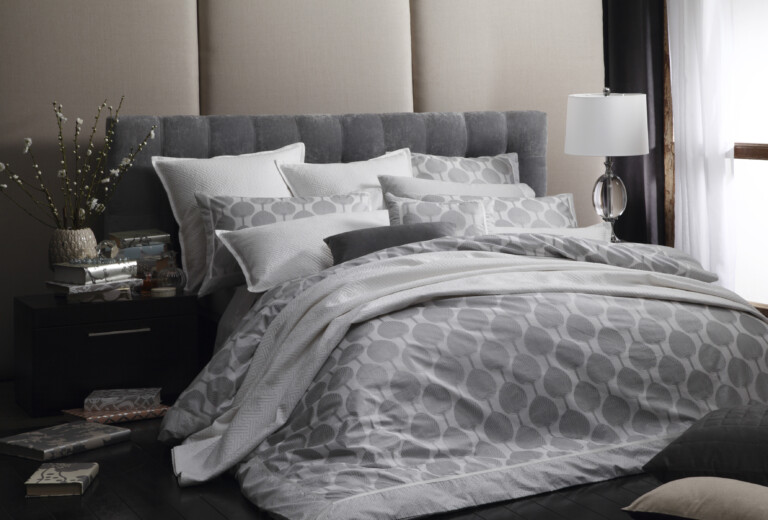 Choose to Make New Curtains or a Blind
Soften your living space with ready-made drapery panels and transform your lounge from bland to beautiful. If a standard-sized window panel doesn't fit, it's time for some DIY home improvement: buy the next size up, and hem the panel so that the drape hangs half an inch to an inch from the floor when hung. Or why not have a go at making your own curtains? It's not as difficult as it sounds, and you can create something utterly unique which perfectly captures the essence of your room.
Make Your Own Art and Accessories
You don't have to be the next Picasso. Use colourful artwork or photography to personalise your space and create a focal point for the room. Enlarge your own photos or choose from thousands of prints on affordable sites such as Art.com or Canvas Republic. You could even try gathering several framed images together and organising them in a cluster to create a special bedroom feature wall. Hang some fairy lights around your art to light it up, or try draping them through the framework and along the headboard of your bed for a pretty effect. 
Use these DIY tips and stylish solutions to update your bedroom, and create a unique space that's perfect for you.