Unbelievably scenic and amazingly diverse, forward-thinking, and pampering, Mykonos is, rightfully, a supreme summer destination receiving hundreds of thousands of visitors and jet-setters flying from the corners of the world to get a taste of its glam and tempting vibes annually. How do the elite Mykonos worshipers usually go about their days here? Here is a list with five of the most beloved activities that satisfy the overwhelming majority of both VIP Mykonos visitors and humble mortals alike, year after year.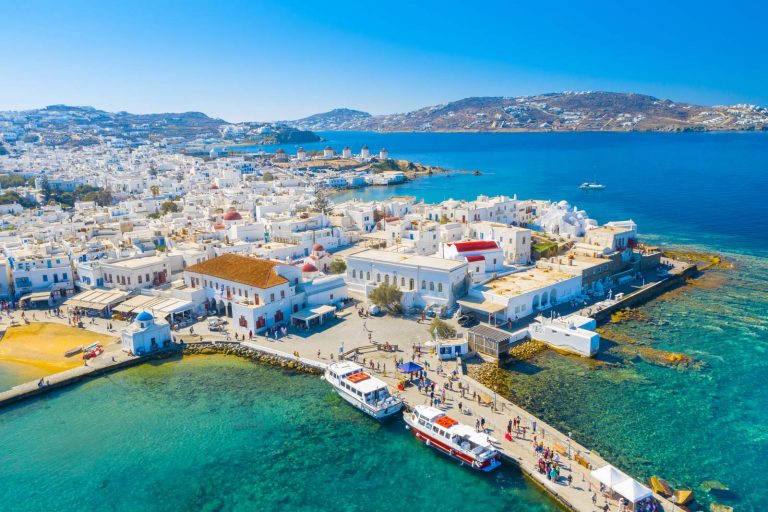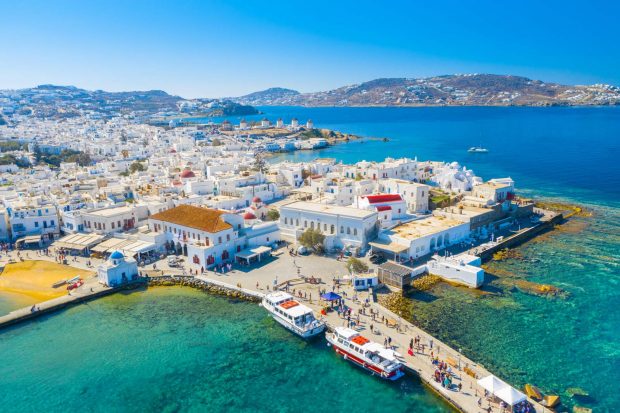 1. Explore the sugary shoreline
It's impossible to visit a Greek island and not dip your toes in fine sand beaches or dive in crystalline waters. Mykonos is no exception, of course. Whichever shore you decide to visit, you won't be disappointed. In fact, Mykonos is home to more than 30 beaches to please all requirements, from celeb-favoured and cosmopolitan to gay-friendly, remote, and tranquil. The party meccas are Super Paradise, Paradise, Paragka, and Platis Gialos, while options like Elia Beach and Psarou Beach are more laid-back, tame, and quiet.
2. Enjoy an evening cocktail at Little Venice
A world on its own, Little Venice is a scenic waterfront Mykonos area that brings inviting touches of Italian architecture to the whitewashed elements of the Cycladic flair spread all across the island. Lined with colourful houses featuring wooden, flower-filled balconies within an arm's reach (literally!) from the shore, the picturesque district will fascinate you for sure. Now turned into charming cafes, lively bars, stylish galleries, and elegant restaurants, these Venetian-style houses open the doors to exquisite evening experiences. Feel free to get a refreshing cocktail or a delicious meal just before the sun sets behind the glorious Mediterranean Sea and, well, thank us later.
Of course, you may also indulge in a morning cup of coffee and watch the fishermen bring the day's catch to the harbour for local business people and islanders to buy. And, if you let your gaze wander a bit, you'll also notice another popular attraction up on the hill next to Little Venice – the Windmills. And, yes, there is an entire volume in Mykonos' history dedicated to these wonders of their time.
3. Explore Delos Island
Only opt for this activity if you believe you can handle the incredible pull and magnetism exuded from this powerful energy spot in the Mediterranean. Once a bustling commercial, spiritual, and geopolitical centre of the ancient world, Delos is now declared a UNESCO World Heritage Site. The massive archaeological site with the profound archaeological significance is supposed to be the birthplace of two Olympian gods – Apollo and his twin sister, Artemis. This is why you will come across several temples dedicated to either of the twins, as well as a theatre, statues, sanctuaries, and places like the Sacred Lake and the Gate of the Lions. Even if you are not much of a history and Greek mythology fan, Delos is also worth your time for its pristine natural beauties and spellbinding beaches.
4. Let yourself be ultimately pampered by exclusive services
You may have a desire or wish that you thought would be impossible to fulfil. If you come to Mykonos, you will probably need to reconsider because Mykonos is where you can have everything you desire, no matter how far-fetched or peculiar. Expect world-class accommodation featuring private pools, stylish luxury suites overlooking the hypnotic Aegean Sea, and the most spectacular range of amenities, and concierge services that include everything from private transfer and wellness services to private dining options (even onboard a luxury hotel-owned schooner!) and VIP reservations to whatever it is you long for. Why not claim the epitome of a VIP lifestyle? You are at just the right place, after all.
5. Wander through the streets of Mykonos Town
The pulsing heart of Mykonos beats at its capital – Mykonos Town or The Chora. As expected, the majority of bars, cafes, restaurants, and clubs are there, while Matoyianni Street is the epicentre of the exquisite Mykonos shopping scene, where some of the most famous designers have their boutiques. Narrow, cobblestone alleys, milky-white houses with the distinct cubic-like shape and red, green, or blue shutters, porches with bougainvillaeas, charming chapels with azure domes, and iconic landmarks, such as the Windmills wait to offer you a portion of their indelible charm.
It is humanly impossible to make a list with the best things to do in Mykonos and keep it short. So, simply let your heart decide and see where it takes you. No doubt, this is going to be a once-in-a-lifetime experience worth sharing with your grandkids (or maybe not – up to you!)!