All-inclusive packages and butler services are just two of the way cruise companies are accommodating the growing demand for complete stress-busting holiday. The top cruise ships are playing host to more and more comprehensive spa and salon facilities – giving guests the perfect opportunity to kick back and relax on the seas. Let's take a look at seven of the best.
Samsara Spa – Costa Cruises
Three members of the Costa Cruises fleet, Serena, Pacifica and Luminosa, benefit from dedicated itineraries based around health and relaxation – located around the beautiful Samsara Spas. Alongside an incredible range of treatments and facilities, the ships also offer itineraries which include personal consultations and exclusive breakfast, lunch and dinner menus in the health-conscious Ristorante Samsara.
Mandara Spa – Norwegian Cruise Lines
With 50 locations around the world, Mandara Spas combine relaxing, health-conscious treatments from every corner of the globe. The Epic from Norwegian Cruise Lines is the only cruise ship to play host to a Mandara Spa, benefitting from its wide range of features and treatments including a hydrotherapy courtyard, a thermal suite, tropical gardens and a relaxing pool complete with multiple waterfalls.
Lotus Spa – Princess Cruises
Recent ITV documentary, The Cruise Ship, explored many facets of life aboard a modern cruise ship – including regular visits to the spa and new spa girl Kelly. Although the documentary only offered fleeting glimpses into the treatments on offer, Princess Cruises' guests can enjoy the benefits of a central thermal suite with total temperature control and couples villas for relaxing, romantic treatments.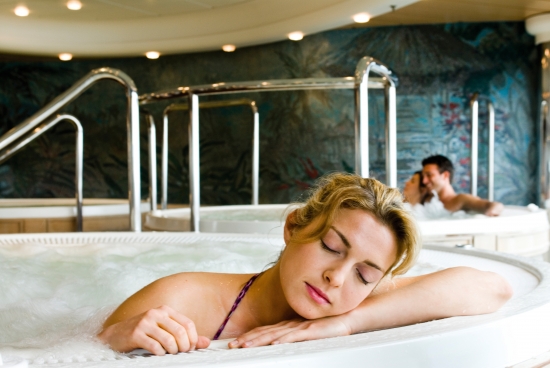 Aurea Spa – MSC Cruises
Inspired by the beautiful island of Bali, the Aurea Spa aboard the MSC Splendida is designed to completely relax the body and the mind. Floor-to-ceiling windows give guests incredible sea views. The spa offers traditional Balinese treatments such as hot lava stone massages and thalassotherapy.
Vitality Spa & Fitness Centres – Royal Caribbean
Found on the newest ships from Royal Caribbean, the Vitality Spa & Fitness Centres combine huge gyms with comprehensive spa facilities aboard the Quantum of the Seas and Anthem of the Seas. The wide range of treatments available in the spa complexes includes hot stone and Swedish massages, reflexology, body wraps and acupuncture. Additionally, Royal Caribbean put strong emphasis on family holidays and their spa facilities are no different, offering a selection of treatments for 13-17 year olds, including 'acne attack' and 'surfer scrub'.
Anthem of the Seas is still being built and is set to launch in April 2015 – Cruise1st (which is owned by Royal Caribbean) has exclusive deals for this ship.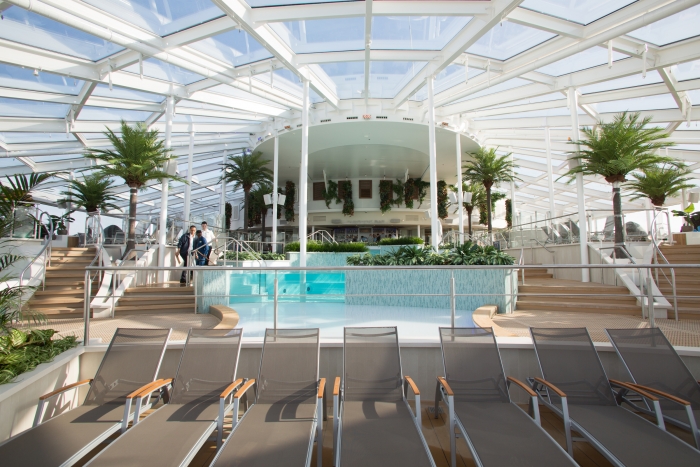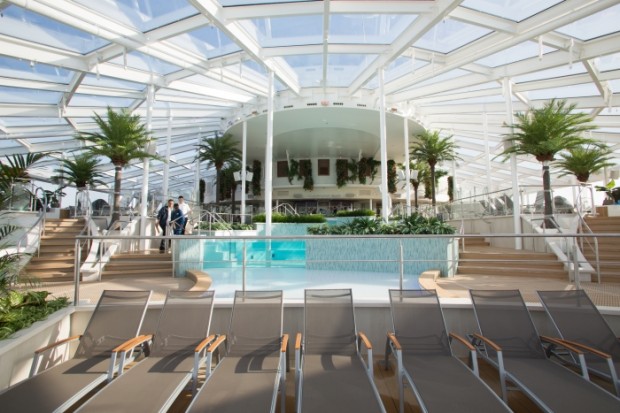 Canyon Ranch Spa Club – Cunard
Fully embracing the golden age of sea travel and the decorum of classic cruising, Cunard celebrates its British heritage. This ethic is evident throughout all the spa treatments and services, providing luxury treatments with impeccable services. Sourcing knowledgeable experts from around the world, Cunard offer a unique range of treatments including Ashiatsu Massage – an ancient Asian form of massage wherein the masseuse holds onto bars hanging from the ceiling a massages guests' backs with their bare feet.
AquaSpa – Celebrity Cruises
With a focus of full body and mind treatment and health, the AquaSpas aboard five ships of the Celebrity Cruises fleet (Solstice, Equinox, Eclipse, Silhouette and Reflection) combine a wide range of treatments and health-conscious dining. The ships also play host to AquaClass spa cabins which incorporate spa-inspired bathroom products, room service and exclusive access to the Persian Garden steam room.